Distributed Generation Market Scenario
Distributed generation market is expected to grow at USD 126.2 Billion, ~10.14% CAGR during the forecast period.
The global distributed generation market is projected to grow at a high rate during the forecast period, mainly due to the growing demand for clean energy generation and renewable sources of energy. Governments around the world have developed attractive incentives, rewarding the use of renewable sources of energy, which further drives the growth. Global market has been segmented based on technology, application, end- use, and region. Based on technology, the market is classified into geothermal, solar, wind, biogas, fuel cells, and others. Solar segment is leading the market and has the largest market share, mainly due to the less cost involved in setting up the system for both, commercial and residential use. Based on application, the market is segmented as off-grid and on- grid. On-grid segment dominates the market in this sector as on-grid systems are very cost effective and simple systems. The global market of distributed generation is further segmented based on end-use, including residential, industrial, and commercial segments. Commercial segment of the global market is estimated to register the highest growth rate during the forecast period.
Key Players
The key players of global Distributed Generation Market are General Electric Company (US), Ansaldo ENergia (Italy), Bloom Energy (US), Schneider Electric SE (France), Caterpillar Inc. (US), Siemens AG (Germany), Mitsubishi Heavy Industries,Ltd (Japan), Fuel Cell Energy Inc (US), Cummins Inc (US), and Bergey Windpower (US).
Market Segmentation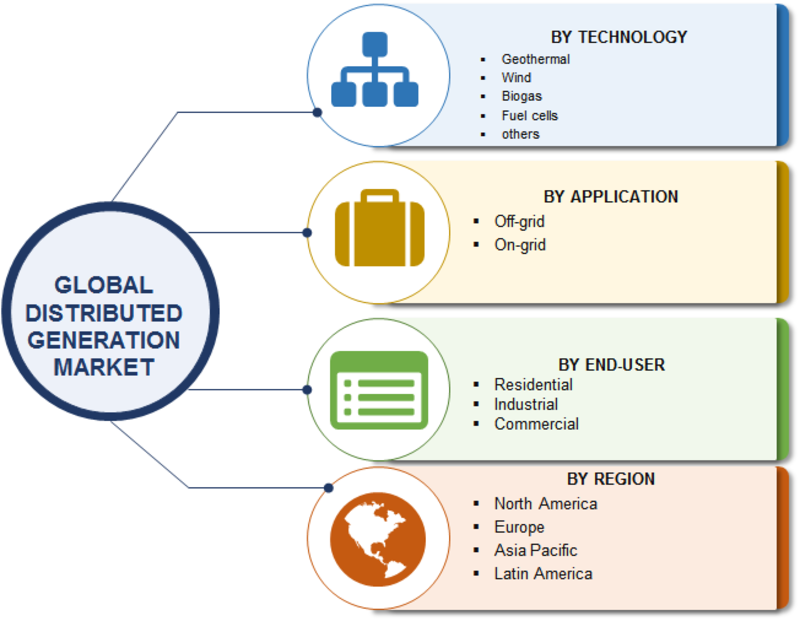 Global distributed generation market is expected to witness substantial growth during the forecast period, as the systems are mainly based on renewable sources of energy. Geothermal plants also contribute to the market, with Europe accounting for the largest market share. Europe has over 100 geo thermal stations installed, which produced about 15 TWh of electrical power in the year 2016. The installed capacity in 2016 was 2.5 GWe and is expected to reach 3 GWe by 2020. North America holds the second largest share in the geothermal segment with over 77 installed plants and an installed capacity of 3,086 MW.
Decentralized generation is a decentralized and relatively flexible technology, where one or more power stations are located close to the load. Each power station approximately has a capacity of about 10 megawatts and these systems can comprise multiple generation and storage points. Distributed generation consists of distributed energy resources, which typically utilize renewable sources. Renewable energy resources include solar, wind, fuel cells, hydro, biogas, bio mass and geothermal power. Decentralized generation can help deliver reliable and clean energy to the users, while minimizing the losses during transmission. Current electricity distribution system worldwide is dominated by centralized system. However, it is estimated that there will be a substantial growth mostly because of the developed economies.
Solar panels have become cost effective and are a major driver for the growth of the distributed generation global market. Additionally, governments around the globe are developing policies to encourage the use of renewable sources of energy, due to their benefits including reduced emissions and energy security. As per the reports from Global Wind Energy Council, there has been a substantial growth in the total wind farms installed globally in 2017. Numerous offshore wind farms that are being developed, majorly contribute to the growth of the global market.
Standalone off-grid systems are becoming popular with users as it gives them independence from utility service providers. Off-grid systems are usually cheaper for residents at remote locations in comparison to the costs involved in obtaining a utility service. A major advantage for off-grid users is that they are not subjected to blackouts and increasing rates of electricity. Off-grid systems mostly involve judicious use of energy. However, a few of its disadvantages are the need for regular maintenance and troubleshooting. Another major drawback of standalone off-grid systems is that surplus energy is wasted, whereas in grid tied system all additional energy is sent to the grid.
Report Scope:
Report Attribute/Metric
Details
Market Size
2027: USD 126.2 Billion
CAGR
10.14% CAGR (2020-2027)
Base Year
2019
Forecast Period
2020-2027
Historical Data
2018
Forecast Units
Value (USD Million)
Report Coverage
Revenue Forecast, Competitive Landscape, Growth Factors, and Trends
Segments Covered
Technology, Application, End-Use
Geographies Covered
North America, Europe, Asia-Pacific, and Rest of the World (RoW)
Key Vendors
General Electric Company (US), Ansaldo ENergia (Italy), Bloom Energy (US), Schneider Electric SE (France), Caterpillar Inc. (US), Siemens AG (Germany), Mitsubishi Heavy Industries,Ltd (Japan), Fuel Cell Energy Inc (US), Cummins Inc (US), and Bergey Windpower (US)
Key Market Opportunities
New product launches and R&D Amongst major key Players
Key Market Drivers
Growing demand for clean energy generation
Renewable sources of energy
Speak to Analyst
Ask for Customization
Frequently Asked Questions (FAQ) :
---