Market Synopsis:

Mobile Workforce Management is a category of software and services, used to manage employees working on field (outside the company premises). The increasing usage frequency of mobile devices, secured wireless networks, mobile applications and virtual desktops have provided new mobile workforce opportunities for small and medium businesses. EPAY System Inc. (U.S.), a leading American company in providing unified human capital management, says that by 2020 in U.S., the number of mobile workers will increase to 105 million. Falling prices of smart phones and tablets, growth of BYOD (Bring Your Own Device) trend in work place, latest innovations in computing and mobile broadband technology are the key drivers for the growth of mobile workforce management market. As mobile ownership is increasing, more companies are adopting BYOD (Bring Your Own Device) policies which has many advantages like employees can use devices they are familiar with and work flexible hours which increases productivity and companies can save the cost on hardware.
To keep up with the growing trends, corporate leaderships are investing in mobile workforce management technologies to automate manual tasks, improve productivity/profitability, gain transparency, and reduce risk. However, these technologies end up creating a huge number of administrative tasks, making the lives of mobile workers more challenging and taking time away from their core job functions. The mobile workforce management should possess automatic scheduling, routing, effective dispatch, business intelligence, simplifies application integration and forecast work demand.
In June 2016 Abaqus Inc. (U.S) announced that it has launched a new solution for companies trying to improve the safety of their remote mobile workers. The solution combines IFFT rules with real-time GPS location and status information to detect when an employee might be in danger and initiate an emergency response. Now companies can enhance lone worker safety while better complying with OSHA safety regulations and reducing liability risks.
Global Mobile Workforce Management holds some of the key market players like SAP SE (Germany), ServiceMax (U.S.), Verizon Wireless (U.S.), Actsoft Inc. (U.S), FeedHenry (Red Hat Inc.) (U.S.), MobiWork LLC (U.S.), Pegasystems Inc. (U.S.), ProntoForms Corporations (Canada), ServicePower, Inc. (U.K), Sprint Corporation (U.S.), and TeleCommunications System Inc. (U.S.).

Segmentation:

The Global Mobile Workforce Management is segmented on the basis of end-users covers wide areas such as BFSI, Communication, Logistics, Procurement, Manufacturing and many more. In the area of logistics mobile workforce management helps in a wide way. Customer will have real time data by connecting the shipper, operations, management, the driver and automated work flows to create smarter deliveries. Blackbay Ltd., the leading provider of mobility enabled solutions, is offering its flagship product Delivery Connect which provides end to end data for logistic companies. Delivery Connect is built on Blackbay's logistics application framework. The mobile workforce management software framework makes it easy for the customers to hit the ground running with the deployment of pre-configured applications.
The deployment is further classified into on-premise and cloud. On-premise solutions are characterized as solutions offered within the office premises which comes at a large cost upfront. In this segment, cloud is leading by having Internet of Things (IoT) as an advantage. Cloud-based solutions have the potential to control the costs associated with supporting and managing your mobile workforce. They have simple deployments and can be operational very quickly. They integrate into the existing infrastructure and offer secure mobile control without the installation and management of on-premise hardware. Based on these advantages, many organizations are adapting to cloud based workforce management.

Mobile Workforce Management Market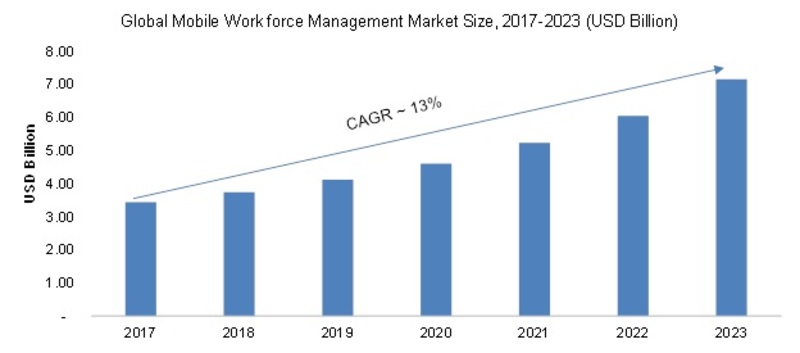 The global mobile workforce management market is expected to grow with approximately 13% CAGR during forecast period 2017-2023.
For the purpose of this study, the market for Mobile Workforce Management is divided into end-user, Deployment, by Tools and by Region.
By End-User



BFSI




Logistics




Procurement




Communication




Manufacturing




Others



By Deployment
By Tools:



IOS




Android




MySQL




Windows



By Region



North America




Europe




Asia pacific




Rest of the world



Intended Audience



Software Developers




IT enablers




App store providers




Software investors




Government agencies



Frequently Asked Questions (FAQ) :
---