Market synopsis
Mobile Virtual Network Operator (MVNO) is a GSM (Global System for Mobile communications) based technique where a mobile operator or a company leases the spectrum from network operator. MVNO resells wireless services under their brand name using regular telecom operator network. For instance, Virgin Mobile, one of the leading mobile network service providers in the UK, Australia, and Canada, and the U.S., use the T-Mobile network for providing services. In the U.S., Virgin Mobile uses Sprint network; in Australia, Virgin Mobile provides mobile services on Optus network, whereas in Canada, Virgin Mobile uses the Bell Mobility network.
Some Global Mobile Virtual Networks Operators (MVNO) Market deploy their own mobile intelligent network infrastructure to facilitate the means to offer value-added services. MVNO handles required infrastructure such as radio equipment as a commodity while offering its own services based on exploitation of their infrastructure network. MVNOs generally provide both voice and data services to end users through a paid up subscription agreement.
MVNO has full control over the SIM card, branding, marketing, billing, and customer care operations. An MVNO buys network capacity, usually as close to the base level as possible, and invest in a service infrastructure of its own.
Growth in the cloud and M2M technologies is expected to boost the market demand over the forecast period. MVNO's are expected to provide cheaper and convenient mobility options for industries such as lifestyle and entertainment, to increase revenue.
The major growth drivers of mobile virtual network operator market include growing mobile subscriber base, rising competition among service providers, and increasing customer requirement for low-priced mobile services among others.
Segmentation
Global mobile virtual network operator market can be segmented as follows:
Segmentation by Type: resellers and service operators
Segmentation by Service: Network routing, customer care, Billing & collection, handset management (2G, 3G, 4G), and marketing & sales.
Segmentation by Infrastructure: Skinny MVNO, Thin MVNO, Thick MVNO and Full MVNO
Regional analysis
The global market for mobile virtual network operator is estimated to grow at a significant rate during the forecast period from 2017 – 2023. The geographical analysis of data-as-a-service market is studied for North America, Europe, Asia Pacific, and the rest of the world.
Asia Pacific is dominating the global mobile virtual network operator market with the largest market share due to growth in telecom industries of the region. The emerging economies in the region such as India, Vietnam, Myanmar, and China are making more efforts to expand and modernize the telecommunication services. South East Asian countries such as Thailand, Singapore, and the Philippines are further presumed to contribute to the regional market expansion over the forecast period. Countries like Japan, Malaysia, and Australia growing in advanced cellular networks are expected to play a major role in the market expansion in Asia Pacific. In Japan, MVNO offers services such as remote management of vending machines, online gaming, M2M, and surveillance, among others.
The MVNO market in Europe is majorly encouraged by government regulators and their favorable support to the region. The regulators see MVNO as a way to reduce price and increase competition. A trend of MVNOs being used directly as a regulatory instrument can also be seen in the region. Countries such as the U.K, Germany, and the Netherlands are projected to impact regional growth in a positive manner over the forecast period.
Global Mobile Virtual Network Operator Market Size, (USD Billion)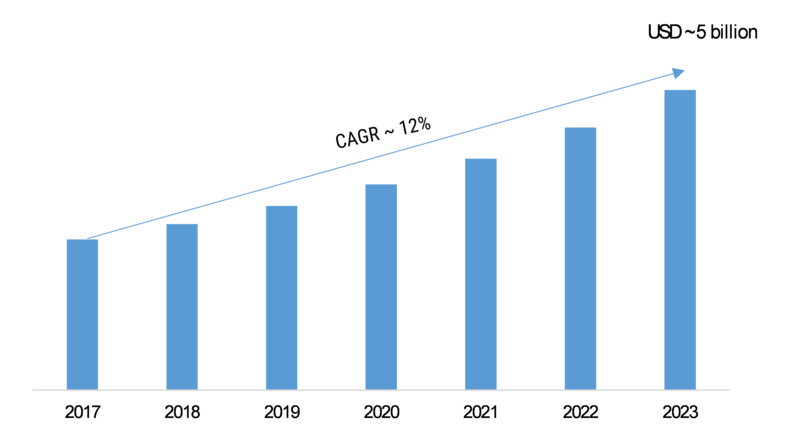 Source: MRFR Analysis
Key players
The key players in mobile Virtual Network Operator market include Virgin Mobile (U.S.), Tracfone Wireless, Inc. (U.S.), RedPocket Mobile (U.S.), AirVoice Wireless (U.S), FreedomPop (U.S.), Freenet AG (Germany), KDDI Mobile (U.S.), Polkomtel Plus (Poland), Tesco Mobile Ltd (U.K), Kajeet, Inc (U.S.) among others.
Other player in markets are AT&T (U.S.), Verizon Communications (U.S.), Sprint Corporation (U.S.), Lyca Mobile Group (U.K.), T-Mobile AG (U.S.), CITIC Telecom International Holding Limited (Hong-Kong), Telefonica S.A. (Spain), Tracfone Wireless, Inc. (U.S.), among others.
Intended Audience



Industry Investors




Mobile Network Operators




Mobile Manufacturers




Terminal Manufacturers




Media Companies




OTT Players



Frequently Asked Questions (FAQ) :
---