Artificial Intelligence Market Overview

The slowly human race has driven into the area of Artificial Intelligence by adapting to the use of computers, smartphones, etc. AI has the ability of humans of thinking and perceiving data at a very advanced level which is unparalleled to any human activity. AI is stable in predicting data and providing valuable conclusions according to the data available. With an increasing amount of data, available programming languages like Python, Hadoop, big data, etc. are being used to read this data in pictorial forms especially graphical methods. Several algorithms have been constructed to analyze this data and predict the industrial growth around us. Artificial Intelligence Market Outlook shows that the world is on the verge to turn on its axis in terms of communication, working and conducting other day-to-day activities. AI has proven to be productive in all sectors by gaining customer satisfaction and reducing human error.
AI is predicted to be content-dr technology that regulates to development o,f public and private sectors globally revolutionizing the world economics. Social media is the biggest platforms form where data is collected on individual basis as per user, this data is stored on cloud servers and from there, users see content as per their requirement. Artificial Intelligence (AI) Market Research Report predicts a CAGR forecast of 28% by the year 2023 because of the increased use of machine demonstration as compared with natural human intelligence.


COVID-19 Analysis
COVID-19 is the new-gen virus that has been spreading at an alarming rate since its outbreak. No-one could predict how many people are affected when they are in proximity of the affected person or how a person could get infected by virus as it spread by touching infected areas from living and non-living things. As deadly as the virus has proven to be in the latter year Artificial Intelligence has played a significant role in tracking patients and predicting the growth and effects of COVID-19 in the 213 countries across the world. Artificial Intelligence Market is used by hospitals in coordination with the government in maintaining an inventory of the human population and the COVID patients, segregating the data and keep track of the patients and the course of medicines and treatment provided to them, and other parameters and geographical conditions affecting them. Since there was no human known vaccine or treatment available for COVID different treatments were imparted to patients depending on their symptoms which eventually led to treat different patients easily with common symptoms.
Global Artificial Intelligence Market, USD Billion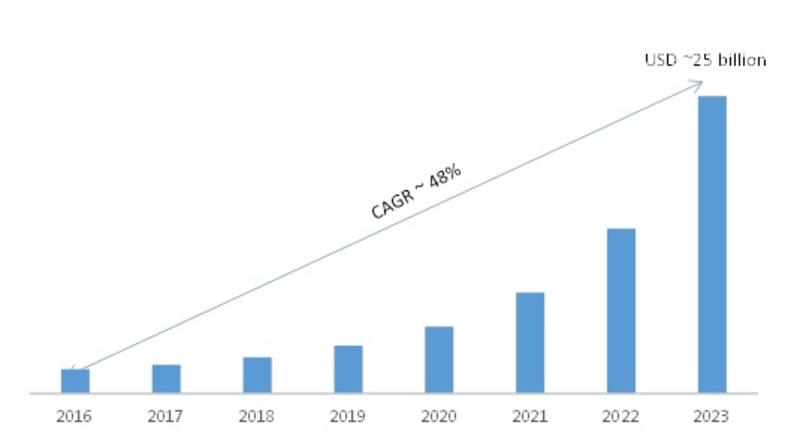 Competitive Landscape
Google (US) and Amazon (US) cloud are the major stakeholders of customers using cloud technology for preserving the data that give them an edge over the rest of the companies in the world. IBM Corporation (US) uses DB2 cloud which is easier to understand and the first database technology to reduce the size of hardware being used thus being cost-effective. Microsoft (US) and Facebook (US) have advanced AI that uses the technology to attract more customers to them, Microsoft being the world leader of operating systems and Facebook being the most profited social media platforms. Infosys (India) and HCL (India) have proven to be the most profited companies providing outsourcing of their services across the world.

Market Dynamics


Drivers
With the increased population comes increased data in terms of industrial users. Data science on a global level is the study of this big data, which is driven by many aspects, AI being one of them. Deep learning, Python language for development, machine learning is part of reading these big data sheets and analyzing the market fall and growth in all industries. Cloud storage and graphical interpretation of this raw data have made computing jobs easier as data is available in a human-readable form. Quality testers in IT companies generally develop test cases on this raw data which is used by companies to attract more customers to their products.

Artificial Intelligence Market

is advanced computer vision with human emotions that led to the least fault cases.


Opportunities
Artificial Intelligence Market Analysis works on the robust algorithm the harnessed power from data using high-level machine learning language delivering ample business values to industries around. AI has created developers, researchers and business opportunities at the industrial level by predicting a profit and loss analysis for the market if an individual offers a business idea. Digital platforms have taken over human life and experts hathe ve predicted AI could exceed the limits of human intelligence and could be able to even mind control human race. Recognizing human behavior and pattern and drawing an analytic pattern in terms of language and speech recognition is said to amplify productiveness.


Technology Analysis
Algorithms predicting human nature and work growth around has led to continual growth for AI Market Size. More companies have invested in buying the products related to AI and developing algorithms as per their company requirements and attracting more customers. AI has proven to be a boon for the r companies on global level and has profited businesses at larger levels, but it also comes as a warning to human race as it questions human credibility and decision making.


Artificial Intelligence Market

has created many job opportunities for technology engineers globally, people can learn different forms of AI as per their interest and earn money. Jobs like developers, data analysts, data scientists, research analysts, product managers, etc. have been on the requirement for the last two decades. Besides of adding value at an industrial level,

Artificial Intelligence Market

has also tormented employee of companies whose jobs have been taken away because of the automated work approach.


Segment Overview


By Service

Voice recognition tools used in smartphones and smart devices are the best example of AI segmentation by service. Gesture and language translation has made their way in the world like none other, now it has become easier for people to travel across the world even without understanding the local language as now language translation apps in our phones are at our rescue. Many robots have been built since the 1900s but AI has proven to be effective in creating human-like and efficient robots thus revolutionizing the robotic world.


By type
Artificial Intelligence Market Segmentation by type comes as digital system assistants i.e. data science and data analysis, neural networks which are used to record, communicate and conduct analysis based on raw data collected, embedded systems such as the tracking devices we use in our mobile phones and automobiles.


Regional Analysis
America and Europe are the world leaders of AI as per the latest Artificial Intelligence Market Outlook. They have taken AI to the next generation as per the usage of AI in army and navy's defense system has made the world a better place by predicting the nature of terrorist attacks and reducing them. Keeping a track of data maintained by the government has led to a significant reduction of these attacks. Europe that works on technology SAP-HANA is on the verge of globally revolutionizing the world economics in the financial sector by giving companies a market for recording and predicting data. More customers are attracted to the companies with the latest technology and algorithms using AI specifically Russia's involvement in recording space data and predicting planets and galaxies and outer space data.
Recent Developments
Earlier AI was subjected to voice recognition but with advancement to the Artificial Intelligence Technology have come services that can even replicate human voice which is good and scary at the same time. Online shopping apps like Myntra, Shein, ASOS, LYST, etc. have augmented online cloth trial techniques which have attracted more customers to use these sites, hospitals have started printing 3D x-rays, MRI and CT scan reports have revolutionized medical science in treating patients. Online painting techniques has also cost painters and artist their jobs as now anyone can have their desired painting printed with real painting effects. Hand gestures and foot gesture capturing have made virtual gaming more developed and attracted more people using it, PlayStation 5 being the most sold product in recent times.


Report Overview
As per Artificial Intelligence Market Research, 60% of the world population have adapted to the uses of AI but on the other hand, 37% of the world population argues that AI could hurt humans. As per Artificial Intelligence Market Research, there has been a drastic change in the use of technology in recent times. Earlier computers and smart devices were only subjected to business officials and corporates, but with the increased demand and the huge number of customers data saving and predicting changes became difficult to maintain a hardware inventory as it involved bigger servers so AI came to picture by making use of online cloud and predicting servers.
Frequently Asked Questions (FAQ) :
---