Synopsis
Global Lactose Intolerance Treatment Market is expected to register a CAGR of 6.29% during the assessment period of 2020 to 2027 to reach USD 42,783.32 Million by 2027.
Market Dynamics
Lactose intolerance is a medical condition identified by lactase (lactose digesting enzyme) deficiency within the patient's body. As a result, lactose remains intact and unabsorbed producing various ill-effects such as flatulence, bloating, and abdominal pains. Four types of lactose intolerances are identified, namely, primary lactase deficiency, secondary lactase deficiency, congenital lactase deficiency, and developmental lactase deficiency. Secondary lactase deficiency mainly occurs due to irritable bowel syndrome (IBS), gastroenteritis, Crohn's disease, ulcerative colitis, celiac disease, chemotherapy, and antibiotics. As per the study by the Journal of Health, Population, and Nutrition in 2017, the prevalence of lactose intolerance was significantly higher in IBS-D patients compared to healthy individuals. In this study, some eligible IBS-D patients and healthy individuals were enrolled. In the enrolled individuals, lactose malabsorption was diagnosed by a lactose hydrogen breath test (HBT), and lactose intolerance-related symptoms were monitored for eight hours following lactose administration. It was found that the prevalence of lactose malabsorption was 72% in IBS patients and 60% in healthy individuals.
A study published in the Advances in Clinical and Experimental Medicine in 2015 also showed that the incidence rate of lactose malabsorption with lactose intolerance was 27.16% in pediatric patients with gastrointestinal diseases. Moreover, the highest occurrence was 47.83% in IBS, and the lowest was 15.78% of ulcer disease. IBS represents a significant burden on the US and globally, with an estimated prevalence rate of 14%. From all the information, it is observed that the escalating cases of IBS and other gastrointestinal disorders would boost the US lactose intolerance treatment market
Global Lactose Intolerance Treatment Market, By Type, 2019 (%)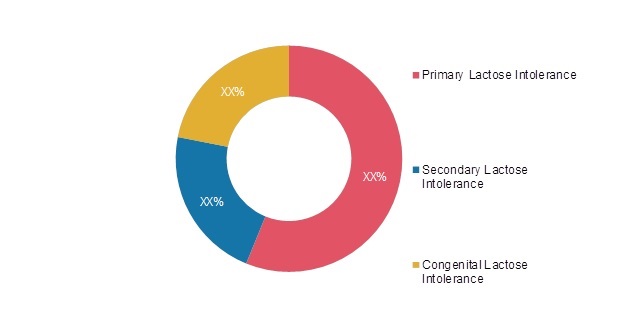 Source: MRFR Analysis
Segmentation
Global Lactose Intolerance Treatment Market is segmented into Type, Treatment, Form, and End User.
Global Lactose Intolerance Treatment Market based on the type has been segmented into primary lactose intolerance, secondary lactose intolerance, congenital lactose intolerance. Primary lactose intolerance dominated the market in 2019. Primary lactose intolerance has a high prevalence rate as compared to others. The global lactose intolerance treatment market, by treatment, has been segmented into food supplements, enzyme lactase supplements, probiotics. The food supplements segment held the largest market share in 2019. The growing adoption of Lactose-free products is fueling the market growth of this segment. Based on form, the market has been segmented into powder, liquid, tablet. The powder segment dominated the market in 2019. The global lactose intolerance treatment market, by end user, has been segmented into homecare, hospitals and clinics, and others. The homecare held the largest share with a CAGR of 6.04% in 2019.
Western Europe Lactose Intolerance Treatment Market Share, By Country, 2019 (%)


Source: MRFR Analysis
Regional Analysis
Global Lactose Intolerance Treatment Market, based on region, has been divided into the Americas, Europe, Asia-Pacific, and the Middle East & Africa.
The Americas has been segmented into North America and Latin America, with the North America market further divided into the US and Canada. The Americas spearheaded the market in 2019 and is likely to continue to command during the assessment period. This is attributed to the rising incidence of lactose intolerance and product innovation.
The European lactose intolerance treatment market has been divided into Western Europe and Eastern Europe. The Western Europe lactose intolerance treatment market has further been classified into Germany, France, the UK, Italy, Spain, and the Rest of Western Europe. Europe would follow the Americas during the forecast period owing to the presence of favorable government initiatives, research and development activities, and business expansions by major players.
The lactose intolerance treatment market in Asia-Pacific has been segmented into China, India, Japan, South Korea, Australia, and the Rest of Asia-Pacific. Asia-Pacific is expected to exhibit the highest market growth potential during the forecast period due to increasing healthcare expenditure, distribution of chilled dairy products in China, India, and Australia, and increasing population suffering from lactose intolerance.
The Middle East & Africa lactose intolerance treatment market is segmented into the Middle East and Africa. The Middle East and Africa are highly obsolescence with per capita spend on dairy at just USD 25 per head, the lowest in the world. The underdeveloped infrastructural chain of the region makes it very difficult for the manufacturers to reach their consumers. However, if the affordability rate improves, the growth of the market would be even more dynamic.
Key Players
The Prominent Players in the Global Lactose Intolerance Treatment Market are Abbott (US)., Nestlé (Switzerland), Cargill, Incorporated (US), Dean Foods (US), and Johnson & Johnson Services, Inc. (US).
Some of the key strategies adopted by players operating in the global lactose intolerance treatment market were joint ventures, FDA approvals, acquisitions, expansions, and collaborations, among others.



In April 2017

, Abbott introduced science-based nutrition drinks to help patients have a better recovery from surgery. New Ensure Surgery Immunonutrition Shake and Ensure Pre-Surgery Clear Nutrition Drink is designed for hospitals implementing surgical guidelines for enhancing patient recovery. These drinks are also lactose-free.



Market Segmentation
Global Lactose intolerance Treatment Market, By Type



Primary Lactose Intolerance




Secondary Lactose Intolerance




Congenital/Developmental Lactose Intolerance



Global Lactose intolerance Treatment Market, By Treatment
Global Lactose intolerance Treatment Market, By Form



Powder




Liquid




Tablets/Capsules



Global Lactose intolerance Treatment Market, By End User



Home Care




Hospitals & Clinics



Global Lactose intolerance Treatment Market, By Region



Americas







North America







Latin America









Europe







Western Europe







Germany




France




UK




Italy




Spain




Rest of Western Europe









Eastern Europe









Asia-Pacific







Japan




China




India




Australia




South Korea




Rest of Asia-Pacific









Middle East & Africa






Available Additional Customizations



Impact of COVID-19 on Lactose intolerance Treatment Market




Mega Trends in the Market




Investment Opportunities




Pricing Analysis



Intended Audience



Hospitals




Clinics




Academic institutes



Report Scope:
| Report Attribute/Metric | Details |
| --- | --- |
| Market Size | USD 42,783.32 Million |
| CAGR | 6.29% |
| Base Year | 2020 |
| Forecast Period | 2027 |
| Historical Data | 2019 |
| Forecast Units | Value (USD Million) |
| Report Coverage | Revenue Forecast, Competitive Landscape, Growth Factors, and Trends |
| Segments Covered | Type, Treatment, Form, and End User |
| Geographies Covered | North America, Europe, Asia-Pacific, and Rest of the World (RoW) |
| Key Vendors | Abbott (US)., Nestlé (Switzerland), Cargill, Incorporated (US), Dean Foods (US), and Johnson & Johnson Services, Inc. (US) |
| Key Market Opportunities | Infrastructural chain |
| Key Market Drivers | Growing prevalence of lactose intolerance |
Speak to Analyst
Ask for Customization
Frequently Asked Questions (FAQ) :
---