Stolen Vehicle Recovery Market Overview
Sstolen vehicle security market is estimated to register a 6.38% CAGR Forecast by 2027
The stolen vehicle security system is an intelligent, reliable, and effective system to eliminate the chances of vehicle theft with the help of various components, such as central locking system, remote keyless entry system, ultrasonic intruder protection system (UIP), and automatic collision detection system. This security system includes detection, prevention and response to threats through the use of various technologies, such as radio frequency identification, and ultrasonic. The global stolen vehicle security market is estimated to register a 6.38% CAGR during the forecast period, 2018–2023. During that time, its valuation can grow from USD 9,317.40 million in 2017 to USD 13,408.83 million by 2023. Market Research Future's (MRFR) detailed report on the market has its focus on segments, drivers, and competitive analysis of the entire market. This can give a peek into the future market demography and enable market players in having strategies planned accordingly. Rising global incidents of vehicle theft is one of the key factors, driving the stolen vehicle recovery market. For instance, according to the Federal Bureau of Investigation (FBI), in 2017, about USD 6 billion was lost due to vehicle theft and the average loss, per vehicle theft, was approximately USD 7,708. Moreover, in 2017, vehicle theft rose by 10.4% compared to 2013. As per the FBI reports, in 2017, one vehicle theft was reported in every 40.9 seconds in the US. Moreover, increasing investments by the stolen vehicle recovery system manufacturers have led them to continuously working on developing alternative technologies that facilitate vehicle use without connecting to the internet, eliminating the risks for driver safety and cybersecurity. The stolen vehicle recovery system manufacturers are developing new technologies such as, biometric technology, radio frequency identification, and ultrasonic sensors, which has depleted the stolen vehicle rate. For instance, the stolen vehicle recovery system manufacturers have developed the biometric technology, that uses fingerprint, face, iris, hand, and retina recognition systems to grant access to the vehicle. They also identify people based on physical and/or behavioral characteristics. They offer easy vehicle entry by quickly processing the access request, collecting database, and recognizing authorization. Biometric technology is also capable of recognizing voices, typing patterns, and signature recognition. Such factors are expected to drive the global stolen vehicle recovery market during the forecast period.
However, potential failure of electronic components and high cost of the stolen vehicle security system could restrain the growth of the global stolen vehicle recovery market. The stolen vehicle security system comprises multiple subsystems, such as GPS, face detection system, RFID, UIP, central locking system, alarms, and immobilizers. The costs associated with the design and manufacturing of these subsystems are high, which affects the overall vehicle price to a major extent. Therefore, they hamper the market for stolen vehicle recovery, globally.
Regional Analysis
Stolen vehicle recovery market by region is segmented into Asia-Pacific, Europe, North America, and Rest of the World. Asia-Pacific is expected to hold the largest share in the global stolen vehicle recovery market during the forecast period with 51.13% share in 2017. China was the largest market in 2017, valued at USD 2,494.40 million. The growth in stolen vehicle recovery in Asia-Pacific can be attributed to China, Japan, and India, owing to an increase in demand for automobiles, primarily in China and India, along with the existence of major manufacturers and operating units of global players in this region.
Segment Analysis
Global stolen vehicle recovery market has been segmented based on technology, component, vehicle type, sales channel, and region. On the basis of technology, the market is classified into ultrasonic, radio frequency identification (RFID), and others. The radio frequency identification segment is expected to dominate the stolen vehicle recovery market as it helps recognize the movement of the thief though radio waves. RFID transmits the information by radio wave to a small chip attached to the objects, through which such objects can be located, identified, and tracked. RFID is used in a car security system, functions as a key sensor, which activates the car by using radio frequency signals and the tag sensor identifies whether the driver has access to operate the vehicle, or not, and enables locking if a user is identifies without access. Therefore, a wide range of operational ability allows RFID to be used for the vehicle safety applications.
Companies Covered
The key players of global stolen vehicle recovery market are Denso Corporation (Japan), Robert Bosch GmbH (Germany), HELLA GmbH & Co. KGaA (Germany), Valeo (France), Mitsubishi Electric Corporation (Japan), Continental AG (Germany), Lear Corporation (US), Tokairika, Co, Ltd (Japan), OMRON Corporation (Japan), and ALPS Alpine Co., Ltd (Japan).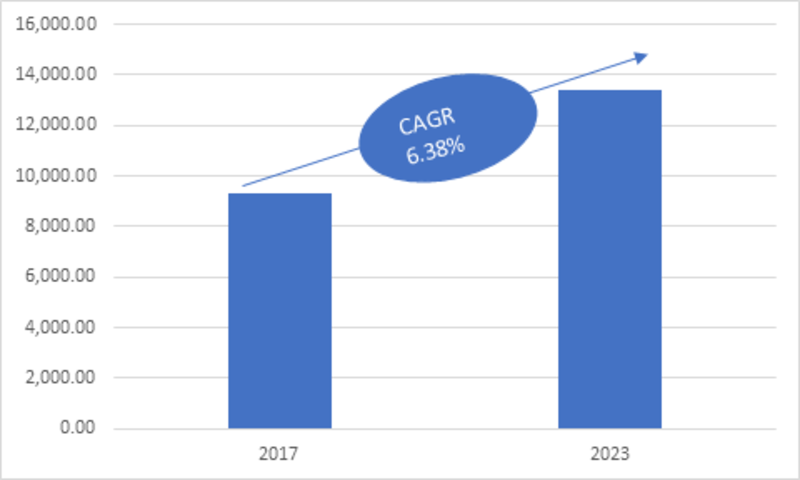 Key Developments



In February 2019, Mitsubishi Electric developed security technology to detect attacks on equipment sensors. This sensor-security technology detects measurement-data inconsistencies by inserting a proprietary algorithm in sensor fusion algorithms that combine multiple sensors for measurements used in the automatic control of in-vehicle devices.




In February 2019, Continental AG developed the in-vehicle server to act as the cornerstone of modern electronic architectures. The in-vehicle server functions as a network manager and it is a central architectural element for wireless software update and remote maintenance, an important element for vehicle cyber security.




In May 2018, Alps Alpine Co., Ltd. acquired Greina Technologies, Inc. The acquisition focuses on the development of products and solutions for the automotive, consumer electronics and mobile segments.



Analysis Period



Base Year - 2017




Projection Period - From 2018 to 2023




Market Valuation - USD Million



By Technology
By Component



Ultrasonic Intruder Protection System (UIP)




Backup Battery Siren (BBS)




Central Locking System




Automatic Collision Detection System




Automatic Driver Recognition System (ADRS)




Remote Keyless Entry System




Others



By Vehicle Type



Passenger Car




Commercial Vehicle



By Sales Channel
By Region
North America
Europe



Germany




Spain




France




UK




Rest of Europe



Asia-Pacific



China




Japan




India




Rest of Asia-Pacific



Rest of the World (RoW)



South America




Middle East & Africa



Key questions addressed in the report



What was the historic market size (2017)?




Which segment (Type / Rated Current/End-Use) is driving the market?




What will be the growth rate by 2023?




Who are the key players in this market?




What have been the strategies adopted by key players?



Report Scope:
Report Attribute/Metric
Details
Market Size
2027: USD 13,408.83 Million
CAGR
6.38% CAGR (2020 to 2027)
Base Year
2019
Forecast Period
2020-2027
Historical Data
2018
Forecast Units
Value (USD Million)
Report Coverage
Revenue Forecast, Competitive Landscape, Growth Factors, and Trends
Segments Covered
Technology, Component, Vehicle Type and Sales Channel
Geographies Covered
North America, Europe, Asia-Pacific, and Rest of the World (RoW)
Key Vendors
Robert Bosch GmbH (Germany), Denso Corporation (Japan), HELLA GmbH & Co. KGaA (Germany)
Key Market Opportunities
The central locking system segment
Key Market Drivers
Technological advancements
Rapid urbanization
Increasing criminal activity
Frequently Asked Questions (FAQ) :
---