Power Monitoring System Market Scenario
Power Monitoring System Market size is projected to reach USD 5.70 Billion by 2025, with 6.44% CAGR between 2019 and 2027.
The major driving factor for the global power monitoring system market includes increased attention to reducing energy costs and maximizing the reliability of electrical infrastructure. The power monitoring system acts as a home power monitoring system by ensuring the effective utilization of power resources in the residential end-use industry. For instance, end-users such as large residential complexes and smart cities have set up a power monitoring system in a huge area requiring efficient energy. As a result, they have installed power monitoring systems for power management, billing information, event verification, and power plant operation.
Key Players
The Key Players participants in the Global Power Monitoring System Market are Eaton (Ireland), ABB (Switzerland), Siemens (Germany), Schneider Electric (France), Emerson (US), General Electric (US), Rockwell Automation (US), Omron (Japan), Yokogawa (Japan), Greystone Energy Systems (Canada), Littlefuse (US), Mitsubishi Electric (Japan), Fuji Electric (Japan), Etap- Operation Technology (US), Samsara (US), and Vacom Technologies (US).
Major players such as ABB, Siemens, Schneider, and Emerson are actively focusing on contracts and new product development to offer a competitive power monitoring system. For instance, in April 2018, ABB launched more than 210 solutions and services under the 'ABB Ability' product to energize and automate the industry digital solutions, especially for Africa. The solutions and services include high-voltage transmission technologies, digital grids and microgrids for remote monitoring of electricity networks. This development has helped the company, explore the untapped opportunities in Africa. Also, increasing the adoption of smart grid technologies will present an opportunity for power monitoring system market players, thereby boosting the industrial power monitoring industry, of which the power monitoring system is a part. However, the high cost of high-end power monitoring devices is expected to act as a restraint for the global power monitoring system market.
The global power monitoring system is segmented based on components and end-use. By component, the global market includes software, hardware, and services. The hardware segment is expected to hold the largest share as hardware consists of various devices that are responsible for monitoring and controlling various aspects of the power monitoring system. By end-use, the global market is segmented into utilities & renewables, data center, public infrastructure, manufacturing & process industry, and others. The data center segment is expected to grow with the highest CAGR during the forecast period owing to increasing investments in IT hubs.
Market Segmentation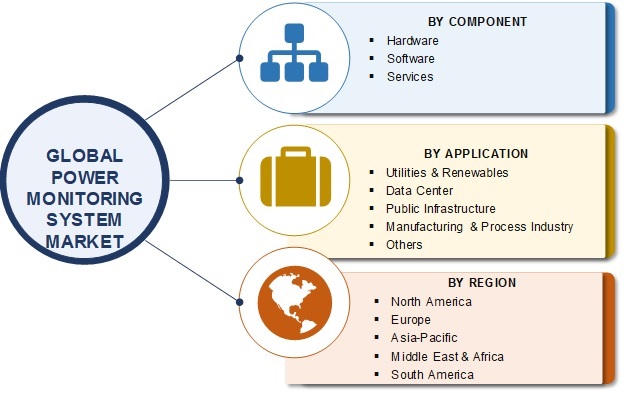 The Global Power Monitoring System Market is expected to witness high growth during the forecast period owing to the growing focus on energy efficiency.
A power monitoring system ensures an easy way to automatically retrieve and analyze power quality events as this system is permanently installed. A power monitoring system plays a vital role for end-users that can afford any kind of electrical perturbations. Power monitoring systems are used to quickly identify and resolve problems that occur on their electrical network. A power monitoring system possesses various advantages, which makes it ideal for many end-users to install it. These advantages include reliability, safety, maintenance, and financial benefits. Hence, by ensuring safety and reliability in the electrical network, the entire monitoring system act as an electrical power monitoring system. Moreover, a power monitoring system comprises various components that play a vital role in the entire electrical network. These components include sense energy monitors, sense power monitors, power monitoring meters, and power monitoring & control software.
By region, the global power monitoring system market is segmented into Asia-Pacific, North America, Europe, the Middle East & Africa, and South America. North America dominated the power monitoring system in terms of market share owing to increasing focus on the upgrade of aging power infrastructure and increasing the installation of smart meters. According to the U.S. Department of Energy's Smart Grid Investment Grant Program, there are few project announcements that have been made with a few scheduled deployments by Consolidated Edison and Hawaiian Electric, which have helped sustain the presence of AMI activity. Also, investments in smart meters with the market reaching almost USD 9 billion by 2022. Such factors are expected to drive the power monitoring system market in the region.
Intended Audience



Government and research organization




Consulting companies in the power monitoring system market




Power distribution companies




Research consultants




Investors and shareholders



Report Scope:
Report Attribute/Metric
Details
Market Size
2025: USD 5.70 Billion
CAGR
6.44% CAGR (2020-2027)
Base Year
2019
Forecast Period
2020-2027
Historical Data
2018
Forecast Units
Value (USD Million)
Report Coverage
Revenue Forecast, Competitive Landscape, Growth Factors, and Trends
Segments Covered
Component (Hardware, Software, and Services), End-Use
Geographies Covered
North America, Europe, Asia-Pacific, and Rest of the World (RoW)
Key Vendors
Eaton (Ireland), ABB (Switzerland), Siemens (Germany), Schneider Electric (France), Emerson (US), General Electric (US), Rockwell Automation (US), Omron (Japan), Yokogawa (Japan), Greystone Energy Systems (Canada), Littlefuse (US), Mitsubishi Electric (Japan), Fuji Electric (Japan), Etap- Operation Technology (US), Samsara (US), and Vacom Technologies (US)
Key Market Opportunities
Increasing the adoption of smart grid technologies
New product launches and R&D amongst major key players
Key Market Drivers
Increased attention to reducing energy costs
Maximizing the reliability of electrical infrastructure
Frequently Asked Questions (FAQ) :
---