Global Transformer Monitoring System Market Information Report by Type (Hardware Solutions, Software Solutions), By Service (Oil/Gas Monitoring, Bushing Monitoring and Others), By Application (Distribution Transformers, Power Transformers and Others) and By Region - Global Forecast To 2022

Market Sceario:
Transformers are electrical equipment that help in fluctuating the voltage of the electric current. This is important when a specific amount of electric current is required to be supplied to the end users. The growth of the global transformer monitoring system market is driven by the increasing number of power grid networks in any region. The growth of the market is also driven by rapid installation of power transformers led by the increased demand of energy generation from both renewable and non-renewable sources of energy. The installation of a huge number of distributor transformers for fulfilling the ever-increasing need for power transmission and distribution in a cost effective manner, is also driving the growth of the global transformer monitoring system market. This growth can, however, be restrained by factors such as the high investment cost for installation of transformer monitoring systems and the high maintenance cost so as to ensure smooth functioning and real time monitoring of such systems.

Study Objectives of Global Transformer Monitoring System:



To provide detailed analysis of the market structure along with forecast for the next 5 years of the various segments and sub-segments of the Global Transformer monitoring system




To provide insights about factors affecting the market growth




To Analyse the Global Transformer monitoring system market based on various factors such as supply chain analysis, and Porter's five force analysis




To provide historical and forecast revenue of the market segments and sub-segments with respect to regions and their respective key countries




To provide country level analysis of the market with respect to the current market size and future prospective




To provide country level analysis of the market for segments by Type, service, Application and region




To provide strategic profiling of key players in the market, comprehensively analysing their core competencies, and drawing a competitive landscape for the market




To track and analyse competitive developments such as joint ventures, strategic alliances, mergers and acquisitions, new product developments, and research and developments in the Global Transformer monitoring system





Market Segmentation: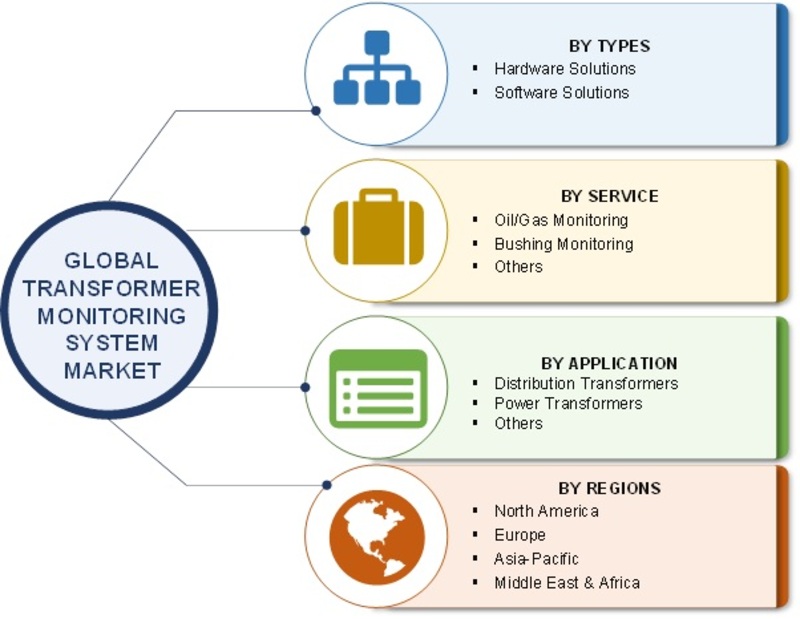 Regional Analysis:
Asia pacific is expected to be the largest market for transformer monitoring system due to the planned investments for the increased power capacity utilization required in the region. The developing nations such as India and China have invested heavily in smart grids, which is boosting the demand for transformer monitoring solutions. Rapid urbanization has resulted in rise in demand for power and individuals, which ultimately results in increasing demand in the transformer monitoring market.
Key Players:
The key players of Transformer monitoring system market are ABB automation company Ltd. (Switzerland,), General Electric Company (U.S.), Schneider Electric S.E. (France), Siemens AG (Germany), Advanced Power AG (Switzerland), BPL Global LLC (U.S.), Crompton Greaves Ltd. (India), Dynamic Ratings Pvt. Ltd. (U.S.), Eaton Corporation Plc. (Republic of Ireland), Echelon Corporation (U.S.), Elster Group SE (Germany), Hyosung Corporation (South Korea) and others.
Intended Audience:



Transformer monitoring system manufacturers




Distributer & Supplier companies




End Users




Consultants and Investment bankers




Government as well as Independent Regulatory Authorities




Product Analysis:

Additional Information:



Regulatory Landscape




Pricing Analysis




Macroeconomic Indicators




Geographic Analysis:

Company Information:



Profiling of 10 key market players




In-depth analysis including SWOT analysis, and strategy information of related to report title




Competitive landscape including emerging trends adopted by major companies







The report for Transformer monitoring system market of Market Research Future comprises of extensive primary research along with the detailed analysis of qualitative as well as quantitative aspects by various industry experts, key opinion leaders to gain the deeper insight of the market and industry performance. The report gives the clear picture of current market scenario which includes historical and projected market size in terms of value, technological advancement, macro economical and governing factors in the market. The report provides details information and strategies of the top key players in the industry. The report also gives a broad study of the different market segments and regions.
1 Executive Summary

2 Research Methodology

2.1 Scope of the Study

2.1.1 Definition

2.1.2 Research Objective

2.1.3 Assumptions

2.1.4 Limitations

2.2 Research Process

2.2.1 Primary Research

2.2.2 Secondary Research

2.3 Market size Estimation

2.4 Forecast Model

3 Market Dynamics

3.1 Market Drivers

3.2 Market Inhibitors

3.3 Supply/Value Chain Analysis

3.4 Porter's Five Forces Analysis

4 Global Transformer Monitoring System Market, By Type

4.1 Hardware Solutions

4.2 Software Solutions

5 Global Transformer Monitoring System Market, By Service

5.1 Oil/Gas Monitoring

5.2 Bushing Monitoring

5.3 Others

6 Global Transformer Monitoring System Market, By Application

6.1 Introduction

6.2 Distribution Transformers

6.3 Power Transformers

7 Regional Market Analysis

7.1 Introduction

7.2 North America

7.2.1 U.S.

7.2.2 Canada

7.3 Europe

7.3.1 U.K

7.3.2 France

7.3.3 Germany

7.3.4 Spain

7.3.5 Rest of Europe

7.4 Asia-Pacific

7.4.1 China

7.4.2 Japan

7.4.3 India

7.4.4 Rest of Asia-Pacific

7.5 Rest of the World

8. Competitive Analysis

8.1 Introduction

8.2 Competitive Scenario

8.2.1 Market Share Analysis

8.2.2 Market Development Analysis

8.2.3 Type/Service Benchmarking

8.3 ABB automation company (Switzerland)

8.3.1 Overview

8.3.2 Type/Service Offering

8.3.3 Strategy

8.4 General Electric Company (U.S.)

8.4.1 Overview

8.4.2 Type/Service Offering

8.4.3 Strategy

8.5 Schneider Electric SE (France)

8.5.1 Overview

8.5.2 Type/Service Offering

8.5.3 Strategy

8.6 Siemens AG (Germany)

8.6.1 Overview

8.6.2 Type/Service Offering

8.6.3 Strategy

8.7 Advanced Power AG (switzerland)

8.7.1 Overview

8.7.2 Type/Service Offering

8.7.3 Strategy

8.8 BPL Global LLC (U.S.)

8.8.1 Overview

8.8.2 Type/Service Offering

8.8.3 Strategy

8.9 Crompton Greaves Ltd. (India)

8.9.1 Overview

8.9.2 Type/Service Offering

8.9.3 Strategy

8.10 Dynamic Ratings (U.S.)

8.10.1 Overview

8.10.2 Type/Service Offering

8.10.3 Strategy





LIST OF TABLES
TABLE 1 GLOBAL TRANSFORMER MONITORING SYSTEM MARKET, BY TYPE

TABLE 2 GLOBAL TRANSFORMER MONITORING SYSTEM MARKET, BY SERVICE

TABLE 3 GLOBAL TRANSFORMER MONITORING SYSTEM MARKET, BY APPLICATION

TABLE 4 GLOBAL TRANSFORMER MONITORING SYSTEM MARKET, BY REGIONS

TABLE 5 NORTH AMERICA TRANSFORMER MONITORING SYSTEM MARKET, BY TYPE

TABLE 6 NORTH AMERICA TRANSFORMER MONITORING SYSTEM MARKET, BY SERVICE

TABLE 7 NORTH AMERICA TRANSFORMER MONITORING SYSTEM MARKET, BY APPLICATION

TABLE 8 U.S. TRANSFORMER MONITORING SYSTEM MARKET, BY TYPE

TABLE 9 U.S. TRANSFORMER MONITORING SYSTEM MARKET, BY SERVICE

TABLE 10 U.S. TRANSFORMER MONITORING SYSTEM MARKET, BY APPLICATION

TABLE 11 CANADA TRANSFORMER MONITORING SYSTEM MARKET, BY TYPE

TABLE 12 CANADA TRANSFORMER MONITORING SYSTEM MARKET, BY SERVICE

TABLE 13 CANADA TRANSFORMER MONITORING SYSTEM MARKET, BY APPLICATION

TABLE 14 EUROPE TRANSFORMER MONITORING SYSTEM MARKET, BY TYPE

TABLE 15 EUROPE TRANSFORMER MONITORING SYSTEM MARKET, BY SERVICE

TABLE 16 EUROPE TRANSFORMER MONITORING SYSTEM MARKET, BY APPLICATION

TABLE 17 GERMANY TRANSFORMER MONITORING SYSTEM MARKET, BY TYPE

TABLE 18 GERMANY TRANSFORMER MONITORING SYSTEM MARKET, BY SERVICE

TABLE 19 GERMANY TRANSFORMER MONITORING SYSTEM MARKET, BY APPLICATION

TABLE 20 FRANCE TRANSFORMER MONITORING SYSTEM MARKET, BY TYPE

TABLE 21 FRANCE TRANSFORMER MONITORING SYSTEM MARKET, BY SERVICE

TABLE 22 FRANCE TRANSFORMER MONITORING SYSTEM MARKET, BY APPLICATION

TABLE 23 U.K. TRANSFORMER MONITORING SYSTEM MARKET, BY TYPE

TABLE 24 U.K. TRANSFORMER MONITORING SYSTEM MARKET, BY SERVICE

TABLE 25 U.K. TRANSFORMER MONITORING SYSTEM MARKET, BY APPLICATION

TABLE 26 REST OF EUROPE TRANSFORMER MONITORING SYSTEM MARKET, BY TYPE

TABLE 27 REST OF EUROPE TRANSFORMER MONITORING SYSTEM MARKET, BY SERVICE

TABLE 28 REST OF EUROPE TRANSFORMER MONITORING SYSTEM MARKET, BY APPLICATION

TABLE 29 ASIA-PACIFIC TRANSFORMER MONITORING SYSTEM MARKET, BY TYPE

TABLE 30 ASIA-PACIFIC TRANSFORMER MONITORING SYSTEM MARKET, BY SERVICE

TABLE 31 ASIA-PACIFIC TRANSFORMER MONITORING SYSTEM MARKET, BY APPLICATION

TABLE 32 MIDDLE EAST & AFRICA TRANSFORMER MONITORING SYSTEM MARKET, BY TYPE

TABLE 33 ROW TRANSFORMER MONITORING SYSTEM MARKET, BY SERVICE

TABLE 34 ROWTRANSFORMER MONITORING SYSTEM MARKET, BY APPLICATION  
LIST OF FIGURES
FIGURE 1 RESEARCH METHODOLOGY

FIGURE 2 GLOBAL TRANSFORMER MONITORING SYSTEM MARKET: BY TYPE (%)

FIGURE 3 GLOBAL TRANSFORMER MONITORING SYSTEM MARKET: BY SERVICE (%)

FIGURE 4 GLOBAL TRANSFORMER MONITORING SYSTEM MARKET: BY APPLICATION (%)

FIGURE 5 GLOBAL TRANSFORMER MONITORING SYSTEM MARKET: BY REGION

FIGURE 6 NORTH AMERICA TRANSFORMER MONITORING SYSTEM MARKET, BY TYPE (%)

FIGURE 7 NORTH AMERICA TRANSFORMER MONITORING SYSTEM MARKET, BY SERVICE (%)

FIGURE 8 NORTH AMERICA TRANSFORMER MONITORING SYSTEM MARKET, BY APPLICATION (%)

FIGURE 9 EUROPE TRANSFORMER MONITORING SYSTEM MARKET, BY TYPE (%)

FIGURE 10 EUROPE TRANSFORMER MONITORING SYSTEM MARKET, BY SERVICE (%)

FIGURE 11 EUROPE TRANSFORMER MONITORING SYSTEM MARKET, BY APPLICATION (%)

FIGURE 12 ASIA-PACIFIC TRANSFORMER MONITORING SYSTEM MARKET, BY TYPE (%)

FIGURE 13 ASIA-PACIFIC TRANSFORMER MONITORING SYSTEM MARKET, BY SERVICE (%)

FIGURE 14 ASIA-PACIFIC TRANSFORMER MONITORING SYSTEM MARKET, BY APPLICATION (%)

FIGURE 15 ROW TRANSFORMER MONITORING SYSTEM MARKET, BY TYPE (%)

FIGURE 16 ROW TRANSFORMER MONITORING SYSTEM MARKET, BY SERVICE (%)

FIGURE 17 ROW TRANSFORMER MONITORING SYSTEM MARKET, BY APPLICATION (%)