Nuclear Waste Management Market Scenario
Nuclear waste management market is expected to grow at ~3.00% CAGR during the forecast period.
Rising population in China requiring electricity being generated by nuclear reactors will result in the implementation of nuclear waste management, thus driving this market. Moreover, Middle East witnessing the implementation of 12 nuclear reactors by 2032 will present an opportunity for nuclear waste management market. According to International Atomic Energy Agency (IAEA), some 28-member countries earlier without nuclear power plants are now considering as well as planning nuclear power plants. Out of these, 2 members have already ordered their first nuclear power plant, and 5 have made the decision to invest in the overall infrastructure. 7-member countries are just about to take the final decision on setting up the infrastructure, and remaining member countries are considering the nuclear power Programme.
The global nuclear waste management market is projected to grow at a moderate growth rate during the forecast period, very small amount of waste being generated by nuclear power as compared to other thermal electricity generation technologies. However, there are various nuclear projects that are coming up, especially in Middle East & Africa that might positively drive the nuclear waste management market in the coming years.
Key Players
The key players of global Nuclear waste management market are Enercon Services, Inc., Veolia Environment SA, Studsvik AB, Posiva Oy, Magnox Technologies Pvt. Ltd, Perma-Fix Environmental Services, Chase Environmental Group, Bechtel Group Inc., Fluor, and BHI Energy, among others.
Global nuclear waste management market has been segmented based on waste type, reactor type, and application, and region. Based on waste type, the market has been classified into low-level waste, high-level waste, and intermediate-level waste. Low-level waste type dominates the market as low-level waste is inclusive of materials that are required to be properly stored away from land and human exposure.
Market Segmentation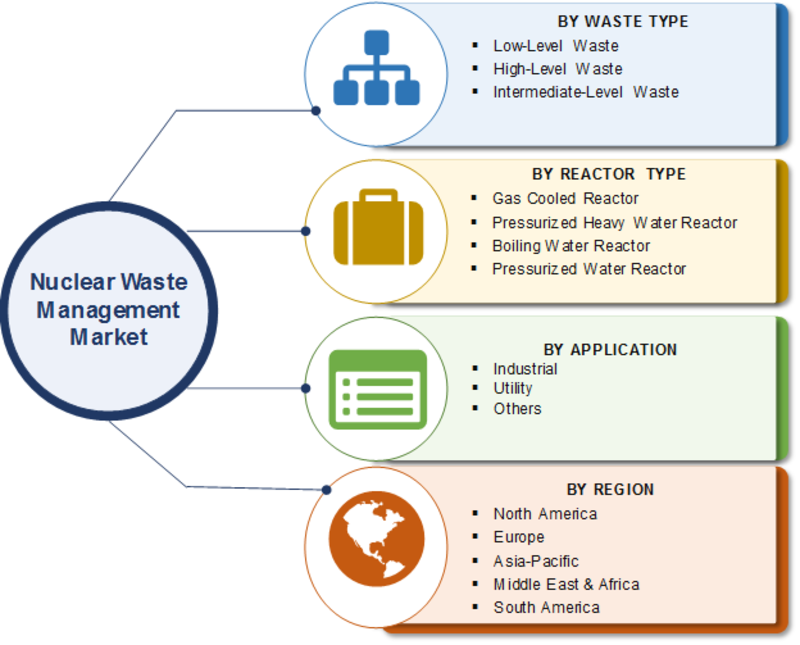 Global Nuclear waste management market
Global Nuclear waste management market is expected to witness a moderate growth during the forecast period due to moderate level of nuclear waste that is generated as compared to other thermal electricity generation technologies. However, there are activities going on in various regions related to implementation of nuclear power plants. For instance, China has been witnessing a huge investment amounting to USD 390 billion majorly going towards nuclear power. Also, the US has been generating over 90,000 metric tons of nuclear water that needs disposal. The commercial sector in the US, alone has generated waste more than any other country in the world. Moreover, the US government's nuclear weapon program has generated nuclear fuel as well as high-level radioactive waste that accounts for about 14,000 metric tons. This amount of nuclear waste is expected to increase to about 140,000 metric tons over the next several decades. All these factors are likely to drive the market for nuclear waste management.
Nuclear waste management, as the name suggests, provide the full-fledged management of nuclear wastes that contain radioactive material. It facilitates the entire sequence of operations starting with generations of waste and ending of disposal. Nuclear power is not the only industry which creates radioactive waste but also from other industries such as space research, healthcare, oil & gas, and mining, among others. Hence, the management of the nuclear waste has to be duly taken care of, for which the nuclear waste management is being done. There is lot of importance of nuclear waste management due to some of the driving factors which are creating demand for this kind of management. For instance, lack of permanent disposal, and increasing nuclear capacity requiring permanent disposal options.
Report Scope:
| Report Attribute/Metric | Details |
| --- | --- |
| Market Size | 2027: Significant Value |
| CAGR | 3% CAGR (2020-2027) |
| Base Year | 2019 |
| Forecast Period | 2020-2027 |
| Historical Data | 2018 |
| Forecast Units | Value (USD Million) |
| Report Coverage | Revenue Forecast, Competitive Landscape, Growth Factors, and Trends |
| Segments Covered | Waste Type, Reactor Type and Application |
| Geographies Covered | North America, Europe, Asia-Pacific, and Rest of the World (RoW) |
| Key Vendors | Enercon Services, Inc., Veolia Environment SA, Studsvik AB, Posiva Oy, Magnox Technologies Pvt. Ltd, Perma-Fix Environmental Services, Chase Environmental Group, Bechtel Group Inc., Fluor, and BHI Energy |
| Key Market Opportunities | New product launches and R&D amongst major key players |
| Key Market Drivers | Moderate level of nuclear waste that is generated as compared to other thermal electricity generation technologies |
Frequently Asked Questions (FAQ) :
---