Market Overview
The global expense management software market size is expected to grow from USD 3,215.8 million in 2019 to USD 7,306.7 million by 2027, growing at a compound annual growth rate (CAGR) of 11.5% during the forecast period. An expense management software is one of the financial management software tools that assist enterprises in automating and streamlining the process of expense report management and approval. It significantly reduces the time and effort required to submit, approve, and process employee expense reports and reimburse the expenses. As a result, small and medium-sized enterprises and large enterprises are adopting expense management software to increase organizational efficiency by controlling expenses and automating the process of expense reporting. In addition, expense management software provides expense visibility, which enhances the growth of enterprises. Hence, the expense management software is projected to show better growth prospects during the forecast period. Some of the factors driving the expense management software market include the increasing adoption of mobile applications to monitor expenses and the centralization of expense-related data in enterprises.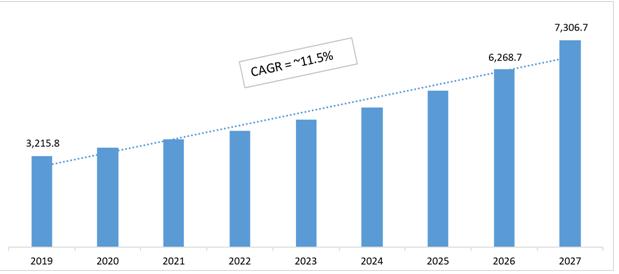 Source: Industry Expert, Secondary Research, and MRFR Analysis
Covid-19 Analysis
The COVID-19 firstly originated in early 2020 in Wuhan, China, and rapidly spread across the globe. The worldwide cases have surpassed 150 million as of now and continue to rise. The pandemic has forced lockdown situations across all the major economies and imposed numerous restrictions such as travel barriers, closure of the shops and markets, work from home, and import-export ban. In addition, governments all over the globe made various guidelines to stop the further spread of the COVID-19. Despite this, the novel coronavirus cases increased significantly and still continue to rise. COVID-19 has transformed the future of business. Despite all the negative consequences, the outbreak has initiated some encouraging changes. COVID-19 has accelerated the digitalization from a 'nice to have' to a 'must have' for several organizations, forcing them to adapt and modernize quickly to keep their operations running. Technology allows businesses to restructure their company around the consumer to establish a truly connected and lucrative organization. The pandemic has forced a "work from home" scenarioin major industries, which has surged the demand for cloud-based deployments. Although developing countries' enterprises were on a steady pace toward cloud adoption for the better part of the decade, COVID-19 has acted as a catalyst for the same. A cloud-based expense management software can help grow a business, whether it is big or small. It is not only cost-effective but also eliminates room for error and provides advanced analytics to gain a better understanding of the financial health of the company.
Thus, the market players have experienced an increase in revenue during the pandemic and are expected to gain more profitability during the projected period. Expense management software that is hosted in the cloud is not only accessible but also intelligent. It provides businesses and users insight into areas that require consideration. In addition, it offers businesses and users insight into areas where they can improve, such as expense management and business process improvement.
Market Dynamics
The global expense management softwaremarket is expected to witness growth in the next few years. During the research study, MRFR has observed several factors that are responsible for the growth of the market across the globe. The expense management softwaremarket is driven by the centralization of enterprise expense-related data and the rise in the adoption of mobile applications to monitor expenses.
Drivers


Centralization of Enterprise Expense-Related Data


The global economy has witnessed constant alterations owing to technological advancements that enable businesses and employees to run and work efficiently. However, conventional methods of detecting and resolving expenditure management errors are generally dispersed over many platforms, such as email and staff hard drives. Using a comprehensive, centralized system enables automation, multidimensional analysis, employee communications, workflow, file attachments, audit trails, and records of all activity taken to research and resolve problems. Centralizing all-expense-related data coupled with the expense management software empowers employees of an organization for reviewing, monitoring, and submitting expense reports on the go. Additionally, it eliminates data entry errors and examines the expense report quickly and accurately while also providing valuable insights into the expense management software system.Therefore, the centralization of enterprise expense-related data is one of the key factors driving the growth of the expense management software market during the study period.
Opportunity


Integration With Predictive Analytics


Predictive analytics is used to predict customer responses and purchases and cross-sell opportunities. Businesses can use predictive models to attract, retain, and grow their most profitable customers, thereby improving operations. In addition, predictive models are used by many businesses to forecast inventory and manage resources. With regard to expense management, the most common applications are process optimization and early detection of process irregularities. Additionally, predictive analytics can identify potential opportunities and risks in an organization. Therefore, predictive analytics will improve the decision-making process of finance employees in an organization to analyze, process, and track expense data.
Furthermore, it enables organizations to transform predicted future trends into actionable insights to drive business growth. Integration of predictive analytics with expense management software is expected to create immense volumes of data related to employees' expenses, which comprises travel expenses, food expenses, and other basic expenditures. Hence, integration with predictive analytics is expected to create lucrative growth prospects for the players operating in the global expense management market.
Restraints


Lack of Interoperability and Security Concerns


As the importance of digitalization improves, more businesses are implementing current technologies, such as expense management software. Employee expenditure reports and business travel and spending information are stored in expense management software. As a result, organizations should act responsibly while selecting an expense management system. Hackers or cybercriminals can use phishing, malware, social engineering, or related techniques to steal information. Theemployee names and information, corporate credit card numbers, transaction statements, business-related activities, and financial history are all stored in expense management software. However, security concerns hinder physical hardware security and data center security, leading to unplanned and unsystematic expense management. User account access in the expense management software can be denied due to data breaches and security hacks by unusual traffic. Multi-tenancy is the hardware used for cloud-based service providers enabling virtualization options to ensure a systematic work environment, enabling the data and information of one employee's expense to be shared with others. Hence, the lack of interoperability and security concerns is expected to be one of the factors hampering the growth of the expense management software market during the assessment period.
Market Segmentation
The expense management softwaremarket has been classified on the basis of type, end user, vertical, and region.
By type, the expense management software market has been segmented into PC terminal and mobile terminal.
Based on end user, the expense management software market has been segmented into small businesses, midsized businesses, large enterprises.
Based on vertical, the global market has been classified into BFSI, IT & telecom, retail & e-commerce, transportation & logistics, manufacturing, government & public sector, energy & utilities, and others.
Regional Analysis
By region, the expense management software market has been segmented into the US, Europe, China, Japan, Southeast Asia, and India.The USdominated the expense management software market in 2019 with a value of USD 1,247.9 million and is expected to reach USD 2,779.5million by 2027 at a CAGR of 11.3%. However, the market in India is estimated to register the highest CAGR of 12.7% during the forecast period, 2021–2027.
GLOBAL: EXPENSE MANAGEMENT SOFTWAREMARKET, BY REGION, 2020 (% SHARE)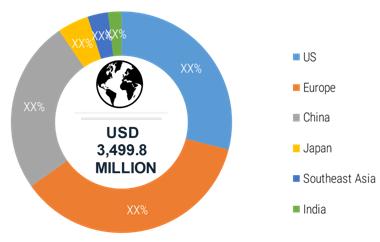 Source: Industry Expert, Secondary Research, and MRFR Analysis
Indiato Bolster the Expense Management Software Market Growth
India is the largest populous country, after China. The country has transformed its business processes to an advanced level. The country has shown major transformation in businesses in terms of the adoption of technologies. Small and medium-sized enterprises have always contributed to the expense management software market. The country has become a favorite outsourcing destination for western countries' companies in terms of IT and manufacturing. Moreover, the government digitization initiatives also have augmented the adoption of digital software solutions across businesses. The Software as a Service(SaaS) model has been a key contributor to the Indian market and is anticipated to present lucrative investment opportunities for the market players.
Competitive Landscape
The global market for expense management software has witnessed significant growth over the forecast period due to the rise in the adoption of mobile applications to monitor expenses. There are several domestic, regional, and global players operating in the expense management software market who continuously strive to gain a significant share of the overall market.
Key Players



SAP Concur (US)




Oracle (US)




Coupa Software (US)




Infor (US)



Oracle Corporation follows organic and inorganic growth approaches and focuses on enhancing its application, platform, and infrastructure segments. It also considers partnerships and collaborations as one of the crucial elements of its corporate strategy to enable innovation, grow customer base, and deploy products and services.
The key players of the global expense management softwaremarket include Sodexo (France), Xero Limited (New Zealand), Zoho Corporation Pvt. Ltd. (India), IBM Corporation (US), Oracle (US), SAP Concur (US), Intuit Inc. (US),Coupa Software Inc. (US), Insperity (US), Infor Inc. (US), Workday Inc. (US), and Expensify (US).
Recent Developments



In October 2018, Coupa Software launched new software suites for Coupa's Business Spend Management (BSM) platform that drives greater visibility and control to make smarter business decisions.




In May2018, Coupa Software commercialized new products equipped with prescriptive community intelligence that focuses on business fraud, category spending, and employee responsiveness to help customers make better business decisions. The solutions include Coupa Inventory (voice-activated), Coupa Risk Aware (monitors hundreds of data sources to reduce supply chain risk, and Coupa Open Buy (increases the supplier items and pricing content from additional suppliers).




In November2018, Apptricity partnered with Deem Work Fource platform to provide new Travel & Expense Management solutions to streamline online processing procedures. The partnership also facilitates Apptricity to enhance clients' productivity with an integrated solution that offers clear visibility and providesa low cost of ownership.




In July2018, Apptricity partnered with WEX Inc. to provide corporate payment solutions. The partnership also provides an electronic payment solution developed to streamline the payments process to suppliers. The alliance also offers new streams for its customers to gain greater control, process efficiency, and cost savings throughout the procure-to-pay process.




In March2017, Apptricity partnered with Keppel LeTourneau USA, Inc., a subsidiary of Keppel Offshore & Marine, to deliver travel and expense management solutions that further strengthen its presence in the Asia-Pacific market



Report Overview
This study estimates revenue growth at global, regional, and country levels and offers an overview of the latest developments in each of the sub-sectors from 2018 to 2027. For this analysis, MRFR segmented the global expense management softwaremarket has been segmented based on type, end user, vertical, and region.
By Type



PC Terminal




Mobile Terminal



By End User



Small Business




Midsized Business




Large Enterprises



By Vertical



BFSI




IT & Telecom




Retail & E-Commerce




Transportation & Logistics




Manufacturing




Government & Public Sector




Energy & Utilities




Others



Report Scope:
| Report Attribute/Metric | Details |
| --- | --- |
| Market Size | 2020- USD:3,499.8 Million 2027-USD: 7,306.7 Million |
| CAGR | |
| Base Year | 2020 |
| Forecast Period | 2019 |
| Historical Data | 2021–2027 |
| Forecast Units | |
| Report Coverage | |
| Segments Covered | • By Type (PC Terminal and Mobile Terminal) • By End User (Small Business, Midsized Business, and Large Enterprises) • By Vertical (BFSI, IT & Telecom, Retail & E-Commerce, Transportation & Logistics, Manufacturing, Government & Public Sector, Energy & Utilities, and Others) |
| Geographies Covered | • US • Europe • China • Japan • Southeast Asia • India |
| Key Vendors | IBM Corporation Oracle Corporation SAP SE (SAP Concur) Sodexo Intuit Inc. Insperity Infor Workday Inc Xero Limited Coupa Software Inc ZOHO Corporation Pvt Ltd Expensify Inc. Certify Inc. Gusto Receipt Bank Apptricity Corporation PaySimple Nexonia ExpensePath Inc GlobalPoint Technologies Inc SumTotal Systems LLC |
| Key Market Opportunities | |
| Key Market Drivers | • Drivers o Centralization of Enterprise Expense-Related Data o Increase in the Adoption of Mobile Applications to Monitor Expenses • Restraint o Lack of Interoperability and Security Concerns • Opportunity o Integration with Predictive Analytics • Impact of COVID-19 on the Market o Transformation of Businesses o Growing Adoption of Cloud-Based Model o Increase in the Revenue of Expense Management Software & Services Vendors |
Frequently Asked Questions (FAQ) :
---