Digital Oilfield Market Scenario
Digital oilfield market is projected to grow USD 28.61 billion by 2027 with a CAGR of more than 6.5% in the forecast period.
According to US Energy Information Administration US shale gas and tight oil has climbed by more than approximately 6 million BOE/d from 2008 to 2014 which is directly helping to grow this global market.
The main drivers of digital oilfield global market are advancement of technology, increase the need of productivity from the mature oil and gas wells, proper usability of cloud computing in oil and gas industry and improvisation of operational efficiency. Whereas, data security/cyber theft may be restraint for this global digital oilfield market. Although, the service provider companies are working very meticulously for securing the networks to avoid any hindrance during the operation.
The global market of digital oilfield is further segmented in three namely by process (Reservoir, Production, Drilling Optimization), by solution (Hardware, Software, Data Storage), and by application (Onshore and Offshore) and by Region (North America, Europe, Asia-Pacific, and Middle East & Africa).
Key Players
The major key player in global digital oilfield market are Schlumberger Limited (US), Weatherford International plc (Switzerland), Halliburton (US), National Oilwell Varco (US), Baker Hughes Incorporated (US), Siemens AG (Germany), Kongsberg Oil & Gas Technologies Inc. (UK), Emerson Electric Co. (US), Rockwell Automation, Inc. (US) and they are highly capable to give finest service in the industry.
Market Segmentation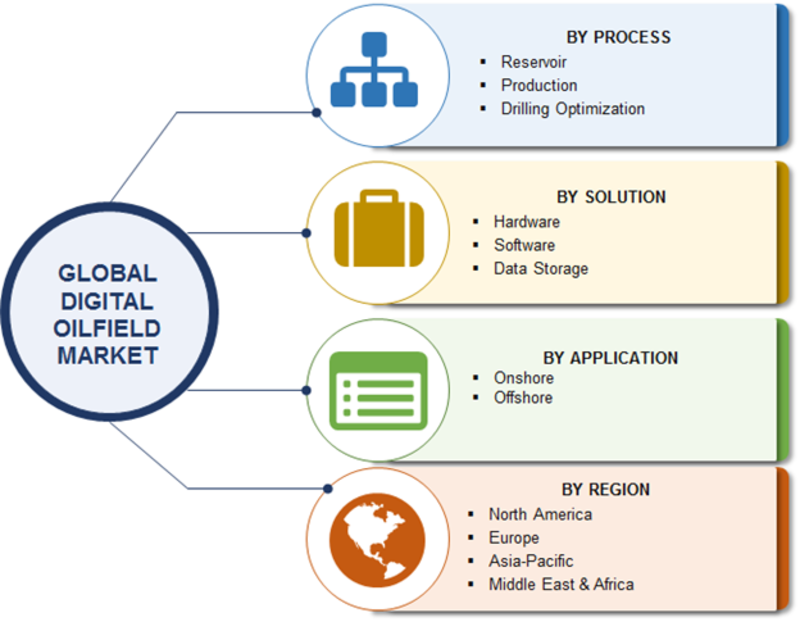 The global digital oilfield market is expected to grow USD 28.61 billion by 2027 with a CAGR of more than 6.5% in the forecast period because of rise in oil and gas demand across the world, increase in offshore exploration and drilling activities. Additionally, the companies involved in this taking R & D very seriously to ensure better operational efficiency throughout the process because of growing competition in market.
Based on process, this segment includes Reservoir, Production, and Drilling Optimization. Among them production is estimated to have faster growth and largest market share in the forecast period because the growing demand of oil and gas.
Based on solution, this segment includes Hardware, Software and Data Storage. Among these, hardware solution is projected to have faster growth and largest market share during the forecast period. As hardware solution includes smart well, distributed control system, wireless sensors, SCADA (Supervisory Control and Data Acquisition) and others and these are prime components for digital oilfield which are extensively used.
Based on region, North America region have been projected for largest market share as there is large shale oil and gas reserve, followed by Asia Pacific region which include country like China and India. For instance, company such as Halliburton is working to integrate, interpret, and act on production related information on real time basis for maximization of development.
Digital oilfields encompass variety of tools, tasks and disciplines altogether. Advanced software and data analysis procedures used to improve the profitability of oil and gas operations. The main aim of digital oilfield is to minimize the non-productive time, maximize the oilfield recovery and increase the profitability. The digital oilfield includes production optimization, operational efficiency, decision support, collaboration, data integration, the melding of operation with information technology and Internet of things. It comprises a combination of network sensors, cloud computing, advanced big data analytics, and artificial intelligence. These aspects help to understand and predict the equipment failure, maintenance, and tract of the real time-based situation of the oil and gas field. Lastly, digital oilfield is the technology which is the combination of various technologies in innovative ways to drive the productivity.
Report Scope:
Report Attribute/Metric
Details
Market Size
2027: USD 28.61 Billion
CAGR
6.5%CAGR (2020-2027)
Base Year
2019
Forecast Period
2020-2027
Historical Data
2018
Forecast Units
Value (USD Billion)
Report Coverage
Revenue Forecast, Competitive Landscape, Growth Factors, and Trends
Segments Covered
Process , Solution and Application
Geographies Covered
North America, Europe, Asia-Pacific, and Rest of the World (RoW)
Key Vendors
Schlumberger Limited (US), Weatherford International plc (Switzerland), Halliburton (US), National Oilwell Varco (US), Baker Hughes Incorporated (US), Siemens AG (Germany), Kongsberg Oil & Gas Technologies Inc. (UK), Emerson Electric Co. (US), Rockwell Automation, Inc. (US)
Key Market Opportunities
New product launches and R&D Amongst major key Players
Key Market Drivers
Advancement of technology
Increase the need of productivity from the mature oil and gas wells
Proper usability of cloud computing
Improvisation of operational efficiency
Speak to Analyst
Ask for Customization
Frequently Asked Questions (FAQ) :
---