Market Synopsis of Cloud Object Storage Market:

Market Scenario:

IBM Corporation a prominent player in cloud object storage market offers widest and most flexible ranges of object storage solutions in the industry. It enable enterprises by allowing them to select the deployment option that meets their needs, including public, dedicated and hybrid cloud or on-premises solutions. Hewlett-Packard Enterprises a major player in cloud storage market has designed cloud object storage technology for ultra-high durability of the data that is available for immediate retrieval. Every object is copied three times and stored in physically separate availability zones. HP Cloud Object Storage is powered by Open Stack technology and runs on high-performance HP servers.
North America region is the leading player in the cloud object storage market owing to the presence of major market players in the region. The cloud based services is adopted by both small and medium enterprises. The factors contributing towards the growth of cloud services in the region is the increasing data volumes from various vertical and technologies such as cloud computing, big data analytics and internet of things boosting the cloud object storage market. Asia-Pacific region to grow significantly in the cloud object storage market by the forecast period. Apart from it the rising adoption of it services and big data analysis is also driving the market.
The cloud object storage market is segmented on the basis of service, organization size, cloud deployment and end-user. By cloud deployment it consists of public, private and hybrid. Cloud solution accounts for highest market share as it helps enterprises by minimizing cost associated with the IT infrastructure. Cloud solution enable enterprise to focus on core business competencies. It provides enterprises with data protection and security, efficiently manage storage and privacy issues, offers data integrity and provides information related to governance and make enterprise legally prepared.
The major growth driver of cloud object storage market includes growing demand for technologically upgraded services, growing expansion of professional and managed services and increasing awareness about cost-effective cloud services among others.
The cloud object storage market is expected to grow at approximately USD 6 Billion by 2023, at 14% of CAGR between 2017 and 2023. Cloud Object Storage Market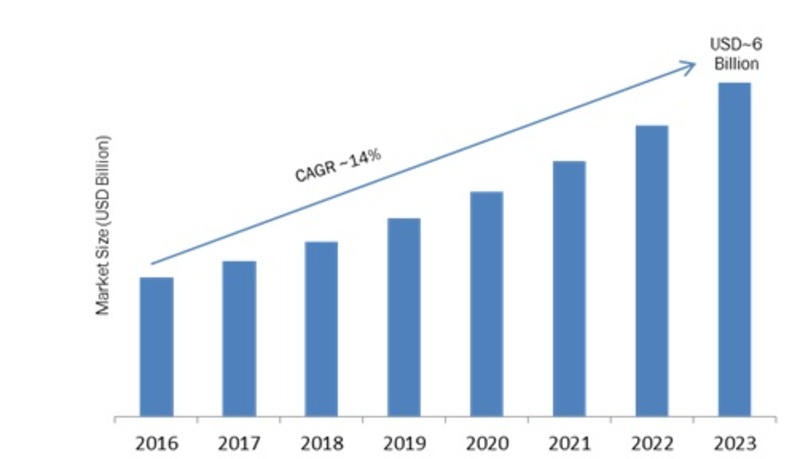 Key Players: The prominent players in the cloud object storage market are- Dell EMC (U.S.), International Business Machines Corporation (U.S.), Hewlett-Packard Enterprise (U.S.), Caringo Inc. (U.S.), Hitachi Data Systems (U.S.), Datadirect Networks (U.S.), Netapp, Inc. (U.S.), International Data Corporation (U.S.), Microsoft Corporation (U.S.), Google (U.S.) among others.
Segments: Cloud Object Storage market for segment on the basis of streaming cloud content, streaming type, service, deployment and vertical.
Cloud Object Storage Market by Services:
Cloud Object Storage Market by Organization Size:
Cloud Object Storage Market by Cloud Deployment:



Public Cloud




Private Cloud




Hybrid Cloud



Cloud Object Storage Market by End-User:



Social Media Platforms




IT & Telecommunication




BFSI




Others



Intended Audience



Investors and consultants




System Integrators




Government Organizations




Research/Consultancy firms




Technology solution providers



Frequently Asked Questions (FAQ) :
---
TABLE OF CONTENTS

1 MARKET INTRODUCTION

1.1 INTRODUCTION

1.2 SCOPE OF STUDY

1.2.1 RESEARCH OBJECTIVE

1.2.2 ASSUMPTIONS

1.2.3 LIMITATIONS

1.3 MARKET STRUCTURE

2 RESEARCH METHODOLOGY

2.1 RESEARCH TYPE

2.2 PRIMARY RESEARCH

2.3 SECONDARY RESEARCH

2.4 FORECAST MODEL

2.4.1 MARKET DATA COLLECTION, ANALYSIS & FORECAST

2.4.2 MARKET SIZE ESTIMATION

3 MARKET DYNAMICS

3.1 INTRODUCTION

3.2 MARKET DRIVERS

3.3 MARKET CHALLENGES

3.4 MARKET OPPORTUNITIES

3.5 MARKET RESTRAINTS

4 EXECUTIVE SUMMARY

5. MARKET FACTOR ANALYSIS

5.1 PORTER'S FIVE FORCES ANALYSIS

5.2 SUPPLY CHAIN ANALYSIS

6 CLOUD OBJECT STORAGE MARKET, BY SEGMENTS

6.1 INTRODUCTION

6.2 MARKET STATISTICS

6.2.1 BY SERVICE

6.2.1.1 PROFESSIONAL SERVICES

6.2.1.2 MANAGED SERVICES

6.2.2 BY ORGANIZATION SIZE

6.2.2.1 LARGE ENETRPRISES

6.2.2.2 SMALL & MEDIUM ENTERPRISES (SMEs)

6.2.2 BY CLOUD DEPLOYMENT

6.2.2.1 PUBLIC CLOUD

6.2.2.2 PRIVATE CLOUD

6.2.2.3 HYBRID CLOUD

6.2.3 BY END-USER

6.2.3.1 SOCIAL MEDIA PLATFORMS

6.2.3.2 BFSI

6.2.3.3 IT & TELECOMMUNICATION

6.2.3.4 HEALTHCARE

6.2.3.5 OTHERS

6.2.4 BY GEORGAPHY

6.2.4.1 NORTH AMERICA

6.2.4.2 EUROPE

6.2.4.3 ASIA-PACIFIC

6.2.4.4 REST OF THE WORLD

7 COMPETITIVE ANALYSIS

7.1 MARKET SHARE ANALYSIS

7.2 COMPANY PROFILES

7.2.1 DELL EMC (U.S.)

7.2.2 INTERNATIONAL BUSINESS MACHINES CORPORATION (U.S.)

7.2.3 HEWLETT-PACKARD ENTERPRISE (U.S.)

7.2.4 CARINGO INC. (U.S.)

7.2.5 HITACHI DATA SYSTEMS (U.S.)

7.2.6 DATADIRECT NETWORKS (U.S.)

7.2.7 NETAPP, INC. (U.S.)

7.2.8 INTERNATIONAL DATA CORPORATION (U.S.)

7.2.9 MICROSOFT CORPORATION (U.S.)

7.2.10 GOOGLE (U.S.)

7.2.11 OTHERS
LIST OF TABLES

TABLE 1 CLOUD OBJECT STORAGE MARKET, BY SERVICE

TABLE 2 CLOUD OBJECT STORAGE MARKET, BY ORGANIZATION SIZE

TABLE 3 CLOUD OBJECT STORAGE MARKET, BY CLOUD DEPLOYMENT

TABLE 4 CLOUD OBJECT STORAGE MARKET, BY END-USER

TABLE 5 CLOUD OBJECT STORAGE MARKET, BY REGION

TABLE 6 NORTH AMERICA CLOUD OBJECT STORAGE MARKET, BY SERVICE

TABLE 7 NORTH AMERICA CLOUD OBJECT STORAGE MARKET, BY ORGANIZATION SIZE

TABLE 9 NORTH AMERICA CLOUD OBJECT STORAGE MARKET, BY CLOUD DEPLOYMENT

TABLE 10 NORTH AMERICA CLOUD OBJECT STORAGE MARKET, BY END-USER

TABLE 11 U.S. CLOUD OBJECT STORAGE MARKET, BY SERVICE

TABLE 12 U.S. CLOUD OBJECT STORAGE MARKET, BY ORGANIZATION SIZE

TABLE 13 U.S. CLOUD OBJECT STORAGE MARKET, BY CLOUD DEPLOYMENT

TABLE 14 U.S. CLOUD OBJECT STORAGE MARKET, BY END-USER

TABLE 15 CANADA CLOUD OBJECT STORAGE MARKET, BY SERVICE

TABLE 16 CANADA CLOUD OBJECT STORAGE MARKET, BY ORGANIZATION SIZE

TABLE 17 CANADA CLOUD OBJECT STORAGE MARKET, BY CLOUD DEPLOYMENT

TABLE 18 CANADA CLOUD OBJECT STORAGE MARKET, BY END-USER

TABLE 19 EUROPE CLOUD OBJECT STORAGE MARKET, BY SERVICE

TABLE 20 EUROPE CLOUD OBJECT STORAGE MARKET, BY ORGANIZATION SIZE

TABLE 21 EUROPE CLOUD OBJECT STORAGE MARKET, BY CLOUD DEPLOYMENT

TABLE 22 EUROPE CLOUD OBJECT STORAGE MARKET, BY END-USER

TABLE 23 GERMANY CLOUD OBJECT STORAGE MARKET, BY SERVICE

TABLE 24 GERMANY CLOUD OBJECT STORAGE MARKET, BY ORGANIZATION SIZE

TABLE 25 GERMANY CLOUD OBJECT STORAGE MARKET, BY CLOUD DEPLOYMENT

TABLE 26 GERMANY CLOUD OBJECT STORAGE MARKET, BY END-USER

TABLE 27 FRANCE CLOUD OBJECT STORAGE MARKET, BY SERVICE

TABLE 28 FRANCE CLOUD OBJECT STORAGE MARKET, BY ORGANIZATION SIZE

TABLE 29 FRANCE CLOUD OBJECT STORAGE MARKET, BY CLOUD DEPLOYMENT

TABLE 30 FRANCE CLOUD OBJECT STORAGE MARKET, BY END-USER

TABLE 31 U.K. CLOUD OBJECT STORAGE MARKET, BY SERVICE

TABLE 32 U.K. CLOUD OBJECT STORAGE MARKET, BY ORGANIZATION SIZE

TABLE 33 U.K. CLOUD OBJECT STORAGE MARKET, BY CLOUD DEPLOYMENT

TABLE 34 U.K. CLOUD OBJECT STORAGE MARKET, BY END-USER

TABLE 35 REST OF EUROPE CLOUD OBJECT STORAGE MARKET, BY SERVICE

TABLE 36 REST OF EUROPE CLOUD OBJECT STORAGE MARKET, BY ORGANIZATION SIZE

TABLE 37 REST OF EUROPE CLOUD OBJECT STORAGE MARKET, BY CLOUD DEPLOYMENT

TABLE 38 REST OF EUROPE CLOUD OBJECT STORAGE MARKET, BY END-USER

TABLE 39 ASIA-PACIFIC CLOUD OBJECT STORAGE MARKET, BY SERVICE

TABLE 40 ASIA-PACIFIC CLOUD OBJECT STORAGE MARKET, BY ORGANIZATION SIZE

TABLE 41 ASIA-PACIFIC CLOUD OBJECT STORAGE MARKET, BY CLOUD DEPLOYMENT

TABLE 42 ASIA-PACIFIC CLOUD OBJECT STORAGE MARKET, BY END-USER

TABLE 43 ROW CLOUD OBJECT STORAGE MARKET, BY SERVICE

TABLE 44 ROW CLOUD OBJECT STORAGE MARKET, BY ORGANIZATION SIZE

TABLE 45 ROW CLOUD OBJECT STORAGE MARKET, BY CLOUD DEPLOYMENT

TABLE 46 ROW CLOUD OBJECT STORAGE MARKET, BY END-USER
LIST OF FIGURES

FIGURE 1 RESEARCH TYPE

FIGURE 2 CLOUD OBJECT STORAGE MARKET: BY SERVICE (%)

FIGURE 3 CLOUD OBJECT STORAGE MARKET: BY ORGANIZATION SIZE (%)

FIGURE 5 CLOUD OBJECT STORAGE MARKET: BY CLOUD DEPLOYMENT (%)

FIGURE 6 CLOUD OBJECT STORAGE MARKET: BY END-USER (%)

FIGURE 7 CLOUD OBJECT STORAGE MARKET: BY REGION (%)

FIGURE 8 NORTH AMERICA CLOUD OBJECT STORAGE MARKET, BY SERVICE (%)

FIGURE 9 NORTH AMERICA CLOUD OBJECT STORAGE MARKET, BY ORGANIZATION SIZE (%)

FIGURE 11 NORTH AMERICA CLOUD OBJECT STORAGE MARKET, BY CLOUD DEPLOYMENT TYPE (%)

FIGURE 12 NORTH AMERICA CLOUD OBJECT STORAGE MARKET, BY END-USER (%)

FIGURE 13 EUROPE CLOUD OBJECT STORAGE MARKET, BY SERVICE (%)

FIGURE 14 EUROPE CLOUD OBJECT STORAGE MARKET, BY ORGANIZATION SIZE (%)

FIGURE 16 EUROPE CLOUD OBJECT STORAGE MARKET, BY CLOUD DEPLOYMENT (%)

FIGURE 17 EUROPE CLOUD OBJECT STORAGE MARKET, BY END-USER (%)

FIGURE 18 ASIA-PACIFIC CLOUD OBJECT STORAGE MARKET, BY SERVICE (%)

FIGURE 19 ASIA-PACIFIC CLOUD OBJECT STORAGE MARKET, BY ORGANIZATION SIZE (%)

FIGURE 21 ASIA-PACIFIC CLOUD OBJECT STORAGE MARKET, BY CLOUD DEPLOYMENT (%)

FIGURE 22 ASIA-PACIFIC CLOUD OBJECT STORAGE MARKET, BY END-USER (%)

FIGURE 23 ROW CLOUD OBJECT STORAGE MARKET, BY SERVICE (%)

FIGURE 24 ROW CLOUD OBJECT STORAGE MARKET, BY ORGANIZATION SIZE (%)

FIGURE 26 ROW CLOUD OBJECT STORAGE MARKET, BY CLOUD DEPLOYMENT (%)

FIGURE 27 ROW CLOUD OBJECT STORAGE MARKET, BY END-USER (%)