Global Walkie Talkie Market, By Product Type (Analog Walkie Talkie and Digital Walkie Talkie), By Application (Government and Public safety, Commercial (Retail stores, shopping malls), Industry and commerce and Others (Home security etc.) - Forecast 2023
Market Synopsis of Global Walkie Talkie Market:
Market Scenario:
The key players in the global walkie talkie market include- Motorola Solutions, Hytera Communications, JVCKENWOOD, ICOM, Tait Communications, Abel, Cobra Electronics, Kirisun Communications, Shenzhen HQT Science and Technology, Uniden, and Wintec among others.
Regionally, North America accounted for the largest market share from countries such U.S., Canada and Mexico among others. The reason is attributed to growing demand for high technology adoption in the region. However, Asia Pacific is expected to grow over the forecast period, 2017-2023.
The global walkie talkie market can be bifurcated as product type, application, and region. Based on product type, the market is segmented into analog walkie talkie and digital walkie talkie. The applications covered by the walkie talkie include government and public safety, commercial (retail stores, shopping malls), industry and commerce and others (home security etc.). Geographically, the market is segmented into North America, Europe, Asia Pacific and Rest of the World.
The factors contributing to the growth of the walkie talkie market are growing adoption of technology and increasing need to of security due to increasing incidence of crimes.
Furthermore, factors such as portable or digital walkie talkie are very convenient to use for security purpose. It do not restricted to the specific area so that, demand of digital walkie talkie is growing from past years. However, high cost of the devices and range bandwidth limitation are the factors hampering the growth of the overall market.
The global walkie talkie market is highly competitive. Various established international brands, domestic brands and as well as new entrants form a competitive landscape. The key players are nonstop increasingly seeking market expansion through various strategic mergers and acquisitions, innovation, increasing investments in research and development and cost-effective product portfolio. The walkie talkie market is highly competitive due to the presence of several large vendors.
The global walkie talkie market is expected to reach approximately USD 16.99 billion by the end of 2023 with 9.47% CAGR during forecast period 2017-2023.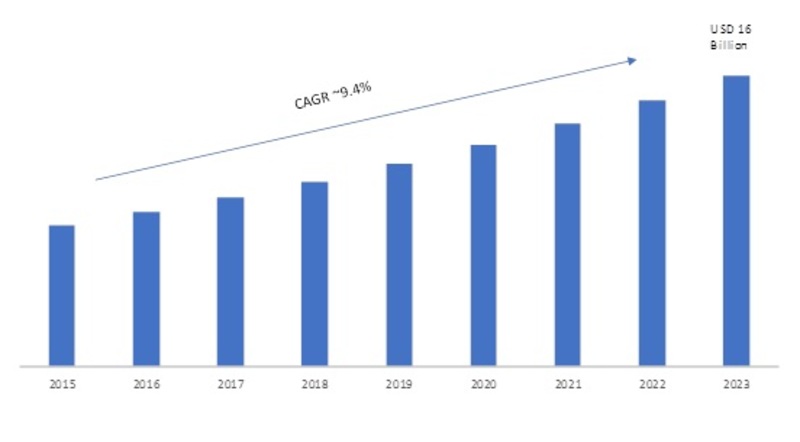 Segments
For the purpose of this study, Market Research Future has segmented the market of walkie talkie into age group, product type, wearing type, sales channel, application, end-users and region.
By Product Type



Analog Walkie Talkie




Digital Walkie Talkie



By Application



Government and Public safety




Commercial (Retail stores, shopping malls)




Industry and commerce




Others (Home security etc.)



By Region



North America




Europe




Asia-Pacific




Rest Of The World



Intended Audience



Device manufacturers




Network Operators




Distributors




Suppliers




Government Agencies




Security Agencies




End-user sectors




Communication operators




Defense



1 MARKET INTRODUCTION
1.1 INTRODUCTION
1.2 SCOPE OF STUDY
1.2.1 RESEARCH OBJECTIVE
1.2.2 ASSUMPTIONS
1.2.3 LIMITATIONS
1.3 MARKET STRUCTURE
2 RESEARCH METHODOLOGY
2.1 RESEARCH NETWORK TECHNOLOGY SOFTWARE
2.2 PRIMARY RESEARCH
2.3 SECONDARY RESEARCH
2.4 FORECAST MODEL
2.4.1 MARKET DATA COLLECTION, ANALYSIS & FORECAST
2.4.2 MARKET SIZE ESTIMATION
3 MARKET DYNAMICS
3.1 INTRODUCTION
3.2 MARKET DRIVERS
3.3 MARKET CHALLENGES
3.4 MARKET OPPORTUNITIES
3.5 MARKET RESTRAINTS
4 EXECUTIVE SUMMARY
5. MARKET FACTOR ANALYSIS
5.1 PORTER'S FIVE FORCES ANALYSIS
5.2 SUPPLY CHAIN ANALYSIS
6 WALKIE TALKIE MARKET, BY SEGMENTS
6.1 INTRODUCTION
6.2 MARKET STATISTICS
6.2.1 BY PRODUCT TYPE
6.2.1.1 ANALOG WALKIE TALKIE
6.2.1.2 DIGITAL WALKIE TALKIE
6.2.2 BY APPLICATION
6.2.5.1 GOVERNMENT AND PUBLIC SAFETY
6.2.5.2 COMMERCIAL (RETAIL STORES, SHOPPING MALLS)
6.2.5.3 INDUSTRY AND COMMERCE
6.2.5.4 OTHERS (HOME SECURITY ETC.)
6.2.3 BY GEOGRAPHY
6.2.3.1 NORTH AMERICA
6.2.3.2 EUROPE
6.2.3.3 ASIA-PACIFIC
6.2.3.4 REST OF THE WORLD
7 COMPETITIVE ANALYSIS
7.1 MARKET SHARE ANALYSIS
7.2 COMPANY PROFILES
7.2.1 MOTOROLA SOLUTIONS (U.S.)
7.2.2 COBRA ELECTRONICS (U.S.)
7.2.3 HYTERA COMMUNICATIONS (CHINA)
7.2.4 JVCKENWOOD (JAPAN)
7.2.5 ICOM (JAPAN)
7.2.6 TAIT COMMUNICATIONS (NEW ZEALAND)
7.2.7 KIRISUN COMMUNICATIONS (CHINA)
7.2.8 SHENZHEN HQT SCIENCE AND TECHNOLOGY (CHINA)
7.2.9 UNIDEN (JAPAN)
7.2.10 WINTEC (NEW ZEALAND)
TABLE 1 WALKIE TALKIE MARKET, BY PRODUCT TYPE
TABLE 2 WALKIE TALKIE MARKET, BY APPLICATION
TABLE 3 WALKIE TALKIE MARKET, BY GEOGRAPHY
TABLE 4 NORTH AMERICA WALKIE TALKIE MARKET, BY PRODUCT TYPE
TABLE 5 NORTH AMERICA WALKIE TALKIE MARKET, BY APPLICATION
TABLE 6 U.S. WALKIE TALKIE MARKET, BY PRODUCT TYPE
TABLE 7 U.S. WALKIE TALKIE MARKET, BY APPLICATION
TABLE 8 CANADA WALKIE TALKIE MARKET, BY PRODUCT TYPE
TABLE 9 CANADA WALKIE TALKIE MARKET, BY APPLICATION
TABLE 10 MEXICO WALKIE TALKIE MARKET, BY PRODUCT TYPE
TABLE 11 MEXICO WALKIE TALKIE MARKET, BY APPLICATION
TABLE 12 EUROPE WALKIE TALKIE MARKET, BY PRODUCT TYPE
TABLE 13 EUROPE WALKIE TALKIE MARKET, BY APPLICATION
TABLE 14 GERMANY WALKIE TALKIE MARKET, BY PRODUCT TYPE
TABLE 15 GERMANY WALKIE TALKIE MARKET, BY APPLICATION
TABLE 16 U.K. WALKIE TALKIE MARKET, BY PRODUCT TYPE
TABLE 17 U.K. WALKIE TALKIE MARKET, BY APPLICATION
TABLE 18 FRANCE WALKIE TALKIE MARKET, BY PRODUCT TYPE
TABLE 19 FRANCE WALKIE TALKIE MARKET, BY APPLICATION
TABLE 20 ITALY WALKIE TALKIE MARKET, BY PRODUCT TYPE
TABLE 21 ITALY WALKIE TALKIE MARKET, BY APPLICATION
TABLE 22 FRANCE WALKIE TALKIE MARKET, BY APPLICATION
TABLE 23 ASIA PACIFIC WALKIE TALKIE MARKET, BY PRODUCT TYPE
TABLE 24 ASIA PACIFIC WALKIE TALKIE MARKET, BY APPLICATION
TABLE 25 REST OF THE WORLD WALKIE TALKIE MARKET, BY PRODUCT TYPE
TABLE 26 REST OF THE WORLD WALKIE TALKIE MARKET, BY APPLICATION
FIGURE 1 RESEARCH METHODOLOGY
FIGURE 2 WALKIE TALKIE MARKET, BY PRODUCT TYPE (%)
FIGURE 3 WALKIE TALKIE MARKET, BY APPLICATION (%)
FIGURE 4 WALKIE TALKIE MARKET, BY REGIONS (%)
FIGURE 5 NORTH AMERICA WALKIE TALKIE MARKET, BY PRODUCT TYPE (%)
FIGURE 6 NORTH AMERICA WALKIE TALKIE MARKET, BY APPLICATION (%)
FIGURE 7 EUROPE WALKIE TALKIE MARKET, BY PRODUCT TYPE (%)
FIGURE 8 EUROPE WALKIE TALKIE MARKET, BY APPLICATION (%)
FIGURE 9 ASIA PACIFIC WALKIE TALKIE MARKET, BY PRODUCT TYPE (%)
FIGURE 10 ASIA PACIFIC WALKIE TALKIE MARKET, BY APPLICATION (%)
FIGURE 11 REST OF THE WORLD WALKIE TALKIE MARKET, BY PRODUCT TYPE (%)
FIGURE 12 REST OF THE WORLD WALKIE TALKIE MARKET, BY APPLICATION (%)