Market Synopsis of Global Ulcerative Colitis Market:
Market Scenario:
Ulcerative colitis is a type of inflammatory bowel disease (IBD) that affects the colon and rectum part of human body. Inflammation and ulcers are formed in the innermost lining of the colon and rectum, resulting in the production of pus and mucous in these linings. Abdominal cramps, diarrhea, and rectal bleeding are among the common symptoms observed in individuals suffering with the disease.
FIGURE 1 GLOBAL ULCERATIVE COLITIS MARKET BY TYPES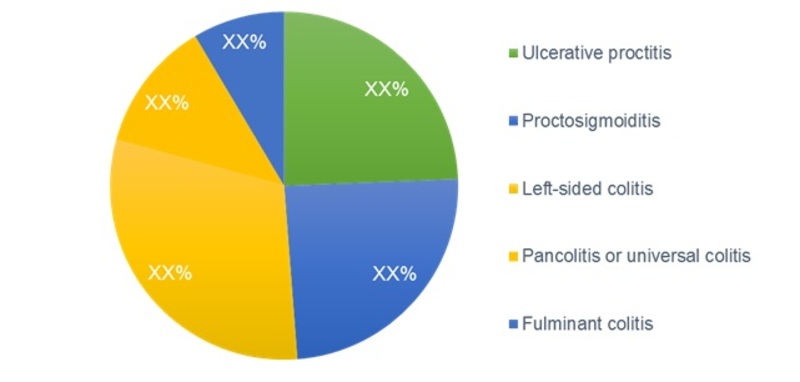 Study Objectives:



To provide detail analysis of the market structure along with estimated future growth forecast for the next 5 years about various segments and sub-segments of the global ulcerative colitis market.




To provide insights about factors affecting the market growth.




To analyze the global Ulcerative colitis market based on various factors- price analysis, supply chain analysis, Porters Five Force Analysis etc.




To provide past and estimated future revenue of the market's segments and sub-segments with respect to four main geographies and their countries- Americas, Europe, Asia-Pacific along with and Middle East & Africa.




To provide country level analysis of the market with respect to the current market size and future growth prospect.




To provide country level analysis of the market's segments which includes by type and by medications.




To provide overview of key players and their strategic profiling in the market, comprehensively analyzing their core competencies and drawing a competitive landscape of the market




To track and analyze developments which are competitive in nature such as joint ventures, strategic alliances, mergers and acquisitions, new product developments along with research and developments currently taking place in the global ulcerative colitis market.



Segments:
Global Ulcerative Colitis Market is segmented on the basis of types and medication. Based on procedures, the market is segmented into ulcerative proctitis, proctosigmoiditis, left-sided colitis, pancolitis or universal colitis, and fulminant colitis. Further on the basis of medication the market is classified into 5-aminosalicylates, steroids, purine analogs, immunomodulators, and biologics
Key players of Global Ulcerative colitis Market:
Key players profiled in the ulcerative colitis market report are Allergan, Inc., AbbVie Inc., Takeda Pharmaceutical Company Limited, and Bayer AG, UCB S.A., Perrigo Company plc, Pfizer Inc., Johnson & Johnson Services, Inc., Ferring B.V.
The report for Global Ulcerative Colitis Market by Market Research Future comprises of extensive primary research along with the detail analysis of qualitative as well as quantitative aspects by various industry experts, key opinion leaders to gain a deeper insight of the market and industry performance. The report gives a clear picture of current market scenario which includes past and estimated future market size with respect to value and volume, technological advancement, macro economical and governing factors in the market. The report provides detail information about and strategies used by top key players in the industry. The report also gives a broad study of the different market segments and regions.
Intended Audience



Global Ulcerative colitis drug manufacturers & suppliers



Contract research organizations (CROs)



Research and development (R&D) companies




Government research laboratories




Independent research laboratories




Government and independent regulatory authorities




Market research and consulting service providers




Academic institutes and universities



Frequently Asked Questions (FAQ) :
---
Table of Contents

1 INTRODUCTION

1.1 DEFINITION

1.2 SCOPE OF STUDY

1.2.1 RESEARCH OBJECTIVE

1.2.2 ASSUMPTIONS & LIMITATIONS

1.2.2.1 ASSUMPTIONS

1.2.2.2 LIMITATIONS

1.3 MARKET STRUCTURE:

2 RESEARCH METHODOLOGY

2.1 RESEARCH PROCESS:

2.2 PRIMARY RESEARCH

2.3 SECONDARY RESEARCH:

3 MARKET DYNAMICS

3.1 DRIVERS

3.2 RESTRAINTS

3.3 OPPORTUNITIES

3.4 MACROECONOMIC INDICATORS

4 MARKET FACTOR ANALYSIS

4.1 PORTERS FIVE FORCES MODEL

4.2 BARGAINING POWER OF SUPPLIERS

4.3 BARGAINING POWER OF BUYERS

4.4 THREAT OF NEW ENTRANTS

4.5 THREAT OF SUBSTITUTES

4.6 INTENSITY OF RIVALRY

5 GLOBAL ULCERATIVE COLITIS MARKET, BY TYPE

5.1 ULCERATIVE PROCTITIS

5.2 PROCTOSIGMOIDITIS

5.3 LEFT-SIDED COLITIS

5.4 PANCOLITIS OR UNIVERSAL COLITIS

5.5 FULMINANT COLITIS

6. GLOBAL ULCERATIVE COLITIS MARKET, BY MEDICATION

6.1 5-AMINOSALICYLATES

6.2 STEROIDS

6.3 PURINE ANALOG

6.4 IMMUNOMODULATORS

6.5 BIOLOGICS

7. GLOBAL ULCERATIVE COLITIS MARKET, BY REGION

7.1 NORTH AMERICA

7.1.1 INTRODUCTION

7.2 EUROPE

72.1 INTRODUCTION

7.3 ASIA-PACIFIC

7.3.1 INTRODUCTION

7.4 MIDDLE EAST & AFRICA

7.4.1 INTRODUCTION

8. COMPETITIVE LANDSCAPE

8.1 MAJOR STRATEGIES ADOPTED BY MARKET PLAYERS

8..1.1 STRATEGIC PARTNERSHIP

8..1.2 MERGER & ACQUISITION

9 COMPANY PROFILE

9.1 ABBVIE INC.

9.1.1 OVERVIEW

9.1.2 PRODUCT OVERVIEW

9.1.3 FINANCIALS

9.1.4 KEY DEVELOPMENTS

9.2 BAYER AG.

9.2.1 OVERVIEW

9.2.2 PRODUCT OVERVIEW

9.2.3 FINANCIALS

9.2.4 KEY DEVELOPMENTS

9.3 JOHNSON & JOHNSON SERVICES, INC.,

9.3.1 OVERVIEW

9.3.2 PRODUCT OVERVIEW

9.3.3 FINANCIALS

9.3.4 STRATEGY

9.3.5 KEY DEVELOPMENT

9.4 TAKEDA PHARMACEUTICAL COMPANY LIMITED

9.4.1 OVERVIEW

9.4.2 PRODUCT OVERVIEW

9.4.3 FINANCIALS

9.4.4 KEY DEVELOPMENTS

9.5 PFIZER INC.

9.5.1 OVERVIEW

9.5.2 PRODUCT OVERVIEW

9.5.3 FINANCIALS

9.5.4 KEY DEVELOPMENTS

9.6 OTHERS

List of Tables

TABLE 1 GLOBAL ULCERATIVE COLITIS MARKET, BY TYPE, 2013-2022 (USD MILLION)

TABLE 2 GLOBAL ULCERATIVE COLITIS MARKET, BY MEDICATION, 2013-2022 (USD MILLION)

TABLE 3 GLOBAL ULCERATIVE COLITIS MARKET BY REGION 2013-2022 (USD MILLION)

List of Figures

FIGURE 1 RESEARCH PROCESS

FIGURE 2 PORTERS FIVE FORCES MODEL

FIGURE 3 GLOBAL ULCERATIVE COLITIS MARKET, BY TYPE

FIGURE 4 GLOBAL ULCERATIVE COLITIS MARKET, BY MEDICATION

FIGURE 5 GLOBAL ULCERATIVE COLITIS MARKET, BY REGION

FIGURE 6 GLOBAL ULCERATIVE COLITIS MARKET: COMPANY SHARE ANALYSIS, 2015 (%)