Global Titanium Dioxide Market Information-by Application (Paints, Coatings Plastics, Photo-electrode, Pigment, Paper, Cosmetics, Food Additives, and Others), by End User (Automotive, Personal Care, Pharmaceutical, Food & Beverages, Construction Industry, and Others)

and by Region - Forecast till 2023
Synopsis of Titanium Dioxide Market
The Global Titanium Dioxide is expected to witness a significant growth of USD ~ 44.954 billion by 2023 with CAGR of ~14.28% between 2016 and 2023
Titanium dioxide one of the whitest material on the earth is a naturally occurring oxide of titanium in three forms anatase, rutile and brookite. It has the highest refractive index of all material till found by man including the diamond. Titanium dioxide are used in paints, coatings, plastics, paper, cosmetics, pharmaceuticals, foods and various other applications.
However, Titanium dioxide does not formed in a usable condition in nature. It must be cautiously mined in one of its pure forms, such as rutile, anatase beach sand, and refined into a fine even element size. Increasing in demands of automobile, construction industry and applications of pigments in various industries is likely to drive the global titanium dioxide market growth. On the other hand Environmental regulations such as carcinogenic properties and volatile prices of raw materials are the key factors which can restrain the global titanium dioxide market growth in forecasted period.
Global Titanium Dioxide Market (2016-2023) (USD Billion)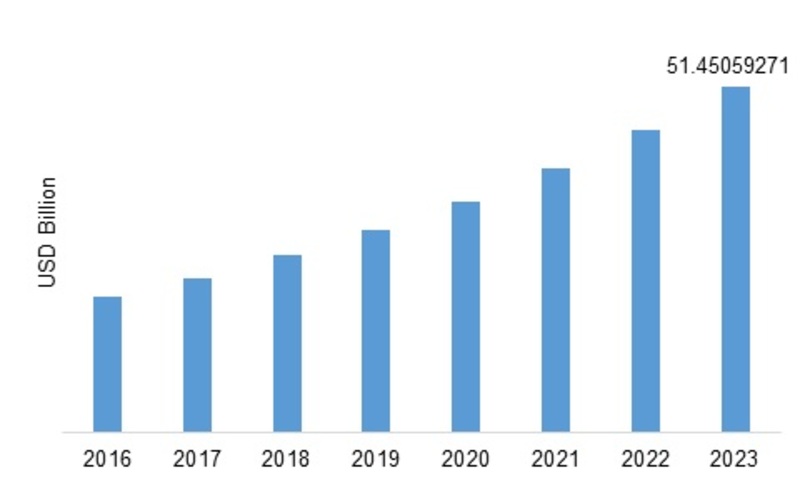 Regional Analysis
Asia Pacific is the largest market of titanium dioxide due to demand in various applications such as paints, plastics, photo-electrode, pigment, paper, in China region followed by Japan. Asia Pacific is largest consumer of the global titanium dioxide market followed by increasing in the consumption of titanium dioxide market in Europe region. The third largest market of titanium dioxide is North America. Latin America and Middle East also witnessed in growth of titanium dioxide market due to various application such as additives, pigment, paper, cosmetics, and others.
Segmentation
The global titanium dioxide market is majorly segmented on the basis of application, end users and region. Based on application of titanium dioxide the market is segmented into paints, coatings, plastics, photo-electrode, pigment, paper, cosmetics, food additives, and others. Based on end user the market segmented into automotive, personal care, pharmaceutical, food & beverages, construction industry, and others and based on region market is segmented into North America, Europe, APAC, Latin America, Middle East & Africa.
Key Players
Key players of the global titanium dioxide market are DuPont (US), Tronox Limited (US), CRISTAL (Saudi Arabia), The Chemours Company Chemours (US), NL Industries, Inc (US), Shandong Doguide Group Co., Ltd (China), Argex Titanium Inc. (North America), Huntsman International LLC. (US), Evonik Industries (Germany), Tayca Corporation (Japan), and Others.
Geographic Analysis
The report covers brief analysis of geographical region such as:
North America
Europe



Germany




France




Italy




Netherlands




U.K.




Rest of Europe



APAC



China




India




Japan




Rest of Asia-Pacific



RoW



South America




Middle East




Africa



The report about Global Titanium Dioxide Market by Market Research Future comprises of extensive primary research along with detail analysis of qualitative as well as quantitative aspects by various industry experts and key opinion leaders to gain a deeper insight of the market and industry performance. The report gives a clear picture of the current market scenario which includes past and estimated future market size in terms of value and volume, technological advancement, macro economical and governing factors in the market. The report further provides detail information about strategies used by top key players in the industry. It also gives a broad study about different market segments and regions.
Study Objectives of
Titanium Dioxide Market
:



To provide detailed analysis of the market structure along with forecast for the next 7 years of the various segments and sub-segments of the Global Titanium Dioxide Market




To understand the supply and demand dynamics including supply and consumption concentration mapping




To provide region level market analysis and future outlook for North America, Europe, Asia, and Rest of the World (ROW) and their countries




To provide competitor positioning of the market




To provide company profiling of major players in the market along with their production and capacity




To provide regional trade analysis




To evaluate historical market trends, patents and technologies, and current government regulatory requirements that are relevant to the market



Intended Audience



Titanium Dioxide manufacturers




Traders and distributors of Titanium Dioxide




Production Process industries




Potential investors




Raw material suppliers




Nationalized laboratory



TABLE OF CONTENTS

1 Executive Summary

2 Scope of The Report

2.1 Market Definition

2.2 Scope of The Study

2.2.1 Research Objectives

2.2.2 Assumptions & Limitations

2.3 Markets Structure

3 Market Research Methodology

3.1 Research Process

3.2 Secondary Research

3.3 Primary Research

3.4 Forecast Model

4 Market Landscape

4.1 Five Forces Analysis

4.1.1 Threat of New Entrants

4.1.2 Bargaining power of buyers

4.1.3 Threat of substitutes

4.1.4 Segment rivalry

4.2 Value Chain/Supply Chain of Global Titanium Dioxide Market

5 Industry Overview of Global Titanium Dioxide Market

5.1 Introduction

5.2 Growth Drivers

5.3 Impact analysis

5.4 Market Challenges

5.5 Impact analysis

6 Market Trends

6.1 Introduction

6.2 Growth Trends

6.3 Impact analysis

7. Global Titanium Dioxide Market by Region

8. Global Titanium Dioxide Market by Application (Paints, Coatings Plastics, Photo-electrode, Pigment, Paper, Cosmetics, Food Additives, and Others)

9. Global Titanium Dioxide Market by End User (Automotive, Personal Care, Pharmaceutical, Food & Beverages, Construction Industry, and Others)

10. Company Profiles

10.1 DuPont

10.1.1 Company Overview

10.1.2 Product/Business Segment Overview

10.1.3 Financial Updates

10.1.4 Key Developments
10.2 Tronox Limited

10.2.1 Company Overview

10.2.2 Product/Business Segment Overview

10.2.3 Financial Updates

10.2.4 Key Developments
10.3 CRISTAL

10.3.1 Company Overview

10.3.2 Product/Business Segment Overview

10.3.3 Financial Updates

10.3.4 Key Developments
10.4 The Chemours Company Chemours

10.4.1 Company Overview

10.4.2 Product/Business Segment Overview

10.4.3 Financial Updates

10.4.4 Key Developments
10.5 NL Industries, Inc

10.5.1 Company Overview

10.5.2 Product/Business Segment Overview

10.5.3 Financial Updates

10.5.4 Key Developments
10.6 Shandong Doguide Group Co., Ltd

10.6.1 Company Overview

10.6.2 Product/Business Segment Overview

10.6.3 Financial Updates

10.6.4 Key Developments
10.7 Argex Titanium Inc.

10.7.1 Company Overview

10.7.2 Product/Business Segment Overview

10.7.3 Financial Updates

10.7.4 Key Developments
10.8 Huntsman International LLC.

10.8.1 Company Overview

10.8.2 Product/Business Segment Overview

10.8.3 Financial Updates

10.8.4 Key Developments
10.9 Evonik Industries

10.9.1 Company Overview

10.9.2 Product/Business Segment Overview

10.9.3 Financial Updates

10.9.4 Key Developments
10.10 Tayca Corporation

10.10.1 Company Overview

10.10.2 Product/Business Segment Overview

10.10.3 Financial Updates

10.10.4 Key Developments

11 Conclusion
LIST OF TABLES

Table 1 World Population by Major Regions (2015 To 2030) (Billion)

Table 2 Global Titanium Dioxide Market: By Region, 2014-2023 (USD Billion)

Table 3 North America Titanium Dioxide Market: By Country, 2014-2023 (USD Billion)

Table 4 Europe Titanium Dioxide Market: By Country, 2014-2023 (USD Billion)

Table 5 Asia-Pacific Titanium Dioxide Market: By Country, 2014-2023 (USD Billion)

Table 6 RoW Titanium Dioxide Market: By Country, 2014-2023 (USD Billion)

Table 7 Global Titanium Dioxide by Application Market: By Regions, 2014-2023 (USD Billion)

Table 8 North America Titanium Dioxide by Application Market: By Country, 2014-2023 (USD Billion)

Table 9 Europe Titanium Dioxide by Application Market: By Country, 2014-2023 (USD Billion)

Table10 Asia-Pacific Titanium Dioxide by Application Market: By Country, 2014-2023 (USD Billion)

Table11 RoW Titanium Dioxide by Application Market: By Country, 2014-2023 (USD Billion)

Table12 North America Titanium Dioxide for Types Market: By Country, 2014-2023 (USD Billion)

Table13 Europe Titanium Dioxide for Types Market: By Country, 2014-2023 (USD Billion)

Table14 Asia-Pacific Titanium Dioxide for Types Market: By Country, 2014-2023 (USD Billion)

Table15 RoW Titanium Dioxide for Types Market: By Country, 2014-2023 (USD Billion)

Table16 Global Titanium Dioxide for Types Market: By Region, 2014-2023 (USD Billion)

Table17 North America Titanium Dioxide for Types Market: By Country, 2014-2023 (USD Billion)

Table18 Europe Titanium Dioxide for Types Market: By Country, 2014-2023 (USD Billion)

Table19 Asia-Pacific Titanium Dioxide for Types Market: By Country, 2014-2023 (USD Billion)

Table20 RoW Titanium Dioxide for Types Market: By Country, 2014-2023 (USD Billion)

Table21 RoW Titanium Dioxide for Types Market: By Country, 2014-2023 (USD Billion)

Table22 Global Application Market: By Region, 2014-2023 (USD Billion)

Table23 Global Types Market: By Region, 2014-2023 (USD Billion)

Table24 North America Titanium Dioxide Market, By Country (USD Billion)

Table25 North America Titanium Dioxide Market, By Application (Billion USD)

Table26 North America Titanium Dioxide Market, By Types (Billion USD)

Table27 Europe: Titanium Dioxide Market, By Country (USD Billion)

Table28 Europe: Titanium Dioxide Market, By Application (USD Billion)

Table29 Europe: Titanium Dioxide Market, By Types (USD Billion)

Table30 Asia-Pacific: Titanium Dioxide Market, By Country (USD Billion)

Table31 Asia-Pacific: Titanium Dioxide Market, By Application (USD Billion)

Table32 Asia-Pacific: Titanium Dioxide Market, By Types (USD Billion)

Table33 RoW: Titanium Dioxide Market, By Country (USD Billion)

Table34 RoW Titanium Dioxide Market, By Application (USD Billion)

Table35 RoW: Titanium Dioxide Market, By Types (USD Billion)





LIST OF FIGURES
FIGURE 1 Global Titanium Dioxide Market segmentation

FIGURE 2 Forecast Methodology

FIGURE 3 Five Forces Analysis of Global Titanium Dioxide Market

FIGURE 4 Value Chain of Global Titanium Dioxide Market

FIGURE 5 Share of Global Titanium Dioxide Market in 2014, by country (in %)

FIGURE 6 Global Titanium Dioxide Market, 2015-2023, (USD Billion)

FIGURE 7 Sub-segments of Types

FIGURE 8 Global Titanium Dioxide Market size by Types, 2015

FIGURE 9 Share of Global Titanium Dioxide Market by Types, 2012 to 2023

FIGURE 10 Global Titanium Dioxide Market size by Application, 2015

FIGURE 11 Share of Global Titanium Dioxide Market by Application, 2012 to 2023