Market Synopsis
Global Carbon Dioxide (CO2) Monitors Market is estimated to reach USD 799.2 Million by 2026, registering a CAGR of 8.7% during the forecast period of 2020–2026.
Carbon dioxide monitors sense the presence, and usually the concentration, of CO2, a potentially dangerous gas common in the natural environment and in many commercial and industrial processes. It is important for many industries to have accurate and fast detection of carbon dioxide to avoid the gas reaching dangerous toxic levels. The handheld CO2 detectors are used for spot checks wherein fixed mount CO2 detectors are used for continuous monitoring and with outputs for process control. Since carbon dioxide has no color or smell, it often goes unnoticed in closed premises. Exposure of carbon dioxide above 1000 ppm can have adverse effects on both an individual's brain and sleep. Depending on the severity of the CO2 concentrations, the symptoms can range from a slight headache and a lack of focus to dizziness and slowed cognitive functioning. Office workers, people who work at home, and children who go to school are especially at risk of exposure to CO2 levels greater than even 2500 ppm which is greater than the recommended concentrations. With a CO2 monitor, individuals can understand the levels of CO2 and take actions to prevent its effects.
Industry News


In February 2021, Lenovo has launched its carbon dioxide (CO2) Offset Services in India, which allows users to compensate for harmful carbon emissions from the manufacture, shipping and use of select Lenovo products for up to five years, at the point of purchase. The CO2 Offset Services will allow Lenovo's customers to choose from a range of projects overseen by the United Nations and ClimeCo, a producer of voluntary carbon credits in the US.




In February 2021, UPL Ltd has collaborated with US-based internet of things (IoT) innovator TeleSense to revolutionise post-harvest grain storage and transport. TeleSense uses scalable sensor technology on an artificial intelligence (AI) platform to monitor the temperature, humidity and carbon dioxide (CO2) levels of stored grain. Through this collaboration, UPL will help TeleSense strengthen its sales channel by introducing monitoring solutions for post-harvest commodity storage and transport to multiple stakeholders across the agriculture value chain.




In January 2021, Forensics Detectors has launched its first carbon dioxide (CO2) monitors specifically designed for indoor spaces such as classrooms, gyms and offices. These detectors are compliant with the California Assembly Bill AB 841 CO2 monitoring requirements which mandates CO2 indoor air quality monitoring to reduce COVID-19 transmission and infection risk.


Segmentation
Global Carbon Dioxide (CO2) Monitors Market has been segmented based on Product, Type, Application, and Region.
By product, the market has been segmented into wall-mounted carbon dioxide (CO2) monitors and pipeline carbon dioxide (CO2) monitors.
By type, the market has been segmented into end-tidal carbon dioxide (EtCO2) monitors and transcutaneous carbon dioxide (tcpCO2) monitors.
By application, the market has been segmented into hospital use, scientific research, breweries, greenhouses, underground car parks, office buildings, and others.
By region, the market has been segmented into North America, Europe, Asia-Pacific, and the rest of the world.
Global Carbon Dioxide (CO2) Monitors Market, 2018–2026 (USD Million)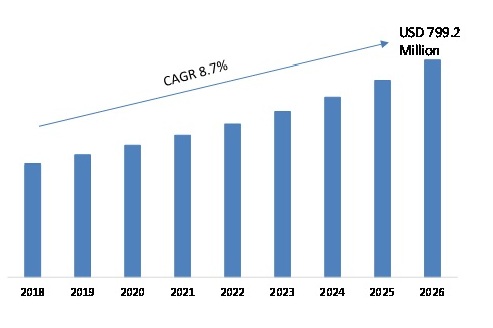 Source: MRFR Analysis
Regional Analysis
Global Carbon Dioxide (CO2) Monitors Market is estimated to grow at a significant rate during the forecast period from 2020 to 2026. The geographic analysis of carbon dioxide (CO2) monitors has been conducted for North America (the US, Canada, and Mexico), Europe (the UK, Germany, France, Spain, Italy, and the rest of Europe), Asia-Pacific (China, Japan, India, and the rest of Asia-Pacific), and the rest of the world (the Middle East and Africa and South America). Among these regions, North America has dominated the global market in 2019 and is expected to maintain its dominance throughout the forecast period. On the other hand, the Asia-Pacific region is expected to witness the fastest growth during the forecast period. Increasing cases of respiratory failure across this region is expected to fuel the market growth in this region.
Key Players
MRFR recognizes the key players in the global carbon dioxide (CO2) monitors market. These include Criticare Technologies, Inc., Dräger Medical GmbH, GE Healthcare, Invivo Corporation, Masimo Corporation, Medtronic PLC, Mindray DS USA, Inc., Nihon Kohden Corporation, Nonin Medical, Inc., OSI Systems, Inc., Philips Healthcare, Radiometer Medical ApS, Smiths Medical, and Thames Medical. These players focus on innovation and thus, invest in research and development to present a cost-effective product portfolio. There have been recent mergers and acquisitions among the key players, a strategy the business entities leverage to strengthen their reach to the customers.
Intended Audience



Investors and Consultants




Government Organizations




Research/Consultancy Firms




Manufacturers




Safety Providers




Industries



Report Scope:
| Report Attribute/Metric | Details |
| --- | --- |
| Market Size | USD 799.2 Million |
| CAGR | 8.7% (2020-2026) |
| Base Year | 2019 |
| Forecast Period | 2020-2027 |
| Historical Data | 2018 |
| Forecast Units | Value (USD Billion) |
| Report Coverage | Revenue Forecast, Competitive Landscape, Growth Factors, and Trends |
| Segments Covered | Product, Type, Application and Region |
| Geographies Covered | North America, Europe, Asia-Pacific, and Rest of the World (RoW) |
| Key Vendors | Criticare Technologies, Inc., Dräger Medical GmbH, GE Healthcare, Invivo Corporation, Masimo Corporation, Medtronic PLC, Mindray DS USA, Inc., Nihon Kohden Corporation, Nonin Medical, Inc., OSI Systems, Inc., Philips Healthcare, Radiometer Medical ApS, Smiths Medical, and Thames Medical |
| Key Market Opportunities | New product development, mergers, and acquisitions |
| Key Market Drivers | Increasing cases of respiratory failure across this region |
Speak to Analyst
Ask for Customization