Market Overview
Global Thermal Spray Coatings Market is projected to witness moderate growth at a CAGR of over 4.8% to reach USD 13.8 Billion by 2027.
In thermal spray coating processes, coatings from a stream of high velocity finely divided particles in a molten or semi-molten state are deposited on a substrate. These processes use fine powdered material or sometimes metal wire that is molten and broken into fine droplets. The process is mostly used to apply coatings to a wide range of materials and components and imparts resistance against wear, cavitation, erosion, corrosion, heat or abrasion. Thermal spraying is also used to provide high or low friction, electrical conductivity or insulation, lubricity, sacrificial wear, chemical resistance, and many such desirable surface properties.
The key factors driving this market include the high demand from the healthcare industry, where it is used in prosthetics, orthopedics, dental implants, pacemakers, etc. The growing aerospace industry, on account of increased domestic and international travel for vacation and business, drives thermal spray coatings' demand. The use of thermal spraying as a substitution for electroplating is also a prime driver of the global market. Certain disadvantages of thermal spraying processes act as a restraint for the global market.
Fluctuation in the availability of raw materials used for thermal spraying is a major challenge for the market players. On the other hand, the use of thermal spraying in renewable energy applications and technological advancements in the thermal spraying coating methods are projected to open up new growth avenues for players in the global thermal spray coatings market.
Market Dynamics
Thermal spray coatings are extensively used in the healthcare industry for various applications such as prosthetics, orthopedics, dental implants, and pacemakers. These coatings exhibit wear resistance, corrosion resistance, high temperature, and biocompatibility. In addition, the coatings promote bone growth at an accelerated rate. These coatings are porous and bio-active, which enables biomedical engineers to design implants that are higher suited to interact with bone tissue. Thermal sprayed ceramic coatings on medical implantable exhibit easier cleaning and reprocessing due to hydrophobic properties. Moreover, they are 100% anti-allergic due to the absence of chromium and nickel on the surface layer, thereby providing comfort to the patient.
In the aerospace industry¸, the use of high-quality thermal spray coatings results in increased fuel efficiency, reduced maintenance cost, and higher speed in aircraft and rotorcraft engines, as well as other related components. Typical thermal spray coatings applications include rotor-path linings, high-pressure turbine seals, compressor seals, bearings, oil seals, crank shafts, cylinders, and piston rings. Thermal spraying is also useful in building resistance against fretting, sliding, wear, and corrosion to flap tracks, landing gear, and other airframe components.
Moreover, the increasing use of thermal spray coating in renewable energy applications such as biomass incineration boilers, wind turbine towers, and geothermal piping systems coupled with the rising demand for renewable energy from wind power and hydropower technologies is projected to drive the global thermal spray coatings market.
However, the fluctuations in raw material availability and pricing are expected to restrain the growth of the global thermal spray coatings market during the forecast period.
Impact of COVID-19 on the Global Thermal Spray Coatings Market
The outbreak of COVID-19 across regions has resulted in a lockdown of cities, border restrictions, and breakdown of transportation networks. This is projected to significantly impact the chemicals & materials supply chains, international trade, and manufacturing operations worldwide. The slowdown in all the end-use markets is expected to influence the production of thermal spray coatings negatively. For instance, a leading player in this market, Oerlikon, withdrew guidance for the whole2020 due to the high degree of market uncertainty. However, the company remains committed to the mid-term target for Group EBITDA margin of 16–18%. To ensure smooth production, the company piloted the sensor-based technology, SafeZone, from the start-up Kinexon, which measures the distance between two sensors with centimeter precision and traces infection chains in compliance with data protection regulations.
The outbreak of coronavirus has halted several industrial activities, including thermal spraying production, to some extent. However, thermal spraying in medical applications is expected to keep running their production during this period. The pandemic has required many companies to ramp-up production on critical equipment essential for saving lives. Enfield Technologies, a customer of General Magnaplate Corporation, a manufacturer of valves for ventilators used in the medical industry, was operational during the COVID-19 related lockdowns. These ventilators are coated with General Magnaplate's Tufram coatings, which helped the company be functional during this pandemic.
Global Thermal Spray Coatings Market Revenue, by Technology, 2018–2027 (USD Million)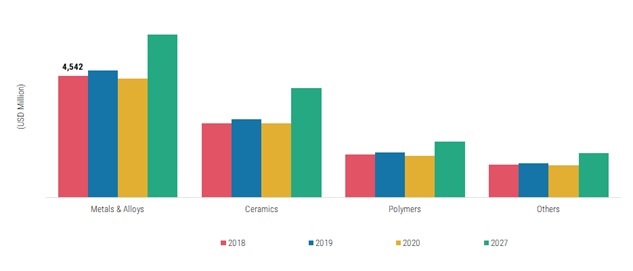 Sources: MRFR Analysis
Segmentation
Global Thermal Spray Coatings Market has been segmented based on Process, Material, and End User.
By process, the global market has been categorized into two segments, namely, combustion flame and electrical. The combustion flame segment dominated the market with over 65% of the market in 2019. The electrical process includes arc spraying and plasma spraying. The combustion flame process includes flame spraying, HVOC spraying, and detonation flame spraying. The flame spraying process is widely used for low-intensity applications owing to cost.
Based on material, the global thermal spray coating market has been segmented into metals & alloys, ceramics, polymers, and others. The metals & alloys segment accounted for the largest market share of around 45% in 2019, and it is expected to register a CAGR of 4.5% during the forecast period. Metal & alloy coating provides cost-effective surface solutions providing corrosion and oxidation resistance, wear and erosion resistance, and enhance conductivity.
Thermal spray coating is used for a wide variety of applications. Based on end user, the global thermal spray coating market has been segmented into aerospace, energy and power, automotive, healthcare, machinery, agriculture, electrical and electronics, and others. In 2019, the aerospace segment dominated the global market with around 35% and is projected to register a CAGR of around 5% during the forecast period. Thermal spray coatings are extensively used in the aerospace industry in gas turbine engines, air vessels, rocket exhaust cones, insulating tiles, space shuttles, windshield glass, and engine components.
Global Thermal Spray Coatings Market Share, By Region, 2019 (%)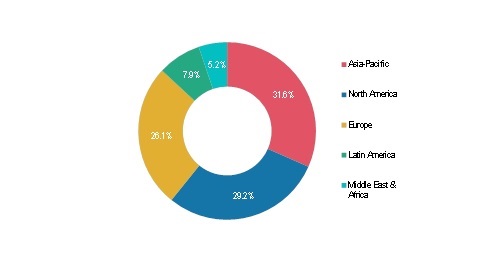 Sources: MRFR Analysis
Regional Analysis
Global Thermal Spray Coatings Market has been studied across the five regions, namely, North America, Latin America, Asia-Pacific, Europe, and the Middle East & Africa. The market in Asia-Pacific dominated the global market with a value share of over 31% in 2019 and is projected to register the highest CAGR of around 7% to reach USD 5 billion by the end of 2027. The market's high growth is mainly attributed to the increasing demand for thermal spray coatings from automotive, aerospace, oil and gas, and energy and power industries in the major economies such as India, China, and Japan. China is the leading producer and consumer of thermal spray coatings in Asia-Pacific, accounting for about 45% value share of the regional market in 2019. India's thermal spray coating market is expected to register the highest CAGR owing to the surging demand in the automotive, energy and power, chemical, and aerospace industries. North America accounted for the second-largest share of the global market and was valued at USD 3 billion in 2019.
Key Players
The Key Players in the Global Thermal Spray Coatings Market are Bodycote (UK), Oerlikon Group (Switzerland), BryCoat Inc. (US), Surface technology (UK), A&A Coatings (US), Plasma-tec, Inc (Canada), General Magnaplate Corporation (US), ASB Industries (US), H. C. Starck (US), Flame Spray Coating Company (US), Exline Inc (US), and Metallisation Limited (UK).
Some of the Key Strategies followed by the Players operating in the Global Thermal Spray Coatings Market are acquisition and expansion.



In April 2020

, Bodycote acquired Ellison Surface Technologies, a leader in engineered surface coating solutions and special processes. The acquisition will help the company to strengthen its specialist technologies portfolio.




In October 2019

, Surface technology acquired Norman Hay plc's operating divisions, a private UK-based company that provides specialty chemicals, operating equipment, and services to industrial end-use markets. This acquisition will expand the company's product portfolio and geographical footprint.




In July 2019

, Oerlikon Metco acquired AMT AG, a Singapore-based advanced material technology provider. The acquisition expand the company's surface solution technologies and strengthen its market position.



Market Segmentation
Global Thermal Spray Coatings Market, By Process



Electrical




Combustion Flame



Global Thermal Spray Coatings Market, By Material



Metals & Alloys




Polymers




Ceramics




Others



Global Thermal Spray Coatings Market, By End User



Automotive




Aerospace




Electrical & Electronics




Healthcare




Energy & Power




Agriculture




Machinery




Others



Global Thermal Spray Coatings Market, By Region



North America







Europe







Germany




UK




France




Spain




Italy




Russia




Poland




Rest of Europe









Asia-Pacific







Latin America







Mexico




Brazil




Argentina




Rest of Latin America









Middle East & Africa






Available Additional Customizations



Thermal Spray Coatings Market PESTEL analysis




Customer Analysis of Major Consumers



Intended Audience



Thermal Spray Coatings Product Manufacturers




Thermal Spray Coatings Service Providers




Suppliers and traders of Thermal Spray Coating Products




Government, associations, and industrial associations




Investors and trade experts




Consulting in chemical experts



Frequently Asked Questions (FAQ) :
---