Metal Ceilings Market Synopsis
Metal ceilings market is a very dynamic market and is expected to witness high growth over the forecast period. The development of new and diversified technologies is creating exciting opportunities within the ceilings. Global metal ceilings market growing at approximately 4.2% CAGR between 2016 and 2022.
Ceilings account for about a third of interior surface areas in most buildings and are often a building's largest and most visible interior surface. As a result, ceiling design and specification decisions are among the most important choice of design professionals. Ceilings can be brought low and articulated to create intimate spaces. Some are subtle in design and can even be highly expressive. They can impede sound or amplify it, and they can direct light by reflection or can black it out. Whatever the requirements, ceilings can be used to accomplish varied design intents.
Metal ceilings are used in a wide range of sectors, including offices, retail, health, education and transport. They are durable, hygienic and can be designed to meet different aesthetic and acoustic needs, and incorporating lighting and other services.
Metal ceiling systems come in a variety of shapes and sizes, and can be used in both exterior and interior applications. From linear systems to wide panels, to curved and open cell, every manufacturer has a specific system for each of their metal panel ceiling options. Metal ceilings are different. The density of their surface and the aesthetic restraint of their design, offer the architect and builder particular creative options and solutions for many types of building projects. The metal provide particularly good acoustics by virtue of the different surface perforations that also create an overall design pattern on the tiles.
Metal ceilings market is undergoing various changes with evolving customer expectations, acceleration of technological innovation, and shifts in competitive power. Increasing number of funding commitments for commercialization, and development of refueling infrastructure will be crucial factors for the growth of the construction market in the years to come. Stainable ceiling design has become a priority. Many steel panels contain a 25 percent minimum post-consumer recycled content, while some aluminum panels are manufactured with 100 percent post-consumer recycled content. In addition, the ceilings which typically last 40 to 50 years are 100 percent recyclable. In addition to considering sustainability factors such as recycled content and recycle potential, architects are choosing metals because they have characteristics that contribute in green building efforts. The long-term durability of metals, eliminate the environmental impact of renovation. Moreover, the fact that metal ceilings do not absorb water, reduces the mold and mildew problems.

The key players of global metal ceilings market includes AWI Licensing LLC (U.S.), Architectural Surfaces, Inc. (U.S.) , Grenzebach BSH (Germany) ,Gordon Incorporated (U.S.), USG Corporation (U.S.), Rockfon (U.S.), Hunter Douglas (Netherlands), Techno Ceiling (India), and Norton Industries Inc. (U.S.)

Metal Ceilings Market-By Segment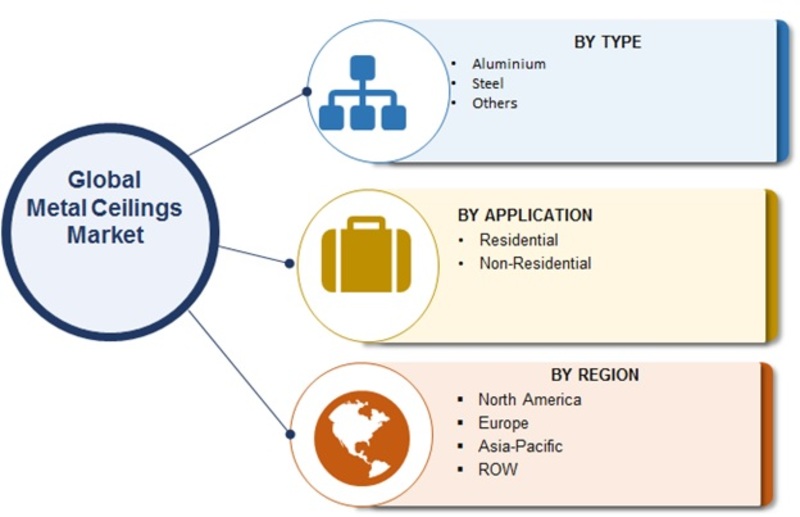 Regional Analysis
Metal ceilings market can geographically be segmented as North America, Europe, Asia Pacific (APAC), and Rest of the World (ROW). Asia Pacific is expected to dominate the global metal ceilings market due to the continuous economic growth of the region and the rise in GDP of nations such as China, India and Singapore among others have led to the growth of the automotive and construction industry. This contributes to the growth of the metal ceilings market in the region.
The governments across all regions are seen promoting and developing their construction sector. The emerging nations are the ones which are particularly bringing various reform and regulations to boost their infrastructure growth and real-estate market. Such growth is expected to augment the market growth of metal ceilings market.
The report for Global Metal Ceilings Market of Market Research Future comprises extensive primary research along with the detailed analysis of qualitative as well as quantitative aspects by various industry experts, key opinion leaders to gain the deeper insight of the market and industry performance. The report gives the clear picture of current market scenario which includes historical and projected market size in terms of value and volume, technological advancement, macro economical and governing factors in the market. The report provides details information and strategies of the top key players in the industry. The report also gives a broad study of the different market segments and regions.
Report Scope:
Report Attribute/Metric
Details
Market Size
2027: Significant Value
CAGR
4.2% CAGR (2020-2027)
Base Year
2019
Forecast Period
2020-2027
Historical Data
2018
Forecast Units
Value (USD Million)
Report Coverage
Revenue Forecast, Competitive Landscape, Growth Factors, and Trends
Segments Covered
by Technology, by Application, by Material
Geographies Covered
North America, Europe, Asia-Pacific, and Rest of the World (RoW)
Key Vendors
AWI Licensing LLC (U.S.), Architectural Surfaces, Inc. (U.S.) , Grenzebach BSH (Germany) ,Gordon Incorporated (U.S.), USG Corporation (U.S.), Rockfon (U.S.), Hunter Douglas (Netherlands), Techno Ceiling (India), and Norton Industries Inc. (U.S.)
Key Market Opportunities
Increase in construction activities
Increase in industrialization
Rising urbanized population
Key Market Drivers
Growth in the automotive and construction industry
Frequently Asked Questions (FAQ) :
---