Global Smart Contact Lenses Information, By Application (Continuous Glucose Monitoring, Intraocular Pressure Monitoring), By End User Type (Hospitals, Clinics And Home Care Settings) - Forecast Till 2023
Intended Audience



Healthcare organizations




Contract Research Organizations (CROs)




Research and Development (R&D) Companies




Academic Medical Institutes and Universities



Figure 1: Global Smart contact lenses market, by application, 2016: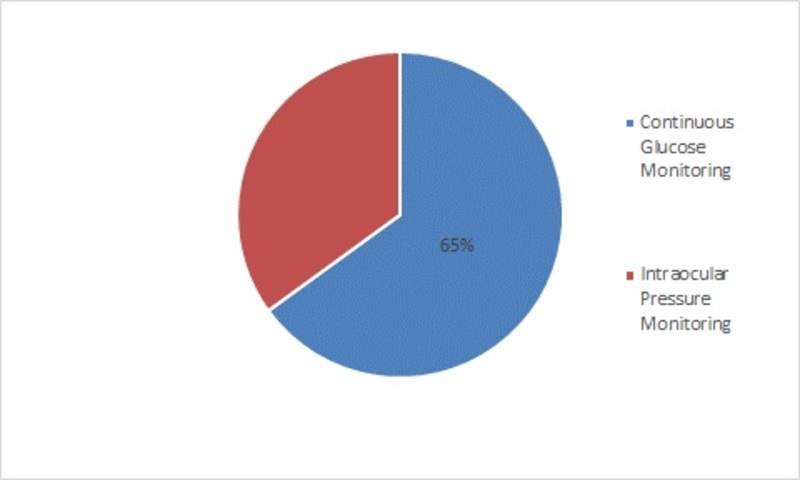 Source: Press Release, Company presentation, annual reports
Figure 2: Market Synopsis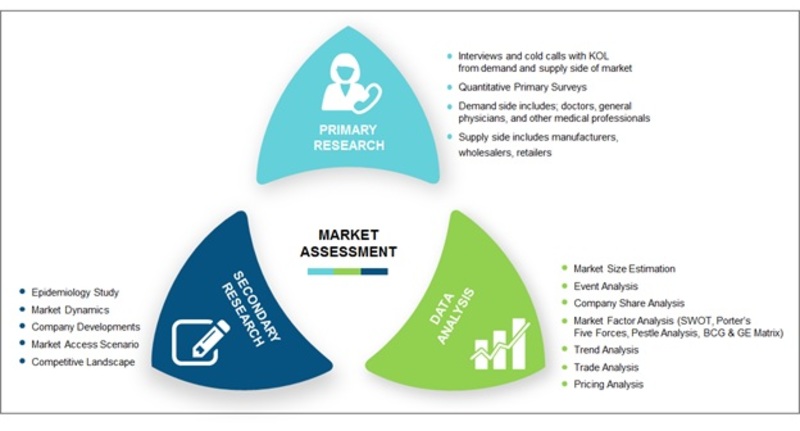 Sources: Press Release, presentation, company website, annual reports, government records, journals expert interview.
Market Scenario:
Smart devices are now gaining popularity across the globe due to their various advantages such as continuous monitoring of various health indicators. Devices such as smart watches, smart lenses and smart lenses are mostly widely used for fitness and diabetes monitoring. In August 2015, smart contact lenses have received U.S approval for monitoring intraocular pressure.
Contact lens are thin lenses are worn to improve vision or for aesthetic use. An increase in the trend of using contact lens has been noticed in last few years. Contact lenses eliminate the need of using spectacles. Technological advancement in smart contact lenses is on the verge of creating something innovative with a goal to minimize vision problems in people. Smart contact lenses have sensors that detect glucose levels in tears and intraocular pressure. Most of the youth are attracted towards the use of contact lenses with changing lifestyle and awareness about trending cosmetic products. The youth is also influenced by the growing trend of smart medical devices, thus influencing the market growth.
The growth of smart contact lenses market is attributed to increasing prevalence of diabetes, changing trends in eye wear, replacement of smart glasses by smart lenses and demand of wearable medical devices for continuously monitoring health condition of patients. The restrain for this market is the price of smart contact lenses. Also, fierce competition among major market players creates barriers for new entrants in the market. Key players in eth market are engaged in innovative product development to withstand their position in the market.
According to findings from the WHO, in 2014, approximately 422 million people suffered from diabetes across the globe.
Global market of smart contact lenses is expected to reach USD 7.2 billion in 2023 from USD 4.5 billion in 2016 with a CAGR of approximately 10.4% during the forecast period 2017-2023.
Segmentation:
The global smart contact lenses market has been segmented on the basis of application which includes continuous glucose monitoring, intraocular pressure monitoring and other applications. Other applications are cholesterol detection, sodium detection and alcohol detection.
On the basis of end users market is segmented into hospitals, clinics and home care settings.
Regional Analysis:
America is the largest market for smart contact lenses. Increasing diabetic population, demand of eye care solutions with innovative technology, increasing adoption of upgraded wearable medical devices and trends in cosmetics drive the growth of this market in America. Additionally, rising awareness about fitness and availability of wearable medical devices. Furthermore, according to the American Diabetes Association, in 2015, approximately 30.3 million Americans which is 9.4% of the American population were suffering from diabetes.
Europe is the second largest market due to an increase in expenditure on research in smart medical devices. Extensive use of smart contact lenses in the European countries also drives the market growth. According to the report published by World Health Organization (WHO) in 2015, over 60 million people were suffering from diabetes in the European Region.
Asia Pacific the prevalence of chronic diseases such as diabetes is increasing from last few years, creating growth opportunities for the market. However, market shows steady growth in this region because smart medical devices are not affordable for most of the developing countries, and unawareness regarding the use of smart devices. China and India are expected to show exponential growth in the market.
The market shows slow growth in Middle East and Africa because of low technology penetration. In Africa, there is an increasing demand for primary care services and unavailabity of medical care restrains the growth of the market.
Key Players
Samsung (South Korea), Sony (Japan), Alcon (U.S), Google (U.S), Sensimed SA (Switzerland)
Table of Content

1. Report Prologue

2. Market Introduction

2.1 Definition

2.2 Scope of the Study

2.2.1 Research Objective

2.2.2 Assumptions

2.2.3 Limitations

3. Research Methodology

3.1 Introduction

3.2 Primary Research

3.3 Secondary research

3.4 Market Size Estimation

4. Market Dynamics

4.1 Drivers

4.2 Restraints

4.3 Opportunities

4.4 Challenges

4.5 Macroeconomic Indicators

4.6 Technology Trends & Assessment

5. Market Factor Analysis

5.1 Porters Five Forces Analysis

5.1.1 Bargaining Power of Suppliers

5.1.2 Bargaining Power of Buyers

5.1.3 Threat of New Entrants

5.1.4 Threat of Substitutes

5.1.5 Intensity of Rivalry

5.2 Value Chain Analysis

5.3 Investment Feasibility Analysis

5.4 Pricing Analysis

6. Global Smart Contact Lenses Market, by Devices

6.1 Introduction

6.2 Continuous Glucose Monitoring

6.2.1 Market Estimates & Forecast, 2017-2023

6.3 Intraocular Pressure Monitoring

6.3.1 Market Estimates & Forecast, 2017-2023

7. Global Smart Contact Lenses Market, by End User

7.1 Introduction

7.2 Hospitals

7.2.1 Market Estimates & Forecast, 2017-2023

7.3 Clinics

7.3.1 Market Estimates & Forecast, 2017-2023

7.4 Home Care Settings

7.4.1 Market Estimates & Forecast, 2017-2023

8. Global Smart Contact Lenses Market, by Region

8.1 Introduction

8.2 Americas

8.2.1 North America

8.2.1.1 US

8.2.1.1 Canada

8.2.2 South America

8.3 Europe

8.3.1 Western Europe

8.3.1.1 Germany

8.3.1.2 France

8.3.1.3 UK

8.3.1.4 Italy

8.3.1.5 Spain

8.3.1.6 Rest of Western Europe

8.3.2 Eastern Europe

8.4 Asia Pacific

8.4.1 Japan

8.4.2 China

8.4.3 India

8.4.4 Australia

8.4.5 Republic of Korea

8.4.6 Rest of Asia Pacific

8.5 The Middle East & Africa

8.5.1 United Arab Emirates

8.5.2 Saudi Arabia

8.5.3 Oman

8.5.4 Kuwait

8.5.5 Qatar

8.5.6 Rest of the Middle East & Africa

9 Company Landscape

9.1 Introduction

9.2 Market Share Analysis

9.3 Key Development & Strategies

9.3.1 Key Developments

10 Company Profiles

10.1 Samsung

10.1.1 Company Overview

10.1.2 Product Overview

10.1.3 Financials

10.1.4 SWOT Analysis

10.2 Sony

10.2.1 Company Overview

10.2.2 Product Overview

10.2.3 Financial Overview

10.2.4 Key Developments

10.2.5 SWOT Analysis

10.3 Alcon

10.3.1 Company Overview

10.3.2 Product Overview

10.3.3 Financial Overview

10.3.4 Key Development

10.3.5 SWOT Analysis

10.4 Google

10.4.1 Company Overview

10.4.2 Product/Business Segment Overview

10.4.3 Financial Overview

10.4.4 Key Development

10.4.5 SWOT Analysis

10.5 Sensimed SA

10.5.1 Company Overview

10.5.2 Product Overview

10.5.3 Financial overview

10.5.4 Key Developments

10.6 Others

11 MRFR Conclusion

11.1 Key Findings

11.1.1 From CEO's View Point

11.1.2 Unmet Needs of the Market

11.2 Key Companies to Watch

11.3 Prediction of Medical Device Industry

12 Appendix


LIST OF TABLES

Table 1 Smart Contact Lenses Industry Synopsis, 2017-2023

Table 2 Global Smart Contact Lenses Market Estimates and Forecast, 2017-2023, (USD Million)

Table 3 Global Smart Contact Lenses Market by Region, 2017-2023, (USD Million)

Table 4 Global Smart Contact Lenses Market by Devices, 2017-2023, (USD Million)

Table 5 Global Smart Contact Lenses Market by End User, 2017-2023, (USD Million)

Table 6 North America Smart Contact Lenses Market by Devices, 2017-2023, (USD Million)

Table 7 North America Smart Contact Lenses Market by End User, 2017-2023, (USD Million)

Table 8 US Smart Contact Lenses Market by Devices, 2017-2023, (USD Million)

Table 9 US Smart Contact Lenses Market by End User, 2017-2023, (USD Million)

Table 11 Canada Smart Contact Lenses Market by Devices, 2017-2023, (USD Million)

Table 12 Canada Smart Contact Lenses Market by End User, 2017-2023, (USD Million)

Table 13 South America Smart Contact Lenses Market by Devices, 2017-2023, (USD Million)

Table 14 South America Smart Contact Lenses Market by End User, 2017-2023, (USD Million)

Table 15 Europe Smart Contact Lenses Market by Devices, 2017-2023, (USD Million)

Table 16 Europe Smart Contact Lenses Market by End User, 2017-2023, (USD Million)

Table 17 Western Europe Smart Contact Lenses Market by Devices, 2017-2023, (USD Million)

Table 18 Western Europe Smart Contact Lenses Market by End User, 2017-2023, (USD Million)

Table 19 Eastern Europe Smart Contact Lenses Market by Devices, 2017-2023, (USD Million)

Table 20 Eastern Europe Smart Contact Lenses Market by End User, 2017-2023, (USD Million)

Table 21 Asia Pacific Smart Contact Lenses Market by Devices, 2017-2023, (USD Million)

Table 22 Asia Pacific Smart Contact Lenses Market by End User, 2017-2023, (USD Million)

Table 23 Middle East & Africa Smart Contact Lenses Market by Devices, 2017-2023, (USD Million)

Table 24 Middle East & Africa Smart Contact Lenses Market by End User, 2017-2023, (USD Million)
LIST OF FIGURES

Figure 1 Research Process

Figure 2 Segmentation for Global Smart Contact Lenses Market

Figure 3 Segmentation Market Dynamics for Smart Contact Lenses Market

Figure 4 Global Smart Contact Lenses Market Share, by Devices, 2016

Figure 5 Global Smart Contact Lenses Market Share, by End User, 2016

Figure 6 Global Smart Contact Lenses Market Share, by Region, 2016

Figure 7 North America Smart Contact Lenses Market Share, by Country, 2016

Figure 8 Europe Smart Contact Lenses Market Share, by Country, 2016

Figure 9 Asia Pacific Smart Contact Lenses Market Share, by Country, 2016

Figure 10 Middle East & Africa Smart Contact Lenses Market Share, by Country, 2016

Figure 11 Global Smart Contact Lenses Market: Company Share Analysis, 2016 (%)

Figure 12 Samsung: Key Financials

Figure 13 Samsung: Segmental Revenue

Figure 14 Samsung: Geographical Revenue

Figure 15 Sony: Key Financials

Figure 16 Sony: Segmental Revenue

Figure 17 Sony: Geographical Revenue

Figure 18 Alcon: Key Financials

Figure 19 Alcon: Segmental Revenue

Figure 20 Alcon: Geographical Revenue

Figure 21 Google: Key Financials

Figure 22 Google: Segmental Revenue

Figure 23 Google: Geographical Revenue

Figure 24 Cynosure, Inc.: Key Financials

Figure 25 Cynosure, Inc.: Segmental Revenue

Figure 26 Cynosure, Inc.: Geographical Revenue

Figure 27 Sensimed SA: Key Financials

Figure 28 Sensimed SA: Segmental Revenue

Figure 29 Sensimed SA: Geographical Revenue

Figure 30 Cutera, Inc.: Key Financials

Figure 31 Cutera, Inc.: Segmental Revenue

Figure 32 Cutera, Inc.: Geographical Revenue