Market Synopsis of Glycerin Market:

Globally, the market for Glycerin is growing at a CAGR of 6% during forecasted period (2020-2027). Glycerin also known as glycerin and glycerol, the molecular formula is C3H5 (0H) 3. The Properties of glycerin are colorless, odorless, very viscous and hygroscopic due these properties the application is quiet vast namely, food, personal care products, pharmaceuticals and others.
Glycerin is either derived from natural source or synthetic source i.e, by petroleum feed stock it is byproduct generated during manufacturing of biodiesel. The drivers of the market are due to rise in health awareness and increase in trends of beauty products are driving the market of glycerin. The market is growing at rapid pace in terms of volume, global consumption of glycerin is expected to register a volume of CAGR 6% over the forecasted period. However, fluctuations in price and availability of resource might hinder the growth of the market.
Globally, Glycerin Market was valued at USD 1,401 million in 2016 and is likely to reach USD 2,500 million in 2027, expanding at CAGR of 6%. Asia-pacific region was the leading Glycerin Market with an estimated highest market size and is projected to touch down million tons in 2017. North America region is the second largest Glycerin Market in 2016. The U.S. has represented the largest market in 2016 and is expected to reach in million by 2027 owing to changing lifestyle and increase in disposable income of an individual allows the customer to spend on quality products , the consumers of developed regions prefer quality food, personal care and pharmaceuticals products. Middle East and Africa are one of the fastest growing market.
Global Glycerin Market , By Application 2016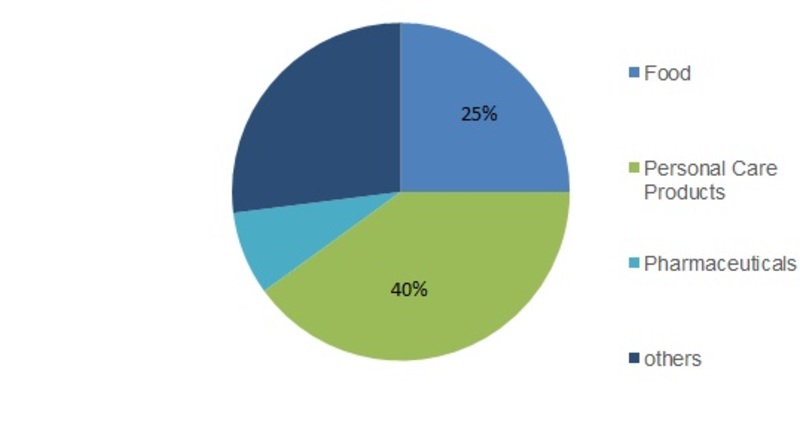 Key Players:

The Key Players in Glycerin Market includes Procter & Gamble, NOW Foods, VVF L.L.C., Cargill, Dutch Glycerin Refinery (DGR), The Dow Chemical Company, Parchem fine & specialty chemicals , Avril Group, Essential Depot, Inc., Croda International Plc and others.
Study Objectives of Glycerin Market:



To study detail of Glycerin Market by type, by application and by region in forecasted period 2022.




To identify the market dynamics of Glycerin Market dynamics by drivers, restrains, opportunities and challenges.




To analyze various factors like value chain analysis and porters five forces model.




To provide historical and forecast revenue of market segment with respect to North America, Europe, APAC and RoW.




To provide strategic profiling of key players in the market, comprehensively analyzing their core competencies, and drawing a competitive landscape for the market

.




To track mergers and acquisitions, strategic alliances, new product development of specified company.



Intended Audience:



Manufacturers and distributors of glycerin




Suppliers and traders of glycerin




Government, associations and industrial bodies.




Investors and Trade experts.




Consulting in chemical experts.



Geographic Analysis:
The report covers brief analysis of geographical region includes
North America
Europe



Germany




France




Italy




Netherlands




UK.




Rest of Europe



APAC



China




India




Japan




Rest of Asia-Pacific



RoW



South America




Middle East




Africa



Report Scope:
Report Attribute/Metric
Details
Market Size
2018: 5.22 Billion
2027: Significant Value
CAGR
6% (2020-2027)
Base Year
2019
Forecast Period
2020-2027
Historical Data
2018
Forecast Units
Value (USD Million)
Report Coverage
Revenue Forecast, Competitive Landscape, Growth Factors, and Trends
Segments Covered
Type, Application and Region
Geographies Covered
Asia Pacific, North America, and Europe, America and Middle East & Africa
Key Vendors
Procter & Gamble, NOW Foods, VVF L.L.C., Cargill, Dutch Glycerin Refinery (DGR), The Dow Chemical Company, Parchem fine & specialty chemicals , Avril Group, Essential Depot, Inc., Croda International Plc and others.
Key Market Opportunities
the consumers of developed regions prefer quality food, personal care and pharmaceuticals products. Middle East and Africa are one of the fastest growing market.
Key Market Drivers
The drivers of the market are due to rise in health awareness and increase in trends of beauty products are driving the market of glycerin
Frequently Asked Questions (FAQ) :
---
1 Executive Summary

2 Scope of The Report

2.1 Market Definition

2.2 Scope of The Study

2.2.1 Research Objectives

2.2.2 Assumptions & Limitations

2.3 Markets Structure

3 Market Research Methodology

3.1 Research Process

3.2 Secondary Research

3.3 Primary Research

3.4 Forecast Model

4 Market Landscape

4.1 Five Forces Analysis

4.1.1 Threat of New Entrants

4.1.2 Bargaining power of buyers

4.1.3 Threat of substitutes

4.1.4 Segment rivalry

4.2 Value Chain/Supply Chain of Global Glycerin Market

5 Industry Overview of Global Glycerin Market

5.1 Introduction

5.2 Growth Drivers

5.3 Impact analysis

5.4 Market Challenges

5.5 Impact analysis

6 Market Trends

6.1 Introduction

6.2 Growth Trends

6.3 Impact analysis

7. Global Glycerin Market by Region

8. Global Glycerin Market by Type (Synthetic and Natural)

9. Global Glycerin Market by Application (Food, Personal Care Products, Pharmaceuticals and others)

10. Company Profiles

10.1 Procter & Gamble

10.1.1 Overview

10.1.2 Financials

10.1.3 Product Portfolio

10.1.4 Business Strategies

10.1.5 Recent Development

10.2 NOW Foods

10.2.1 Overview

10.2.2 Financials

10.2.3 Product Portfolio

10.2.4 Business Strategies

10.2.5 Recent Development

10.3 VVF L.L.C

10.3.1 Overview

10.3.2 Financials

10.3.3 Product Portfolio

10.3.4 Business Strategies

10.3.5 Recent Development

10.4 Cargill

10.4.1 Overview

10.4.2 Financials

10.4.3 Product Portfolio

10.4.4 Business Strategies

10.4.5 Recent Development

10.5 Dutch Glycerin Refinery

10.5.1 Overview

10.5.2 Financials

10.5.3 Product Portfolio

10.5.4 Business Strategies

10.5.5 Recent Development

10.6 The Dow Chemical Company

10.6.1 Overview

10.6.2 Financials

10.6.3 Product Portfolio

10.6.4 Business Strategies

10.6.5 Recent Development

10.7 Parchem fine & specialty chemicals

10.7.1 Overview

10.7.2 Financials

10.7.3 Product Portfolio

10.7.4 Business Strategies

10.7.5 Recent Development

10.8 Avril Group

10.8.1 Overview

10.8.2 Financials

10.8.3 Product Portfolio

10.8.4 Business Strategies

10.8.5 Recent Development

10.9 Essential Depot

10.9.1 Overview

10.9.2 Financials

10.9.3 Product Portfolio

10.9.4 Business Strategies

10.9.5 Recent Development

10.10 Croda International Plc

10.10.1 Overview

10.10.2 Financials

10.10.3 Product Portfolio

10.10.4 Recent Development

11 Conclusion

LIST OF TABLES

Table 1 World Population by Major Regions (2020 To 2030) (Million)

Table 2 Global Glycerin Market: By Region, 2020-2027 (USD Million)

Table 3 North America Glycerin Market: By Country, 2020-2027 (USD Million)

Table 4 Europe Glycerin Market: By Country, 2020-2027 (USD Million)

Table 5 Asia-Pacific Glycerin Market: By Country, 2020-2027 (USD Million)

Table 6 RoW Glycerin Market: By Country, 2020-2027 (USD Million)

Table 7 Global Glycerin by Type Market: By Regions, 2020-2027 (USD Million)

Table 8 North America Glycerin by Type Market: By Country, 2020-2027 (USD Million)

Table 9 Europe Glycerin by Type Market: By Country, 2020-2027 (USD Million)

Table 10 Asia-Pacific Glycerin by Type Market: By Country, 2020-2027 (USD Million)

Table 11 RoW Glycerin by Type Market: By Country, 2020-2027 (USD Million)

Table 12 North America Glycerin for Application Market: By Country, 2020-2027 (USD Million)

Table 13 Europe Glycerin for Application Market: By Country, 2020-2027 (USD Million)

Table 14 Asia-Pacific Glycerin for Application Market: By Country, 2020-2027 (USD Million)

Table 15 RoW Glycerin for Application Market: By Country, 2020-2027 (USD Million)

Table 16 Global Glycerin for Application Market: By Region, 2020-2027 (USD Million)

Table 17 North America Glycerin for Application Market: By Country, 2020-2027 (USD Million)

Table 18 Europe Glycerin for Application Market: By Country, 2020-2027 (USD Million)

Table 19 Asia-Pacific Glycerin for Application Market: By Country, 2020-2027 (USD Million)

Table 20 RoW Glycerin for Application Market: By Country, 2020-2027 (USD Million)

Table 21 RoW Glycerin for Application Market: By Country, 2020-2027 (USD Million)

Table 22 Global Type Market: By Region, 2020-2027 (USD Million)

Table 23 Global Application Market: By Region, 2020-2027 (USD Million)

Table 24 North America Glycerin Market, By Country (USD Million)

Table 25 North America Glycerin Market, By Type (Million USD)

Table 26 North America Glycerin Market, By Application (Million USD)

Table 27 Europe: Glycerin Market, By Country (USD Million)

Table 28 Europe: Glycerin Market, By Type (USD Million)

Table 29 Europe: Glycerin Market, By Application (USD Million)

Table 30 Asia-Pacific: Glycerin Market, By Country (USD Million)

Table 31 Asia-Pacific: Glycerin Market, By Type (USD Million)

Table 32 Asia-Pacific: Glycerin Market, By Application (USD Million)

Table 33 RoW: Glycerin Market, By Country (USD Million)

Table 34 RoW Glycerin Market, By Type (USD Million)

Table 35 RoW: Glycerin Market, By Application (USD Million)

LIST OF FIGURES

FIGURE 1 Global Glycerin market segmentation

FIGURE 2 Forecast Methodology

FIGURE 3 Five Forces Analysis of Global Glycerin Market

FIGURE 4 Value Chain of Global Glycerin Market

FIGURE 5 Share of Global Glycerin Market in 2020, by country (in %)

FIGURE 6 Global Glycerin Market, 2020-2027, (USD billion)

FIGURE 7 Sub-segments of Applications

FIGURE 8 Global Glycerin Market size by Application, 2020

FIGURE 9 Share of Global Glycerin Market by Application, 2020 to 2027

FIGURE 10 Global Glycerin Market size by Type , 2020

FIGURE 11 Share of Global Glycerin Market by Type , 2020 to 2027