Global Functional Safety Market, by Devices (Access Management, Identity and Data and Application Integration) By System (Android, IOS, Others) By Organization Size (Small, Medium & Large Enterprises) By Application (Health, Retail) - Forecast 2023

Market Synopsis of Functional Safety Market:
Market Scenario:
The Functional Safety is a concept that provides web app and mobile app developers to link their applications to backend cloud storage and APIs and also providing features that includes user management, push notifications, and integration with social networking services. The mobile based application helps to improve quality of communication as well as demand for computer, web, and mobile apps. Functional Safety is an emerging trend in mobile application development, it is also known as Functional Safety (MBaaS).
The growth in the number of mobile applications and increased in adoption of MBaaS services among the SMEs and the enterprises, provides the market the future opportunity for the growth. The major drivers responsible for the growth of the Backend as a Service Market are high demands of smart phones and devices for rapid deployment and development of cloud-based applications. Functional Safety is a new means of developing the mobile applications system and also has broader scope in developing, deploying and managing the mobile app lifecycle.
The study indicates that Functional Safety is growing number of applications, increasing demand of Internet of things and the feature that delivers application resources with few resources, optimize for mobile and tablets and secure. It helps to reduce complexities in application development majorly drives this market. MBaaS makes it easier for developers to set up, use, and operate a cloud backend for creating their mobile, tablet, and web apps.
The global The Functional Safety Market is expected to grow at USD ~$ 8.7 Billion by 2023, at ~8.64% of CAGR between 2017 and 2023.


Study Objectives of the Functional Safety Market:



To provide detailed analysis of the market structure along with forecast of the various segments and sub-segments of the

Functional Safety

market

.




To provide insights about factors affecting the market growth.




To analyze the

Functional Safety Market

based porter's five force analysis etc.




To provide historical and forecast revenue of the market segments and sub-segments with respect to four main geographies and their countries- North America, Europe, Asia Pacific (APAC), and Rest of the World (ROW).




To provide country level analysis of the market with respect to the current market size and future prospective.




To provide country level analysis of the market for segment on the basis of Devices, System, end-user and region.




To provide strategic profiling of key players in the market, comprehensively analyzing their core competencies, and drawing a competitive landscape for the market.




To track and analyze competitive developments such as joint ventures, strategic alliances, mergers and acquisitions, new product developments, and research and developments in the Functional Safety



Functional Safety Market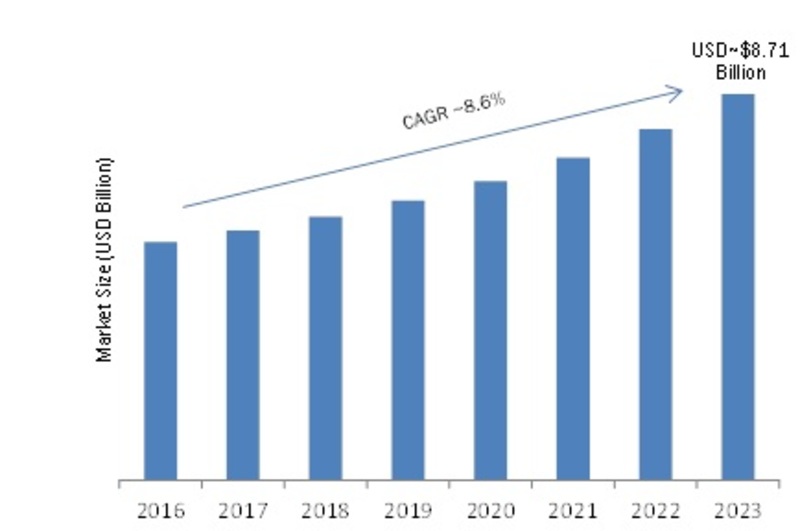 Key Players:
The prominent players in the Functional Safety Market are – Siemens AG (Germany), Rockwell Automation Inc. (US), ABB Ltd. (Switzerland), Schneider Electric SE (France), and Emerson Electric Co. (US). The other prominent players in this market include General Electric Co. (US), Honeywell International Inc. (US), HIMA Paul Hildebrandt GmbH (Germany), Endress+Hauser Management AG (Switzerland), TUV Rheinland (Germany), Omron Corporation (Japan), and Yokogawa Electric Corporation (Japan) among others.
Segments:
The global Functional Safety market has been segmented on the basis of Devices, System, end users and region.
Functional Safety Market by Devices:



Safety Sensors




Safety Switches




Safety Controllers/Modules/Relays




Programmable Safety Systems




Emergency Stop Devices




Final Control Elements




Valves




Actuators




Other



Functional Safety Market by System:



Safety Instrumented Systems




Emergency Shutdown Systems (ESD)




Fire & Gas Monitoring Control




Turbo machinery Control (TMC)




Burner Management Systems (BMS)




High-Integrity Pressure Protection Systems (HIPPS)




Industrial Control Systems




Supervisory Control And Data Acquisition (SCADA) Systems




Distributed Control Systems (DCS)



Functional Safety Market by End Users:
Functional Safety Market by Region:



North America




Europe




Asia Pacific (APAC)




Rest of the World (ROW)



Regional Analysis:
The regional analysis of Functional Safety Market is being studied for region such as Asia pacific, North Americas, Europe and Rest of the World. Technological advancements in ease of smart mobile usage to develop the mobile applications has driven the market of Functional Safety in North America. The study reveals that Europe region is also showing the positive sign towards mobile application at a very rapid pace in the Functional Safety Market during the forecast period as MBaaS is updating various applications and security to the smart mobile and devices. Asia-Pacific countries like China, Japan and India have shown considerably fair share in the Functional Safety Market but will be growing fast in coming time.
Intended Audience



System Security




Functional safety devices and systems manufacturers




Safety equipment suppliers




Functional safety certification providers




Semiconductor product designers and fabricators




Functional safety lifecycle service providers




Governments, financial institutions, and investment communities




Original equipment manufacturers (OEMs)




Product manufacturers




Suppliers for chemical and oil & gas industries




Research organizations




Technology investors




Technology standards organizations, forums, alliances, and associations




Research/Consultancy firms



TABLE OF CONTENTS


1 MARKETINTRODUCTION


1.1 INTRODUCTION


1.2 SCOPE OF STUDY


1.2.1 RESEARCH OBJECTIVE


1.2.2 ASSUMPTIONS


1.2.3 LIMITATIONS


1.3 MARKET STRUCTURE:


1.3.1 GLOBAL FUNCTIONAL SAFETY MARKET: BY DEVICES


1.3.2 GLOBAL FUNCTIONAL SAFETY MARKET: BY SYSTEM


1.3.3 GLOBAL FUNCTIONAL SAFETY MARKET: BY END USER


1.3.4 GLOBAL FUNCTIONAL SAFETY MARKET: BY REGION


2 RESEARCH METHODOLOGY


2.1 RESEARCH TYPE


2.2 PRIMARY RESEARCH


2.3 SECONDARY RESEARCH


2.4 FORECAST MODEL


3 MARKETDYNAMICS


3.1 INTRODUCTION


3.2 MARKET DRIVERS


3.3 MARKET CHALLENGES


3.4 MARKET OPPORTUNITIES


4 EXECUTIVE SUMMARY


5. MARKETFACTOR ANALYSIS


5.1 PORTER'S FIVE FORCES ANALYSIS


5.2 SUPPLY CHAIN ANALYSIS


6 FUNCTIONAL SAFETY MARKET


6.1 INTRODUCTION


6.2 MARKETSTATISTICS


6.2.1 BY DEVICES


6.2.1.1 ACTUATORS


6.2.1.2 SAFETY SENSORS


6.2.1.3 FINAL CONTROL ELEMENTS


6.2.1.4 SAFETY CONTROLLERS/MODULES/RELAYS


6.2.1.5 PROGRAMMABLE SAFETY SYSTEMS


6.2.1.6 EMERGENCY STOP DEVICES


6.2.1.7 SAFETY SWITCHES


6.2.1.8 VALVES


6.2.1.9 OTHERS


6.2.2 BY SYSTEM


6.2.2.1 SAFETY INSTRUMENTED SYSTEMS


6.2.2.2 TURBO MACHINERY CONTROL (TMC)


6.2.2.3 SUPERVISORY CONTROL SYSTEM


6.2.2.4 BURNER MANAGEMENT SYSTEMS (BMS)


6.2.2.5 EMERGENCY SHUTDOWN SYSTEMS (ESD)


6.2.2.6 FIRE & GAS MONITORING CONTROL


6.2.2.7 INDUSTRIAL CONTROL SYSTEMS


6.2.2.8 HIGH-INTEGRITY PRESSURE PROTECTION SYSTEMS (HIPPS)


6.2.2.9 DISTRIBUTED CONTROL SYSTEMS (DCS)


6.2.2.10 OTHERS


6.2.3 BY END-USER


6.2.3.1 OIL & GAS


6.2.3.2 METAL AND MINING


6.2.3.3 PHARMACEUTICALS AND BIOTECH


6.2.3.4 RETAIL AND WHOLESALE


6.2.3.5 MANUFACTURING


6.2.3.6 POWER GENERATION


6.2.3.7 OTHERS


6.2.4 BY REGION


6.2.4.1 NORTH AMERICA


6.2.4.2 EUROPE


6.2.4.3 ASIA PACIFIC


6.2.4.4 REST OF THE WORLD


7 COMPANY PROFILES


7.1 HONEYWELL INTERNATIONAL INC. (US)


7.2 ABB LTD. (SWITZERLAND)


7.3 SCHNEIDER ELECTRIC SE (FRANCE)


7.4 EMERSON ELECTRIC CO. (US)


7.5 GENERAL ELECTRIC CO. (US)


7.6 HIMA PAUL HILDEBRANDT GMBH (GERMANY)


7.7 ENDRESS+HAUSER MANAGEMENT AG (SWITZERLAND)


7.8 TUV RHEINLAND (GERMANY)


7.9 SIEMENS AG (GERMANY


7.10 OMRON CORPORATION (JAPAN)


7.11 ROCKWELL AUTOMATION INC. (U.S)


7.12 YOKOGAWA ELECTRIC CORPORATION (JAPAN)


7.13 OTHERS
LIST OF TABLES


TABLE 1 FUNCTIONAL SAFETY MARKET, BY SERVICE


TABLE 2 FUNCTIONAL SAFETY MARKET, BY SYSTEM


TABLE 3 FUNCTIONAL SAFETY MARKET, BY END-USER


TABLE 4 FUNCTIONAL SAFETY MARKET, BY REGIONS


TABLE 5 NORTH AMERICA FUNCTIONAL SAFETY MARKET, BY DEVICES


TABLE 6 NORTH AMERICA FUNCTIONAL SAFETY MARKET, BY SYSTEM


TABLE 7 NORTH AMERICA FUNCTIONAL SAFETY MARKET, BY END USER


TABLE 8 NORTH AMERICA FUNCTIONAL SAFETY MARKET, BY REGION


TABLE 9 U.S. FUNCTIONAL SAFETY MARKET, BY DEVICES


TABLE 10 U.S. FUNCTIONAL SAFETY MARKET, BY SYSTEM


TABLE 11 U.S. FUNCTIONAL SAFETY MARKET, BY END-USER


TABLE 12 U.S. FUNCTIONAL SAFETY MARKET, BY REGION


TABLE 13 CANADA FUNCTIONAL SAFETY MARKET, BY DEVICES


TABLE 14 CANADA FUNCTIONAL SAFETY MARKET, BY SYSTEM


TABLE 15 CANADA FUNCTIONAL SAFETY MARKET, BY END-USER


TABLE 16 CANADA FUNCTIONAL SAFETY MARKET, BY REGION


TABLE 17 EUROPE FUNCTIONAL SAFETY MARKET, BY DEVICES


TABLE 18 EUROPE FUNCTIONAL SAFETY MARKET, BY SYSTEM


TABLE 19 EUROPE FUNCTIONAL SAFETY MARKET, BY END-USER


TABLE 20 EUROPE FUNCTIONAL SAFETY MARKET, BY REGION


TABLE 21 GERMANY FUNCTIONAL SAFETY MARKET, BY DEVICES


TABLE 22 GERMANY FUNCTIONAL SAFETY MARKET, BY SYSTEM


TABLE 23 GERMANY FUNCTIONAL SAFETY MARKET, BY END-USER


TABLE 24 GERMANY FUNCTIONAL SAFETY MARKET, BY REGION


TABLE 25 FRANCE FUNCTIONAL SAFETY MARKET, BY DEVICES


TABLE 26 FRANCE FUNCTIONAL SAFETY MARKET, BY SYSTEM


TABLE 27 FRANCE FUNCTIONAL SAFETY MARKET, BY END-USER


TABLE 28 FRANCE FUNCTIONAL SAFETY MARKET, BY REGION


TABLE 29 U.K. FUNCTIONAL SAFETY MARKET, BY DEVICES


TABLE 30 U.K. FUNCTIONAL SAFETY MARKET, BY SYSTEM


TABLE 31 U.K. FUNCTIONAL SAFETY MARKET, BY END-USER


TABLE 32 U.K. FUNCTIONAL SAFETY MARKET, BY REGION


TABLE 33 REST OF EUROPE FUNCTIONAL SAFETY MARKET, BY DEVICES


TABLE 34 REST OF EUROPE FUNCTIONAL SAFETY MARKET, BY SYSTEM


TABLE 35 REST OF EUROPE FUNCTIONAL SAFETY MARKET, BY END-USER


TABLE 36 REST OF EUROPE FUNCTIONAL SAFETY MARKET, BY REGION


TABLE 37 ASIA-PACIFIC FUNCTIONAL SAFETY MARKET, BY DEVICES


TABLE 38 ASIA-PACIFIC FUNCTIONAL SAFETY MARKET, BY SYSTEM


TABLE 39 ASIA-PACIFIC FUNCTIONAL SAFETY MARKET, BY END-USER


TABLE 40 ASIA-PACIFIC FUNCTIONAL SAFETY MARKET, BY REGION


TABLE 41 REST OF WORLD FUNCTIONAL SAFETY MARKET, BY DEVICES


TABLE 42 REST OF WORLD FUNCTIONAL SAFETY MARKET, BY SYSTEM


TABLE 43 REST OF WORLD FUNCTIONAL SAFETY MARKET, BY END-USER


TABLE 44 REST OF WORLD FUNCTIONAL SAFETY MARKET, BY REGION
LIST OF FIGURES


FIGURE 1 RESEARCH METHODOLOGY


FIGURE 2 FUNCTIONAL SAFETY MARKET: BY DEVICES (%)


FIGURE 3 FUNCTIONAL SAFETY MARKET: BY SYSTEM (%)


FIGURE 4 FUNCTIONAL SAFETY MARKET: BY END-USER (%)


FIGURE 5 FUNCTIONAL SAFETY MARKET: BY REGION (%)


FIGURE 6 NORTH AMERICA FUNCTIONAL SAFETY MARKET, BY DEVICES (%)


FIGURE 7 NORTH AMERICA FUNCTIONAL SAFETY MARKET, BY SYSTEM (%)


FIGURE 8 NORTH AMERICA FUNCTIONAL SAFETY MARKET, BY END-USER (%)


FIGURE 9 NORTH AMERICA FUNCTIONAL SAFETY MARKET, BY REGION (%)


FIGURE 10 EUROPE FUNCTIONAL SAFETY MARKET, BY DEVICES (%)


FIGURE 11 EUROPE FUNCTIONAL SAFETY MARKET, BY SYSTEM (%)


FIGURE 12 EUROPE FUNCTIONAL SAFETY MARKET, BY END-USER (%)


FIGURE 13 EUROPE FUNCTIONAL SAFETY MARKET, BY REGION (%)


FIGURE 14 ASIA-PACIFIC FUNCTIONAL SAFETY MARKET, BY DEVICES (%)


FIGURE 15 ASIA-PACIFIC FUNCTIONAL SAFETY MARKET, BY SYSTEM (%)


FIGURE 16 ASIA-PACIFIC FUNCTIONAL SAFETY MARKET, BY DEVICES (%)


FIGURE 17 ASIA-PACIFIC FUNCTIONAL SAFETY MARKET, BY END-USER (%)


FIGURE 18 ASIA-PACIFIC FUNCTIONAL SAFETY MARKET, BY REGION (%)


FIGURE 19 ROW FUNCTIONAL SAFETY MARKET, BY DEVICES (%)


FIGURE 20 ROW FUNCTIONAL SAFETY MARKET, BY SYSTEM (%)


FIGURE 21 ROW FUNCTIONAL SAFETY MARKET, BY END-USER (%)


FIGURE 22 ROW FUNCTIONAL SAFETY MARKET, BY REGION (%)