Market Overview
Global Fluoropolymers Market is projected to register a CAGR of 6.50% to reach USD 11,823.1 Million by the end of 2027.
Fluoropolymers possess extensive physical and chemical properties. Thus, they are suitable for various end-use and high-tech applications and are widely used in the electrical & electronics, automotive, and building & construction industries.
The escalating demand from these end-use industries coupled with ongoing R&D for product development boosts the growth of the global market. Moreover, with the increasing shift towards green fluoropolymers and the global chemical trend of sustainability in the chemical industry, manufacturers are extending their product portfolios by offering bio-based fluoropolymers to end-users. However, global market growth is hampered by stringent regulations by governments related to carbon emission, thereby, driving the trend towards the alternative use of fluoropolymers by numerous end-use industries.
Global Fluoropolymers Market Revenue, By Application, 2019 (USD Million)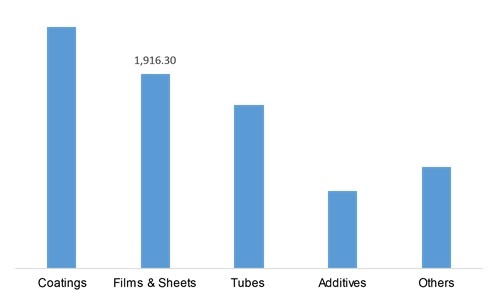 Sources: MRFR Analysis
Segmentation
Global Fluoropolymers Market is segmented based on Type, Application, End-Use Industry, and Region.
Global Fluoropolymers Market has been categorized, based on type, into polytetrafluoroethylene (PTFE), polyvinylidene fluoride (PVDF), fluoroelastomers (FKM), fluorinated ethylene-propylene (FEP), ethylene tetrafluoroethylene (ETFE), polychlorotrifluoroethylene (PCTFE), and others. Among these, the polytetrafluoroethylene (PTFE) segment accounted for more than 40% of the global market share in 2019. This polymer is widely used as a non-stick coating for pans and cookware, insulation of wiring in aerospace and electrical industries, medical appliances, and automotive and industrial products.
By Application, the fluoropolymers market is divided into coatings, films & sheets, tubes, additives, and others. The coatings segment was valued at USD 2,376.3 million in 2019.
Based on the End-Use Industry, the Global Fluoropolymers Market has been segmented into chemical processing, automotive, electrical and electronics, building and construction, industrial equipment, medical, household, and others. In terms of value, the chemical processing segment dominated the global market with a 29.03% share in 2019 and is projected to register a healthy CAGR of 6.40%. Moreover, the building and construction segment is anticipated to exhibit the highest CAGR of 7.65%, owing to increased demand for architectural coating.
Global Fluoropolymers Market Share, By Region, 2019 (%)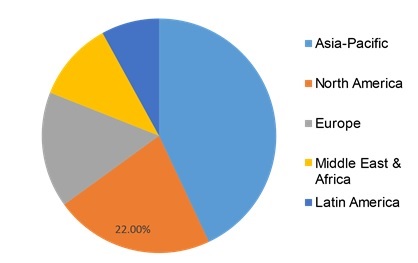 Sources: MRFR Analysis
Regional Analysis
Global Fluoropolymers Market has been studied across five regions, namely, Asia-Pacific, North America, Europe, Latin America, and the Middle East & Africa. The market in Asia-Pacific held the largest market share of over 42.65% in 2018, with a market value of around USD 3,093.6 million. This is mainly attributed to the growing adoption of specialty fluoropolymers in the healthcare industry for the production of medical devices.
Key Players
Key Players operating in the Global Fluoropolymers Market include The Chemours Company (US), 3M (US), AGC Chemical (Japan), Arkema (France), Kureha Corporation (Japan), Daikin Industries, Ltd (Japan), and Honeywell International Inc. (US).
These Players dominate the global market with more than 50% share of the overall market. These companies have a global revenue base, advanced production technologies, a wide product portfolio, brand identity, vast industry experience, integrated production facilities, and an extensive distribution network.
Market Segmentation
Global Fluoropolymer Market, By Type



Polytetrafluoroethylene (PTFE)




Polyvinylidene Fluoride (PVDF)




Fluoroelastomers (FKM)




Fluorinated Ethylene-Propylene (FEP)




Ethylene Tetrafluoroethylene (ETFE)




Polychlorotrifluoroethylene (PCTFE)




Others



Global Fluoropolymer Market, By Application



Coatings




Films & Sheets




Tubes




Additives




Others



Global Fluoropolymer Market, By End-Use Industry



Chemical Processing




Automotive




Electrical and Electronics




Building and Construction




Industrial Equipment




Medical




Household




Others



Global Fluoropolymer Market, By Region



North America







Europe







France




Belgium




Germany




Spain




Italy




UK




Poland




Netherlands




Russia




Rest of Europe









Asia-Pacific







China




Japan




India




Australia & New Zealand




Indonesia




South Korea




Thailand




Vietnam




Rest of Asia-Pacific









Latin America







Mexico




Brazil




Argentina




Rest of Latin America









Middle East & Africa






Available Additional Customizations



Customer Analysis of Major Consumers




Additional Company Profiles



Intended Audience



Fluoropolymer Manufacturers




Suppliers and Traders of Fluoropolymer and Related Products




Government, Associations, and Industrial Associations




Investors and Trade Experts




Consulting in Chemical Experts



Report Scope:
| Report Attribute/Metric | Details |
| --- | --- |
| Market Size | 2027: USD 11,823.1 Million |
| CAGR | 6.50%(2020-2027) |
| Base Year | 2019 |
| Forecast Period | 2020-2027 |
| Historical Data | 2018 |
| Forecast Units | Value (USD Million) |
| Report Coverage | Revenue Forecast, Competitive Landscape, Growth Factors, and Trends |
| Segments Covered | Type, Application, End-Use Industry |
| Geographies Covered | North America, Europe, Asia-Pacific, and Rest of the World (RoW) |
| Key Vendors | The Chemours Company (US), 3M (US), AGC Chemical (Japan), Arkema (France), Kureha Corporation (Japan), Daikin Industries, Ltd (Japan), and Honeywell International Inc. (US) |
| Key Market Opportunities | |
| Key Market Drivers | |
Frequently Asked Questions (FAQ) :
---