Extended Reality Market Synopsis
Currently, the extended reality (XR) is at a burgeoning stage and consists of augmented reality (AR), virtual reality (VR), and mixed reality (MR) technologies. Extended reality is another immersive technology that offers highly digital experiences with photorealistic visuals by integrating on-device processing, 5G, and edge cloud processing technologies. The combination of AR and VR technologies allows the end-users, including individuals and enterprises, to experience highly digitalized content through standalone headsets. Also, according to industry experts, XR technology is expected to significantly transform from heavy standalone headsets to smart glasses that would provide real-time information, schematics, and related visuals.
Advancement in head-pose tracking, increased investment in AR and VR technology, an increase in demand for improving the customer experience, technological advancements in display, motion tracking, and emergence of 5G technology are some of the factors propelling the market growth.
However, the lack of highly intense connected infrastructure, interoperability issues of immersive 3D graphics, and power and thermal efficiency of standalone headsets are some of the hindering factors for the growth of extended reality market during the forecast period.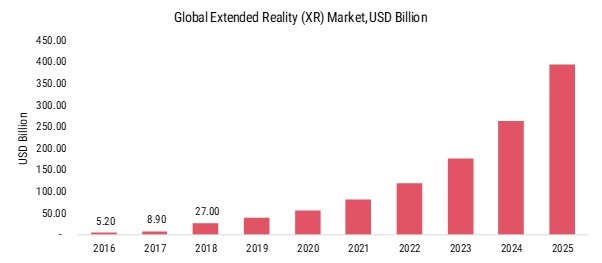 Source: Company Websites, Annual Reports, Primary Interviews, Industry Experts, Whitepapers, Secondary Research, Press Release, and MRFR Analysis
The Global Extended Reality Market was valued at USD 27 Billion in 2018; it is expected to reach USD 393 Billion by 2025 with a CAGR of 69.4% during the forecast period, 2019–2025.
Key Developments



In September 2019

,

Talespin, one of the leading developers of enterprise XR solutions, developed its Talespin Runway Platform—an extended reality platform. The new virtual reality training module is designed to speed up knowledge transfer for employees. The platform also comprises the first insurance-specific VR training content library and Talespin Propel, a new VR training product developed to power object and process-based training across a number of uses cases.





In September 2019, Qualcomm Technologies launched the Qualcomm XR enterprise program offer XR technologies and products based on the Qualcomm Snapdragon XR Platform. The integration allows enterprise solution providers to collaborate, innovate and enhance the adoption of AR and VR in various industries that include manufacturing, energy, healthcare, aerospace, education, insurance, retail, and others.




In September 2018, Semcom, a Swedish multinational company specialized in product development partnered with XMReality, an AR-enabled knowledge sharing company to strengthen its technical capabilities in offering solutions. The partnership allows the former to promote the AR and VR technology to provide digital content and live interaction from its customers.


Segmentation
The Global Extended Reality Market has been Segmented Based on Type, Component, Delivery Model, End User, and Region.
By component, the global extended reality market has been bifurcated into hardware, solutions, and services. Furthermore, by hardware, the market has been sub-divided into sensors, cameras, transducers, and speakers. By services, the market is sub-segmented into professional services and managed services.
Based on type, the XR market is categorized into mobile XR and PC-tethered XR.
By delivery model, the market has been segmented into consumer-based and business-based.
Furthermore, based on end-user, the global XR market has been categorized as healthcare, media and entertainment, manufacturing and industrial, retail and e-commerce, transportation, and others.
Regional Analysis
The Global extended reality Market has been categorized on the basis of geography into North America, Europe, Asia-Pacific, the Middle East and Africa, and South America.
North America accounted for the largest market share in 2018 and expected to dominate the global XR market during the forecast period. The market growth can be attributed to the enhancement in augment reality (AR) and virtual reality (VR) and increase investments by tech giants such as Qualcomm Incorporated, Microsoft Corporation, and Google
The Asia-Pacific is anticipated to be the fastest-growing geography in the extedend reality (XR) market during the assessment period. The market growth can be attributed to a surge in the number of vendors offering training services related to AR and VR applications and increasing adoption of AR and VR technology in media and entertainment sectors.
Key Players
MRFR identifies some of the key players of the global extended reality market include Qualcomm Incorporated (US), HP Reveal (US), Gofind Inc. (US), Accenture (Ireland), Dassault Systèmes SolidWorks Corporation (France), Agile Lens (US), Semcon (Sweden), Tata Exlsi (India), Medtronic (US), Northern Digital Inc. (Canada), Softserve (US), AugRay (US), Mirari LLC (US), Talespin (US), SphereGen (US), and VRee (The Netherlands).
Competitive Analysis
The vendors operating in the market primarily follow organic and inorganic growth approaches to offer enhanced Extended Reality (XR) software, platform, and services. The vendors also emphasized on increasing its research and development investments to provide immersive technologies across virtual platforms for enterprises.
Intended Audience



Hardware and Software Service Providers




OEMs, Platform Providers, and Algorithm Developers




Systems Integrators




Value-Added Resellers




Government Agencies and Nonprofit Organizations




Deemed Universities, Research Labs, and Institutes of Technology



Frequently Asked Questions (FAQ) :
---