Market Snapshot
The Global EMS and ODM Market is expected to register an 8.62% CAGR, witnessing substantial growth during the forecast period. The market was valued at USD 620.02 billion in 2018; it is expected to reach USD 1106.3 Billion by 2025. Asia-Pacific accounted for the largest market value of USD 272.39 billion in 2018; the market is expected to register a CAGR of 10.33% during the forecast period.
Electronics manufacturing services (EMS) are offered by companies that design, assemble, manufacture, and distribute electronic test components and printed circuit boards (PCB) assemblies and provide return/repair services for these electronic components and assemblies for original equipment manufacturers (OEMs). The concept is also referred to as electronics contract manufacturing (ECM). An original design manufacturer (ODM) is a company that designs and manufactures a product based on the existing design and specifications. ODM companies acquire original specifications from end users and design the products accordingly. Such companies offer the supplier or other companies the capability to get their product built without having to design the hardware and invest in production facilities completely.
Companies Covered
The key players of global EMS and ODM market are Foxconn Technology Co. Ltd (Taiwan), New Kinpo Group (Taiwan), Universal Scientific Industrial Co., Ltd (China), Shenzhen Kaifa Technology Co., Ltd (China), Venture Corporation Ltd (Singapore), Zollner Elektronik AG (Germany), UMC Electronics Co., Ltd (Japan), Flex Ltd (Singapore), Jabil Inc. (US) and Sanmina Corporation (US), among others.
Global EMS and ODM Market, by Product (2018 Vs 2025)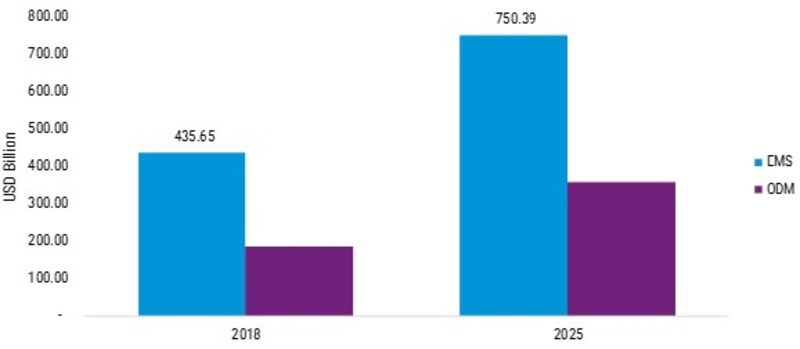 Source: MRFR Analysis
Based on product, the market has been classified as EMS and ODM. The EMS segment accounted for the larger market share in 2018, with a market value of USD 435.65 billion; it is expected to register the higher CAGR during the forecast period. EMS companies offer a variety of manufacturing services, such as design, assembly, and testing. Most of the EMS companies offer designs and conduct research by interviewing product users, consulting experts, analyzing the related existing products, and developing and visualizing the product to perform testing. Original design manufacturing companies act as a contract manufacturer which designs and manufactures products for original equipment manufacturer (OEM). ODM products can be designed with the help of supplier R&D or by replicating another product or brand. A number of factory products such as kitchen appliances, computers, smartphone components, and LED lightings are developed by Chinese manufacturers.
As the costs of electronics products and devices continue to increase, the penetration of EMS providers is estimated to grow significantly. One of the major drivers of the EMS and ODM market is the growing semiconductor industry. The market is expected to hold significant opportunities for small EMS providers as demand for computers and consumer products has significantly increased over the past couple of years. However, the cost and maintenance of EMS equipment is a challenge for the market.
Regional Analysis
The global EMS and ODM market, by region, has been segmented into Asia-Pacific, North America, Europe, and the rest of the world. Asia-Pacific is expected to dominate the EMS and ODM market during the forecast period due to the growing demand for consumer electronics in the region, which has led to rapid technological developments. As a result, the original equipment manufacturers are continuously introducing innovative products in the consumer electronics market to cater to the growing demand.
Key Developments


In July 2018, New Kinpo Group announced to build two new manufacturing facilities in the Philippines in an attempt to make it the company's South-East Asian manufacturing hub. The company aims at extending its manufacturing facilities in the Philippines due to the availability of skilled labor and proper infrastructure.




In February 2018, Universal Scientific and Qualcomm signed an agreement to form a joint venture for installation of a semiconductor module facility in Sau Paulo, Brazil. This facility designs, develops, and fabricates modules and components for smartphones and IoT devices in Brazil.




In January 2018, Foxconn built Taiwan's largest supercomputer. The company installed a six-petaflop computer system at Taiwan's Kaohsiung Software Technology Park, making it the most powerful supercomputer in the country. The supercomputer has been deployed to be used in a wide range of fields such as sports data analysis, animation imaging, analyzing imagery, and other patient test records, surgery, and radiation therapy simulations.




In January 2018, Venture announced the acquisition of its new wholly owned subsidiary Venture Enterprise Innovation Inc. in California, US. This incorporation is expected to help the company to engage in advanced new technologies and businesses in the US market and to collaborate with upstream and downstream business partners to become a leading provider of high technology products, solutions, and services.


Segmentation



By Application: Communication, Computer, Consumer, Industrial, Medical and Others






By Region: North America, Asia-Pacific, Europe, and the rest of the world



Key questions addressed by the report



What was the historic market size (2017)?




Which segmentation (Component/Solution/Industry) is driving the market?




What will be the growth rate by 2025?




Who are the key players in this market?




What are the strategies adopted by key players?



Frequently Asked Questions (FAQ) :
---