Market Synopsis
Global Electrochromic Window Market is estimated to reach USD 4.96 Billion by 2026, registering a CAGR of 14.2% during the forecast period of 2020–2026.
The electrochromic technology can increase the functionality of glass by reducing noise and temperature of surroundings. Among all the sectors and industries served by electrochromic window manufacturers the major objective fulfilled by EC windows is to provide a cost-effective and eco-friendly glass installation solution to the end users. Electrochromic windows is being rapidly adopted across major economies, the US being on top with the highest number of installations. Electrochromic window is also in significant demand from media and technology industry owing to increasing rapidly developing artificial intelligence technology in combination with smart glass.
There has been a considerable increase in the demand for electrochromic technology smart glass. The major factors boosting the growth of the market include growing demand for electrochromic windows in commercial buildings and use of smart electrochromic glass in residential. As the technology has developed, electrochromic windows have now become the predominant facade material for solar energy solutions. In the solar energy industry, electrochromic technology can be used as a thinner cover glass for photovoltaic panels that are important for solar concentrators. Electrochromic windows offer unrivalled control of solar glare and assist in reducing the thermal transmittance through a glass façade which directly reduces the associated heating, ventilation, and air conditioning (HVAC) costs. It can be automatically tuned to different levels of darkness allowing complete solar glare control. Electrochromic window is expected to foster innovative building design while offering unprecedented environmental benefits and protection to building inhabitants.
Industry News


In June 2019, Kinestral Technologies, Inc. partnered with Vitrum Glass Group to produce Halio insulating glass units (IGUs) for multiple commercial projects in North America. These projects will use more than 100,000 square feet of Halio smart-tinting glass produced at Kinestral's large-scale Taiwan manufacturing facility.




In January 2019, Gentex Corporation launched dimmable glass systems and digital vision technologies for automaker implementation.





In September 2018, Kinestral Technologies, Inc. entered into an agreement with Katerra to integrate Kinestral's Halio Smart-Tinting Glass into its smart buildings.





In September 2018, ChromoGenics AB signed an agreement with Regal Förvaltning AB, hardware component manufacturer, to deliver ConverLight Dynamic Glass to Regal office in Uppsala. ChromoGenics' dynamic glass automatically controls the heat and daylight emitted in buildings, providing increased indoor comfort.




In June 2017, Pleotint, LLC partnered with Pilkington, a manufacturer of glass and glazing products, to supply its high-performance Suntuitive dynamic glass interlayer to Pilkington for use in the Pilkington Suncool Dynamic product line.


Segmentation
Global Electrochromic Window Market has been segmented based on Product, Application, and Region.
By Product, the market has been segmented into polymer laminate EC, and all solid-state EC
By Application, the market has been segmented into residential, and commercial building.
By Region, the market has been segmented into North America, Europe, Asia-Pacific, and the rest of the world.
Global Electrochromic Window Market, 2018–2026 (USD Billion)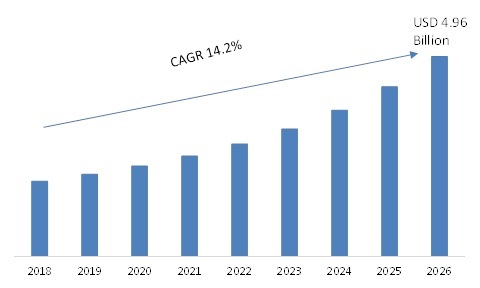 Source: MRFR Analysis
Regional Analysis
Global Electrochromic Window Market is estimated to grow at a significant rate during the forecast period from 2020 to 2026. The geographic analysis of electrochromic window has been conducted for North America (the US, Canada, and Mexico), Europe (the UK, Germany, France, Spain, Italy, and the rest of Europe), Asia-Pacific (China, Japan, India, and the rest of Asia-Pacific), and the rest of the world (the Middle East and Africa and South America). Among these regions, North America has dominated the global market in 2019 and is expected to maintain its dominance throughout the forecast period. On the other hand, the Asia-Pacific region is expected to witness the fastest growth during the forecast period.
Key Players
MRFR recognizes the key players in the global electrochromic window market. These include Click Materials, AGC Inc, Corning Inc, Saint-Gobain, Vitro Architectural Glass, View Inc, RayenBrick, Polytronix, Gentex Corporation, Diamond Glass, Scienstry, Pleotint, and Kinestral Technologies. These players focus on innovation and thus, invest in research and development to present a cost-effective product portfolio. There have been recent mergers and acquisitions among the key players, a strategy the business entities leverage to strengthen their reach to the customers.
Intended Audience



Investors and Consultants




Government Organizations




Research/Consultancy Firms




Manufacturers




Safety Providers




Industries



Report Scope:
| Report Attribute/Metric | Details |
| --- | --- |
| Market Size | USD 4.96 Billion |
| CAGR | 14.2%% (2020-2026) |
| Base Year | 2019 |
| Forecast Period | 2020-2027 |
| Historical Data | 2018 |
| Forecast Units | Value (USD Billion) |
| Report Coverage | Revenue Forecast, Competitive Landscape, Growth Factors, and Trends |
| Segments Covered | Product, Application and Region |
| Geographies Covered | North America, Europe, Asia-Pacific, and Rest of the World (RoW) |
| Key Vendors | Click Materials, AGC Inc, Corning Inc, Saint-Gobain, Vitro Architectural Glass, View Inc, RayenBrick, Polytronix, Gentex Corporation, Diamond Glass, Scienstry, Pleotint, and Kinestral Technologies |
| Key Market Opportunities | Increasing rapidly developing artificial intelligence technology in combination with smart glass |
| Key Market Drivers | Growing demand for electrochromic windows in commercial buildings and use of smart electrochromic glass in residential |