Market Scenario
The growth of the dynamic glazing market can be attributed to the benefits of glass such as reduction in the cost of energy due to controlled day lighting. This glass changes from transparent to translucent, and blocks the wavelengths of light.
On the basis of technology, the thermochromic segment is expected to grow significantly during the forecast period. The thermochromic glazing is a type of dynamic glazing technology, which can change visible light transmission with the objective of responding to the change in environment. In this type of dynamic glazing, the occupant has no control over the tint level of the glass.
On the basis of end users, dynamic glazing market is being segmented as residential, commercial, transportation and others. Among them,, the commercial segment is expected to grow the highest with its increasing applications in marine, aviation, hospitals, and other commercial building applications. These also help in eliminating the need for extensive use of curtains, thereby driving the growth of the market.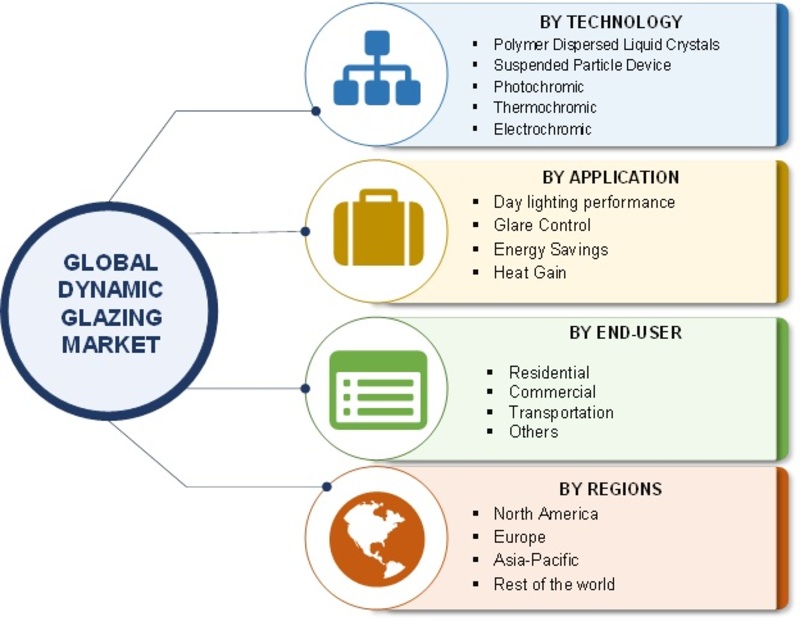 Europe is dominating the dynamic glazing market, owing to high popularity of dynamic glass as a building material and huge investment in this region by major key players such as Saint-Gobain SA. North America is also witnessing steady growth due to supportive government policies for energy efficient products and presence of key industry players such as Guardian Industries and Corning Inc. In Asia-Pacific, however, the dynamic glazing market is booming due to increasing demand for energy efficiency, heat & light control, and automated shading, which will generate more revenue, thus helping in the market growth.
The key players of global Dynamic Glazing market include Guardian Industries (U.S.), Beautex Industries Pvt. Ltd (India), Corning Inc. (U.S.), Saint-Gobain S.A (France), Research Frontiers, Inc. (U.S.), Pleotint LLC (U.S.), PPG Industries, Inc. (U.S.), GPD Group (U.S.), Nippon Sheet Glass Co., Ltd.(Japan), GlasNovations, Ltd. (U.K.) and others.
Dynamic glazing products are the products used in construction activities that possess the ability to change performance properties. The dynamic glazed windows and doors change the performance automatically for responding to control or environmental signal. The dynamic glazing market is expected to grow with 10% CAGR during the forecast period.
The report for Global Dynamic Glazing market of Market Research Future comprises of extensive primary research along with the detailed analysis of qualitative as well as quantitative aspects by various industry experts, key opinion leaders to gain the deeper insight of the market and industry performance. The report gives the clear picture of current market scenario which includes historical and projected market size in terms of value and volume, technological advancement, macro economical and governing factors in the market. The report provides details information and strategies of the top key players in the industry. The report also gives a broad study of the different market segments and regions.
Frequently Asked Questions (FAQ) :
---
Table of Contents
1 Executive Summary
2 Research Methodology

2.1 Scope of the Study

2.1.1 Definition

2.1.2 Research Objective

2.1.3 Assumptions

2.1.4 Limitations

2.2 Research Process

2.2.1 Primary Research

2.2.2 Secondary Research

2.3 Market size Estimation

2.4 Forecast Model
3 Market Dynamics

3.1 Market Drivers

3.2 Market Inhibitors

3.3 Supply/Value Chain Analysis

3.4 Porter's Five Forces Analysis
4 Global Dynamic Glazing Market, By Technology

4.1 Polymer Dispersed Liquid Crystals (PDLC)

4.2 Suspended Particle Device

4.1 Photochromic

4.2 Thermochromic

4.1 Electrochromic
5 Global Dynamic Glazing Market, By Application

5.1 Day lighting performance

5.2 Glare Control

5.3 Energy Savings

5.4 Heat Gain
6 Global Dynamic Glazing Market, By End-user

6.1 Residential

6.2 Commercial

6.3 Transportation

6.4 Others
7 Regional Market Analysis

7.1 Introduction

7.2 North America

7.2.1 U.S.

7.2.2 Canada

7.3 Europe

7.3.1 U.K

7.3.2 France

7.3.3 Germany

7.3.4 Spain

7.3.5 Rest of Europe

7.4 Asia-Pacific

7.4.1 China

7.4.2 Japan

7.4.3 India

7.4.4 Rest of Asia-Pacific

7.5 Rest of the World
8 Competitive Analysis

8.1 Introduction

8.2 Competitive Scenario

8.2.1 Market Share Analysis

8.2.2 Market Development Analysis

8.2.3 Product/Service Benchmarking

8.3 Guardian Industries (U.S)

8.3.1 Overview

8.3.2 Product /Service Offering

8.3.3 Strategy

8.4 Beautex Industries Pvt. Ltd (India)

8.4.1 Overview

8.4.2 Product /Service Offering

8.4.3 Strategy

8.5 Corning Inc. (U.S.)

8.5.1 Overview

8.5.2 Product /Service Offering

8.5.3 Strategy

8.6 Saint-Gobain S.A(France)

8.6.1 Overview

8.6.2 Product /Service Offering

8.6.3 Strategy

8.7 Research Frontiers, Inc.(U.S)

8.7.1 Overview

8.7.2 Product /Service Offering

8.7.3 Strategy

8.8 Research Frontiers, Inc.(U.S)

8.8.1 Overview

8.8.2 Product /Service Offering

8.8.3 Strategy

8.9 PPG Industries, Inc.(U.S)

8.9.1 Overview

8.9.2 Product /Service Offering

8.9.3 Strategy

8.10 GPD Group (U.S.)

8.10.1 Overview

8.10.2 Product /Service Offering

8.10.3 Strategy

8.11 Nippon Sheet Glass Co., Ltd.(Japan)

8.11.1 Overview

8.11.2 Product /Service Offering

8.11.3 Strategy

8.12 GlasNovations, Ltd. (U.K)

8.12.1 Overview

8.12.2 Product /Service Offering

8.12.3 Strategy
LIST OF TABLES
TABLE 1 GLOBAL DYNAMIC GLAZING MARKET, BY TECHNOLOGY

TABLE 2 GLOBAL DYNAMIC GLAZING MARKET, BY APPLICATION

TABLE 3 GLOBAL DYNAMIC GLAZING MARKET, BY END-USER

TABLE 4 GLOBAL DYNAMIC GLAZING MARKET, BY REGIONS

TABLE 5 NORTH AMERICA DYNAMIC GLAZING MARKET, BY TECHNOLOGY

TABLE 6 NORTH AMERICA DYNAMIC GLAZING MARKET, BY APPLICATION

TABLE 7 NORTH AMERICA DYNAMIC GLAZING MARKET, BY END-USER

TABLE 8 U.S. DYNAMIC GLAZING MARKET, BY TECHNOLOGY

TABLE 9 U.S. DYNAMIC GLAZING MARKET, BY APPLICATION

TABLE 10 U.S. DYNAMIC GLAZING MARKET, BY END-USER

TABLE 11 CANADA DYNAMIC GLAZING MARKET, BY TECHNOLOGY

TABLE 12 CANADA DYNAMIC GLAZING MARKET, BY APPLICATION

TABLE 13 CANADA DYNAMIC GLAZING MARKET, BY END-USER

TABLE 14 EUROPE DYNAMIC GLAZING MARKET, BY TECHNOLOGY

TABLE 15 EUROPE DYNAMIC GLAZING MARKET, BY APPLICATION

TABLE 16 EUROPE DYNAMIC GLAZING MARKET, BY END-USER

TABLE 17 GERMANY DYNAMIC GLAZING MARKET, BY TECHNOLOGY

TABLE 18 GERMANY DYNAMIC GLAZING MARKET, BY APPLICATION

TABLE 19 GERMANY DYNAMIC GLAZING MARKET, BY END-USER

TABLE 20 FRANCE DYNAMIC GLAZING MARKET, BY TECHNOLOGY

TABLE 21 FRANCE DYNAMIC GLAZING MARKET, BY APPLICATION

TABLE 22 FRANCE DYNAMIC GLAZING MARKET, BY END-USER

TABLE 23 U.K. DYNAMIC GLAZING MARKET, BY TECHNOLOGY

TABLE 24 U.K. DYNAMIC GLAZING MARKET, BY APPLICATION

TABLE 25 U.K. DYNAMIC GLAZING MARKET, BY END-USER

TABLE 26 REST OF EUROPE DYNAMIC GLAZING MARKET, BY TECHNOLOGY

TABLE 27 REST OF EUROPE DYNAMIC GLAZING MARKET, BY APPLICATION

TABLE 28 REST OF EUROPE DYNAMIC GLAZING MARKET, BY END-USER

TABLE 29 ASIA-PACIFIC DYNAMIC GLAZING MARKET, BY TECHNOLOGY

TABLE 30 ASIA-PACIFIC DYNAMIC GLAZING MARKET, BY APPLICATION

TABLE 31 ASIA-PACIFIC DYNAMIC GLAZING MARKET, BY END-USER

TABLE 32 ROW DYNAMIC GLAZING MARKET, BY TECHNOLOGY

TABLE 33 ROW DYNAMIC GLAZING MARKET, BY APPLICATION

TABLE 34 ROW DYNAMIC GLAZING MARKET, BY END-USER  
LIST OF FIGURES
FIGURE 1 RESEARCH METHODOLOGY

FIGURE 2 GLOBAL DYNAMIC GLAZING MARKET: BY TECHNOLOGY (%)

FIGURE 3 GLOBAL DYNAMIC GLAZING MARKET: BY APPLICATION (%)

FIGURE 4 GLOBAL DYNAMIC GLAZING MARKET: BY END-USER (%)

FIGURE 5 GLOBAL DYNAMIC GLAZING MARKET: BY REGION

FIGURE 6 NORTH AMERICA DYNAMIC GLAZING MARKET, BY TECHNOLOGY (%)

FIGURE 7 NORTH AMERICA DYNAMIC GLAZING MARKET, BY APPLICATION (%)

FIGURE 8 NORTH AMERICA DYNAMIC GLAZING MARKET, BY END-USER (%)

FIGURE 9 EUROPE DYNAMIC GLAZING MARKET, BY TECHNOLOGY (%)

FIGURE 10 EUROPE DYNAMIC GLAZING MARKET, BY APPLICATION (%)

FIGURE 11 EUROPE DYNAMIC GLAZING MARKET, BY END-USER (%)

FIGURE 12 ASIA-PACIFIC DYNAMIC GLAZING MARKET, BY TECHNOLOGY (%)

FIGURE 13 ASIA-PACIFIC DYNAMIC GLAZING MARKET, BY APPLICATION (%)

FIGURE 14 ASIA-PACIFIC DYNAMIC GLAZING MARKET, BY END-USER (%)

FIGURE 15 ROW DYNAMIC GLAZING MARKET, BY TECHNOLOGY (%)

FIGURE 16 ROW DYNAMIC GLAZING MARKET, BY APPLICATION (%)

FIGURE 17 ROW DYNAMIC GLAZING MARKET, BY END-USER (%)