Companion Diagnostics Market Information: By Technology (PCR, ISH, Immunohistochemistry), Indication (Cancer, Infectious Diseases, Cardiovascular Diseases, CNS Diseases), End User (Pharma & Biotech, Clinical Laboratories, CRO) – Global Forecast to 2023
Market Synopsis of Companion Diagnostics Market:
Market Scenario:
Companion diagnostics are the tests and tools used to determine the effect of drug molecule on the particular patients and also the potential patients who can be benefited by a specific treatment. The use of companion diagnostic treatments is an exciting field of medical development. The potential value of companion diagnostics for patients is safer treatment with improved outcomes. The focus of medicine has always been on the wellbeing of the individual patient but with medicine becoming an increasing burden on taxpayers, reducing the cost of quality care is now of prime importance. Companion diagnostics offer an innovative way to achieve a better quality of care at a reduced price. Globally the market for companion diagnostics is growing rapidly.
There are various factors which support the growth of the market, these include increasing costs of the drug discovery and development, rising need for the assessment of the efficacy and safety of the drugs, desperate need for the specific medication for rare and chronic disorders, and technological advancements in the companion diagnostics devices. Furthermore, increase in the demand for diagnostic devices for early detection tumors in case of cancer also boost the market growth.
On the other hand, there are some factors which hinder the growth of the market such as lack of awareness in the developing nations and lack of skilled professionals.
Globally, the market for companion diagnostics is expected to grow at the rate of about 15.4% from 2017 to 2023.
Research Methodology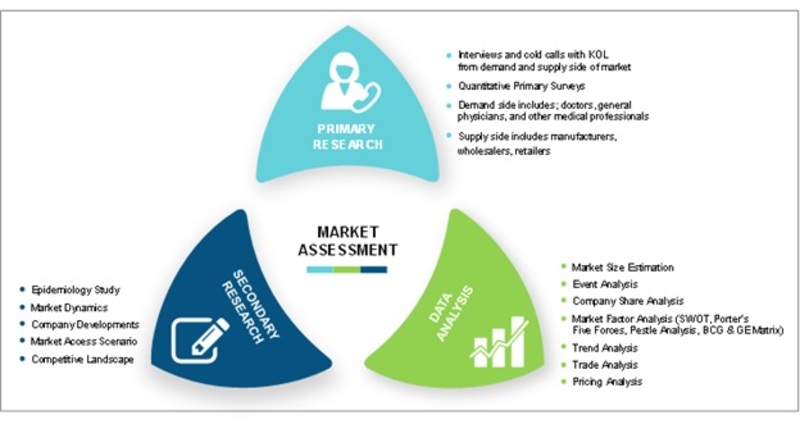 Source: World Health Organization, Centers for Disease Control and Prevention, expert interview market research future analysis, annual report, white paper, company presentation
Key Players for Companion Diagnostics Market:
Some of the key players in this market are: Abbott (U.S.), Agilent Technologies (U.S.), ARUP Laboratories (U.S.), F. Hoffmann-La Roche AG. (Germany), Myriad Genetics Inc. (U.S.), QIAGEN N.V. (Germany), and Thermo Fisher Scientific Inc. (U.S.).

Segmentation

The global companion diagnostics market has been segmented on the basis of technology which comprises of Polymerase chain reaction (PCR), In-situ hybridization, and immunohistochemistry. On the basis of application, market is segmented into cancer, infectious diseases, cardiovascular diseases, CNS diseases, and others. On the basis of end user, market is segmented into pharmaceutical & biotech companies, clinical laboratories, CRO, and other.
Figure1: Companion Diagnostics Market by Technology, 2016(%)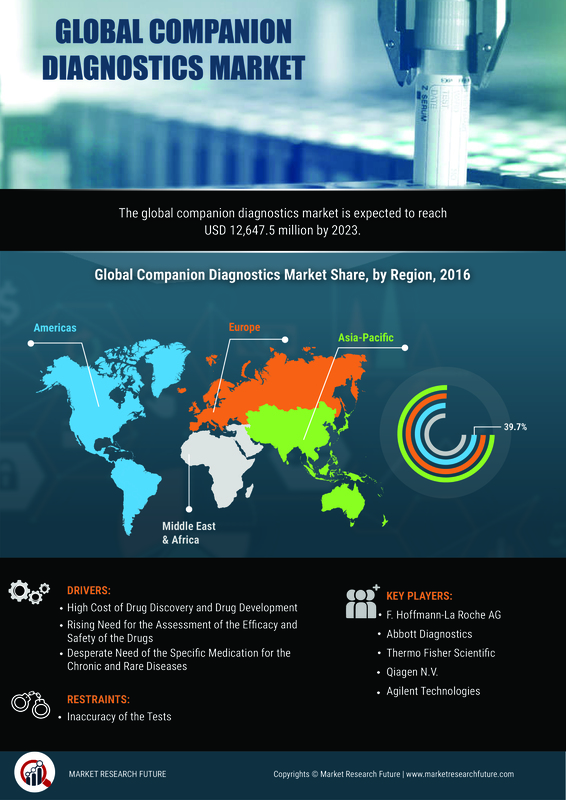 Regional Analysis:
Globally, Americas is the largest market for companion diagnostics. In Americas, North America is the major contributor to the companion diagnostics market owing to an expensive use of advanced diagnostics devices, and alarming need for cancer diagnosis and treatment. According to the American Cancer Society, 1,688,780 new cases are expected to be diagnosed in 2017 in the U.S. It also stated that cancer is the second most common cause of death in the U.S. Furthermore, nearly 41 out 100 men and 38 out of 100 women are expected to develop cancer in their lifetime.
Europe is the second largest market after Americas. Factors attributing to the growth of this market in Europe are rising demand for efficiency in healthcare and strengthening healthcare system. Germany is the largest market in Europe due to the presence of major market players in this regions and growing demand for technological advancement. Furthermore, the prevalence of cancer is also found to be increasing among European population.
Asia Pacific market is expected to be the fastest growing market for companion diagnostics due to continuous development in countries such as India and China, and increasing healthcare expenditure in these countries. Rising prevalence of lifestyle disease such as diabetes, obesity and cancers also boost the market growth in Asia Pacific.
Middle East & Africa are expected to have a limited but steady growth owing to low healthcare expenditure and demand for primary healthcare services in this region.
Key Finding



The companion diagnostics global market and is expected to reach USD 12,647.5 million by 2023




PCR based companion diagnostics holds the largest share of 53% of the market




America holds the largest market share of companion diagnostics market in 2016 and is anticipated to reach USD 5093.2 million by the end of forecast period




Asia Pacific the fastest growing region and expected to grow at the rate of 16% during the forecast period



Intended Audience



Companion Diagnostic Tests Developers & Service Providers




Pharmaceutical and Biotechnology Companies




Contract Research Organizations (CROs)




Research and Development (R&D) Companies




Government Research Laboratories




Independent Research Laboratories




Government and Independent Regulatory Authorities




Market Research and Consulting Service Providers




Academic Institutes and Universities