Market Scenario
Aircraft windows and windshields enable outside view while also protecting passengers from the external environment. Currently, aircraft windows and windshields are designed based on a fail-safe concept, such that the chances of complete window failure can be minimized. The windows and windshields consist of several layers of glass plies and are also act as thermal insulators. In case of passenger cabin windows, the outer pane shields passengers from the cold external environment while the inner pane keeps humidity from condensing and frosting.
Moreover, with the increase in demand for new aircraft, the demand for commercial aircraft windows and windshields has been increasing rapidly. A majority of the global commercial aircraft windows and windshields revenue comes from narrow-body commercial aircraft such as Airbus A320 and Boeing 737. Moreover, there has been a surge in demand for low-maintenance and improved aircraft windows and windshields. Continuous modifications in the design and construction of aircraft windows and windshields help enhancing the service life of parts and indirectly leads to lesser maintenance of parts.
The global demand for commercial aircraft windows and windshields is further stimulated by the new aircraft development programs. In order to fit the respective aircraft design configuration, new aircraft windows and windshields are developed. For example, the Boeing 787 Dreamliner opted for a comparatively larger window, which is roughly the size of a piece of hand luggage (22 x 47 cm). Dreamliner's windows are 30% larger than in other commercial passenger airliner of similar configuration. In a similar manner, other ongoing and planned aircraft development projects, such as Airbus A350 XWB, Airbus A330neo, Boeing 737 MAX, and Boeing 777X will further stimulate the market and demand for respective aircraft windows and windshields.
The Global Commercial Aircraft Windows and Windshield Market is expected to grow at a CAGR of above 3.4%, during the forecast period of 2018-2025.
Segmentation of the Global Commercial Aircraft Windows and Windshield Market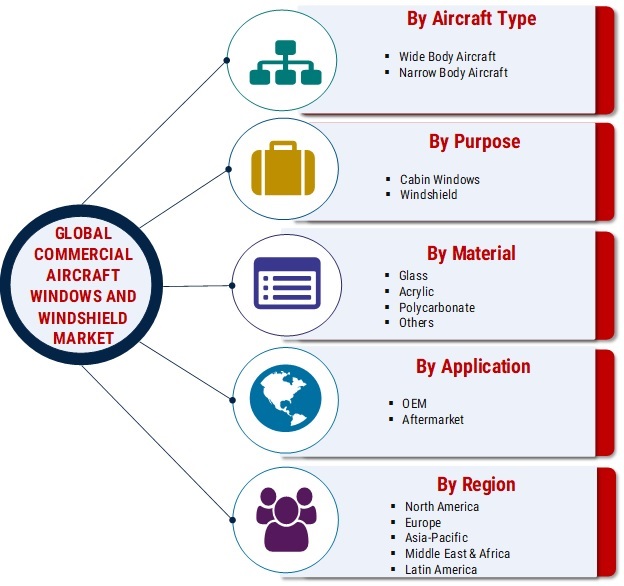 The commercial aircraft windows and windshield market is segmented on aircraft type, purpose, material, application, and region. On the basis of aircraft type, the market has been segmented into wide-body aircraft and narrow-body aircraft. The narrow-body segment is expected to witness the highest CAGR during the forecast period. This is due to the increasing demand for narrow-body aircraft from the last few years.
Based on material, the market has been segmented into glass, acrylic, polycarbonate, and others. The acrylic material segment accounted for the largest market share in 2018. This is due to its less weight, easy to manufacture, and higher toughness. However, the trend has been slowly shifting towards the utilization of interactive and smart windows. For example, Boeing 787 Dreamliner has used dimmable glass windows, supplied by Gentex Corp. Dimmable windows allow passengers to enjoy the view without any annoying glare. Furthermore, a passenger can control the degree of shade to manage the amount of light entering the cabin.
The development of lightweight materials for the aerospace industry has also been growing at a rapid pace. New materials are being utilized for aircraft windows and windshields to achieve increased durability because they are more robust and lighter. However, acrylic is an oil-based product, and the price in the market is affected by the rise and fluctuation in oil prices. Thus, price in the market may differ based on the time of order and the international market scenario. As a result, suppliers increase the price of their products and raw materials, which affects the cost of production for aircraft windows and windshields.
Based on the region, the market has been segmented into North America, Europe, Asia-Pacific, Middle East & Africa, and Latin America. North America is the largest market, followed by Europe. These regions have a strong aviation manufacturing base and large demand for OEM and aftermarket parts. The market is, however, slowly shifting with more demand coming from the Asia-Pacific, Middle East & Africa, and Latin America. With the strengthening of the economy in countries, such as China, India, UAE, Brazil, and Southeast Asian countries, the demand for air travel has grown rapidly in these regions. These emerging regions are among few of the largest markets for new aircraft fleet. To meet such growing demand and to maintain a competitive edge in the market, major OEMs and suppliers have further increased their manufacturing base and market presence in these regions.
Key Players
The key players in the Global Commercial Aircraft Windows and Windshield Market are Aerospace Plastic Components (Australia), AJW Aviation Ltd (UK), Gentex Corporation (US), GKN Plc. (UK), Lee Aerospace (US), LP Aero Plastics Inc. (US), Plexiweiss GmbH (Germany), PPG Industries, Inc. (US), Saint-Gobain S. A. (France), and The NORDAM Group, Inc. (US).
Research Methodology
The market values and forecast are derived using the Market Research Future (MRFR) research methodology, which includes secondary research, primary interviews, data triangulation, and validation from an in-house data repository and statistical modeling tools.
In this process, data is collected from various secondary sources, including annual reports, SEC filings, journals, government associations, aerospace & defense magazines, white papers, corporate presentations, company websites, and paid databases.
In this process, both the demand- and supply-side parties are interviewed to extract facts and insights into the market forecast, production, trends, and projected market growth. Industry stakeholders such as CEOs, VPs, directors, and marketing executives across the value chain are approached to obtain key information.
Key Insights





Market Sizing, Forecast, and Analysis: Detailed coverage of the market segment and sub-segments








Regional/Country Trends and Forecast: Detailed analysis of the market in North America, Europe, Asia-Pacific, Middle East & Africa, and Latin America, along with key countries in each region








Market Dynamics Intelligence: Market drivers, opportunities, trends, restraints, Porter's five forces, supply chain, and value chain analysis








Technology Trends, Regulatory Landscape, and Patent Analysis Outlook








Competitive Intelligence: Market share analysis, financial analysis, product benchmarking, and strategic developments including joint ventures, product launches, and mergers & acquisitions








Regional attractiveness and related growth opportunities





Report Customization
MRFR offers report customization to valued customers. Below are the options available for customization:
In-depth profiling of additional market players (3 to 4 companies)
Detailed analysis of a country-level market and related segments as per the report scope (subject to data availability)
Intended Audience
Frequently Asked Questions (FAQ) :
---