Cash Flow Market Overview

Cash Flow Market is expected to reach a decent growth in income in the upcoming period. Cash flow management is a process of monitoring, analyzing, and optimizing the net amount of cash. It maintains control over the inflow and outflow of funds. This process of cash inflows and outflows determines a business' solvency. Cash flow management software delivers a quick, safe, and effective solution to the various industry such as the banking sector, information technology (IT) and information technology-enabled services (ITes), construction and real estate, retail and e-commerce, manufacturing, government and non-profit organizations, and the healthcare & travel industry to improve their cash management and optimize their working capital.
The growth can be attributed to the increase in the e-commerce sector and the increase in the adoption of cloud-based banking solutions. Cloud-based cash management systems maximize liquidity, optimize capital, and manage risk. The integration of machine learning (ML) and artificial intelligence (AI) techniques in the financial sector is anticipated to propel market growth. These techniques help businesses by providing accurate money flow forecasts. These integrated solutions are widely adopted by several enterprises. However, increasing cyberattacks and data theft are expected to hamper market growth during the forecast period.
Impact of COVID-19
The cash flow market is substantially affected due to the increasing pandemic situation of COVID-19 across the world. Fluctuating consumer preferences and behavior due to the changing global pandemic scenario will considerably influence the cash flow market over the projected timeframe. For instance, in March 2020, the World Health Organization (WHO) announced the Covid-19 as a global pandemic resulting in several countries under lockdown. There is a high probability that the novel coronavirus outbreak will have a long-term effect on consumer lifestyle and behavior. COVID-19 has had a significant impact on all aspects of daily life and businesses. The COVID-19 outbreak is creating economic hardships for enterprises and consumers across the globe. Business leaders are facing immediate challenges, including managing their cash flow. Henceforth, the increasing need for cash flow management software as it keeps track of cash flow and analyzes any changes with it. This creates an opportunity for cash flow management software. During the pandemic situation. Moreover, the gradually increasing adoption of big data and analytics capabilities and cash flow solutions to gain financial insights and prepare for the future increase the demand for cash flow market
Segmentation
Global Cash Flow Market has been segmented based on Components, Deployment, Organization Size, Vertical, and Region.
Based on Component, the global cash flow industry has been segmented into solutions and services. Furthermore, the service segment is sub-segmented into consulting services, implementation services, and support services.
Based on Deployment, the global cash flow market has been bifurcated into on-premises and cloud.
Based on Organization Sizes, the global cash flow market has been divided into small and medium enterprises (SMEs) and professionals.
Based on Vertical, the global cash flow market has been segmented into banking, financial services, and insurance (BFSI), information technology (IT) and information technology-enabled services (ITes), construction and real estate, retail and e-commerce, manufacturing, government and non-profit organizations, healthcare, and others. Furthermore, the others segment is subdivided into utilities, education, and travel and hospitality.
Regional Analysis
Geographically, the Cash Flow Market has been segmented into Asia-Pacific, North America, Europe, the Middle East & Africa, and South America.
North America held the largest share in the cash flow market, followed by the regions of Asia- Pacific and Europe; it is expected to continue to retain its dominance throughout the forecast period. In North America, the increasing adoption of cloud and IoT and the emergence of technologies, such as AI, ML, BI, and data analytics, fuels the market growth. This growth can be attributed to the presence of prominent market players, such as Intuit, Anaplan, Planguru, Pulse, Finagraph, Dryrun, Finsync, Cash Flow Mojo, and Runway.
Asia-Pacific occupied the second position in the market. For the purpose of this study, the region has been segmented into China, India, Japan, and the rest of Asia-Pacific. The cash flow market in this region is expected to grow due to the rising demand for money management systems.
Companies Covered
The Key Players of the Global Cash Flow Market are Agicap (France), Calqulate (Finland), Cashbook (Ireland), Cashforce (Belgium), Caflou (Czech Republic), Xero (New Zealand), Anaplan (US), Sage (UK), Float (UK), Intuit (US), Planguru (US), Dryrun (Canada), Pulse (US), Cash Analytics (Ireland), Fluidly (UK), Finagraph (US), Cashflowmapper (Australia), Finsync (US), Cashflow Manager (Australia), Cash Flow Mojo (US), BeyondSquare Solutions (India), Calxa (Australia), CashflowCafe (England), Futrli (UK), Vistr (Australia), and Runway (US).
Key Industry Developments
In June 2020, Intuit infuses QuickBooks' accounting software with artificial intelligence (AI) to help SMBs make informed financial decisions and manage cash flow more effectively.
In August 2020, Xero acquired a cloud-based invoice lending platform Waddle to helps connect small businesses to invoice finance, which is a form of secured lending that relies on a business' unpaid invoices. Additionally, this acquisition helps end-users manage cash flow and gain access to working capital as needed.
In November 2019, Fluidly introduced its new free AI-powered cash flow forecasting software. This product help business owners understand their financial position, monitor debt, and identify actions to take.
In November 2020, Finagraph partnered with Rootworks for Cash Flow Management. This partnership provides more than 700 Rootworks member firms with cutting edge cash flow monitoring and forecasting software, as well as education services.
Global Cash Flow Market, 2018 - 2026 (USD Billion)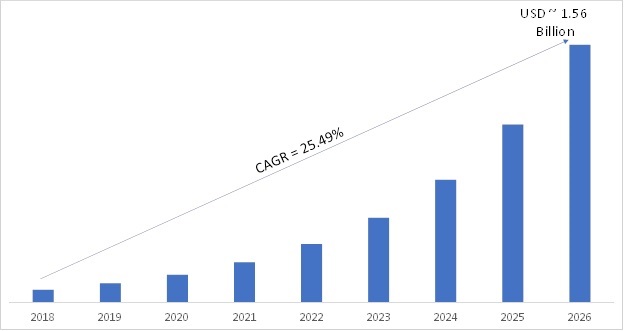 Key Questions Addressed by the Report



What was the historic market size (2018)?




Which segmentation (Component/Deployment Mode/Organization Size/Verticals) are driving the market?




What will be the growth rate by 2026?




Who are the key players in this market?




What are the strategies adopted by key players?



Frequently Asked Questions (FAQ) :
---