Cable Connector Market Synopsis
The cable Connector Market is estimated to reach USD 102.90 billion by 2026, registering a CAGR of 7.6% during the forecast period of 2020–2026.
Cable connectors or input-output (I/O) connectors are interfaces for linking devices by using cables. They generally have a male end with pins protruding from it. This male plug connector is meant to be inserted into a female part (a female plug connector, also called a socket) that includes holes for accommodating the pins. The pins and holes in connectors are usually linked to the electric wires that form the cable. The pin layout describes which pins couple with which wires. Several people in the cabling business use twisted-pair connectors more than any other type of connector. The connectors include the modular RJ types of jacks and plugs and the hermaphroditic connector that is used with shielded twisted-pair cabling. Most unshielded twisted-pair (UTP) and screened twisted-pair (ScTP) cable installations use patch panels and, consequently, 110-style termination blocks. The 110 Blocks contains rows of specially designed slots in which the cables are terminated using a punch-down tool. When terminating 66-blocks, 110-blocks, and often, wall plates, both UTP and ScTP connectors use insulation-displacement contact (IDC) technology to establish contact with the copper conductors. Both UTP and ScTP cables use modular jacks and plugs. For decades, modular jacks have been commonplace in the home for telephone wiring.
Cable Connector Market Segmentation
The cable connector market has been segmented based on type, vertical, and region.
By type, the cable Connector Market has been segmented into PCB connectors, circular/rectangular connectors, fiber optic connectors, I/O connectors, and others.
By vertical, the cable Connector Market has been segmented into IT & telecommunication, automotive, commercial, aerospace & defense, consumer electronics, industrial, energy & power, oil & gas, and other.
By region, the cable Connector Market has been segmented into North America, Europe, Asia-Pacific, and the rest of the world.
Cable Connector Market, 2018–2026 (USD Million)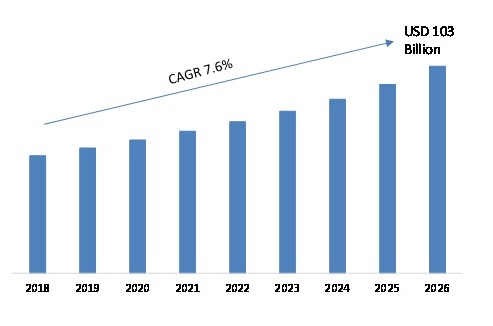 Source: MRFR Analysis
Cable Connector Market Regional Analysis
The cable Connector Market is estimated to grow at a significant rate during the forecast period from 2020 to 2026. The geographic analysis of Cable Connector Market has been conducted for North America (the US, Canada, and Mexico), Europe (the UK, Germany, France, Spain, Italy, and the rest of Europe), Asia-Pacific (China, Japan, India, and the rest of Asia-Pacific), and the rest of the world (the Middle East & Africa and South America). Among these regions, in 2019, North America dominated the cable Connector Market and is expected to maintain its dominance throughout the forecast period. On the other hand, Asia-Pacific is expected to witness the fastest growth of Cable Connector Market during the forecast period. The increasing installation of fixed broadband connections over the years is expected to fuel the regional Cable Connector Market growth.
Cable Connector Market Key Players
MRFR has identified the key players in the cable Connector Market. These include Amphenol Corporation, Molex Inc. (Koch Industries)​, Fujitsu Limited, AVX Corporation​, AMETEK Inc., TE Connectivity Limited, HARTING Technology Group​, Huawei Technologies Co. Ltd, Axon Cable SAS, Leoni AG, Aptiv PLC, Yazaki Corporation, Huber+Suhner AG, Nexans S.A., Sumitomo Wiring Systems Ltd., ITT Interconnect Solutions, Korea Electric Terminal Co., Ltd., PRYSMIAN S.P.A., 3M, and ALCATEL-LUCENT. These players focus on innovation and,thus, invest in research & development to present a cost-effective product portfolio. There have been recent mergers & acquisitions among the key players, which is a strategy the business entities leverage to strengthen their reach to the customers.
Industry News
In January 2021, Stewart Connector, a Bel group company, extended Cat 6a support to its SealJack series of cable applied connectors. The series now supports Cat5e, Cat6 and Cat6a performance levels through IP67 plug kits, cable assemblies, and cable applied jacks.
In June 2020, MilesTek launched its new series of waterproof HDMI cable assemblies for industrial computing, factory automation, outdoor digital signage, medical and harsh environment A/V applications. These rugged, IP67-rated HDMI cable assemblies feature a waterproof coupler that allows these HDMI cables to withstand harsh environments by preventing the ingress of water and fine particulates such as dust that would typically render standard HDMI cables useless.
In March 2020, Molex launched its Custom Cable Creator solution that enables customers to efficiently design custom cable harnesses within one simple online tool. The tool fits almost any application to meet the needs of most major industries, including consumer, home appliance, medical and data computing.
In March 2020, L-com launched a new latching USB 3.0 cable assemblies that feature latching Type-A male connectors that ensure a secure connection even when exposed to heavy vibration. The solution support slow-smoke zero-halogen (LSZH) and jacket PVC jacket options, as well as latching Type-A and standard Type-B connecter combinations.
In December 2019, Stewart Connector launched USB Type-C cable assemblies complimenting its existing USB Type-A, Type-B and micro/ mini-B cable assembly family. These USB cable assemblies include a shielded cable design that allows for high-speed transfer of data.

Intended Audience



Investors and Consultants




Government Organizations




Research/Consultancy Firms




Manufacturers




Safety Providers




Industries



Report Scope:
| Report Attribute/Metric | Details |
| --- | --- |
| Market Size | USD 102.90 Billion |
| CAGR | 7.6% (2020-2026) |
| Base Year | 2019 |
| Forecast Period | 2020-2027 |
| Historical Data | 2018 |
| Forecast Units | Value (USD Billion) |
| Report Coverage | Revenue Forecast, Competitive Landscape, Growth Factors, and Trends |
| Segments Covered | Type, Vertical and Region |
| Geographies Covered | North America, Europe, Asia-Pacific, and Rest of the World (RoW) |
| Key Vendors | Amphenol Corporation, Molex Inc. (Koch Industries)​, Fujitsu Limited, AVX Corporation​, AMETEK Inc., TE Connectivity Limited, HARTING Technology Group​, Huawei Technologies Co. Ltd, Axon Cable SAS, Leoni AG, Aptiv PLC, Yazaki Corporation, Huber+Suhner AG, Nexans S.A., Sumitomo Wiring Systems Ltd., ITT Interconnect Solutions, Korea Electric Terminal Co., Ltd., PRYSMIAN S.P.A., 3M, and ALCATEL-LUCENT |
| Key Market Opportunities | New product development, mergers, and acquisitions |
| Key Market Drivers | Rising installations of fixed broadband connections over the years |
Frequently Asked Questions (FAQ) :
---
PCB connectors, circular/rectangular connectors, fiber optic connectors, I/O connectors, and others