Market Synopsis
The growing need for high computation power, huge volume of data generated each day, cloud-based services, and development in advanced algorithms allows companies to experiment with artificial intelligence (AI) technology. AI uses techniques such as machine learning, deep learning, natural language processing, adaptive learning, and computer vision to analyze the enterprise data and offer detailed insights about the market which helps in making informed decisions for better management of the enterprise.
AI helps in analyzing a large volume of structured and unstructured data, and trace meaningful patterns through it which helps in sales forecasting. Predictive analytics offered by AI help marketing enterprises in lead generation and customer acquisition. AI also helps marketers with ad optimization such as media content placement, buying option, advertisement and campaign optimization according to the customer behavioral and usage pattern. With the use of AI-based virtual assistance such as chatbots, digital assistance, recommendation engines, and others, marketing enterprise can offer 24/7 support, manage customer relationship better, and help understand their preference which enhances the customer experience. Increasing demand for digital assistance is expected to drive the growth of AI in marketing.
Furthermore, using advanced analytics, AI helps in content curation. These include curating on-demand services, advertisements, articles, promotional advertisements, videos according to the preference of the target audience which helps in brand building. Thus, the growing demand for customer-driven marketing and advertisement are further expected to fuel market growth. However, complex algorithms and data privacy concerns are hampering the growth of the market.
The latest trends prevalent in AI in marketing market are social media image recognition, individual personalization, and conversational marketing. With implementing AI for marketing and advertisement, social media image recognition helps in analyzing millions of pictures within no time. Which also helps the markets to understand consumer behavior and offer personalized content to the consumer accordingly. Also, with continuous advancements in AI technology, chatbots, and digital virtual assistants are also being developed which helps in offering more relevant content to the user which helps in enhancing the overall consumer experience.
Segmentation
The global AI in marketing market is segmented into various segments on the basis of deployment, technology, applications, and verticals.
By deployment, the market is segmented into on-cloud and on-premise.
By technology, the market is segmented into machine learning, adaptive learning, natural language processing, natural language generation, speech recognition, advanced analytics, and computer vision.
By application, the market is segmented into sales forecasting, content curation, virtual assistance, predictive analytics, Ad optimization, dynamic pricing, and others.
By vertical, the market is segmented into BFSI, retail, & e-commerce, government, IT & telecommunication, healthcare, commercial organization, and others.
Regional analysis
The global market for AI in marketing is estimated to grow at a significant rate during the forecast period from 2018 to 2023. The geographical analysis of the AI in marketing market is done for North America, Europe, Asia-Pacific, and the rest of the world.
North America is expected to dominate the market during the forecast period. The major factor influencing the growth of market in this region is well-established economies like the US, and Canada, that are spending a large share on research and development of AI algorithms and technologies such as machine learning, virtual assistance, natural language processing, and others. Also, increasing adoption of social media platforms to stay connected offers an additional platform for advertisement which is another reason driving the growth of AI in marketing. Asia-Pacific is expected to grow at a significant rate owing to increasing adoption of AI technology and cloud deployment by large as well as SMEs for increasing customer satisfaction and enhancing operational performance.
Global Artificial Intelligence in Marketing Market, 2017-2023 (USD Billion)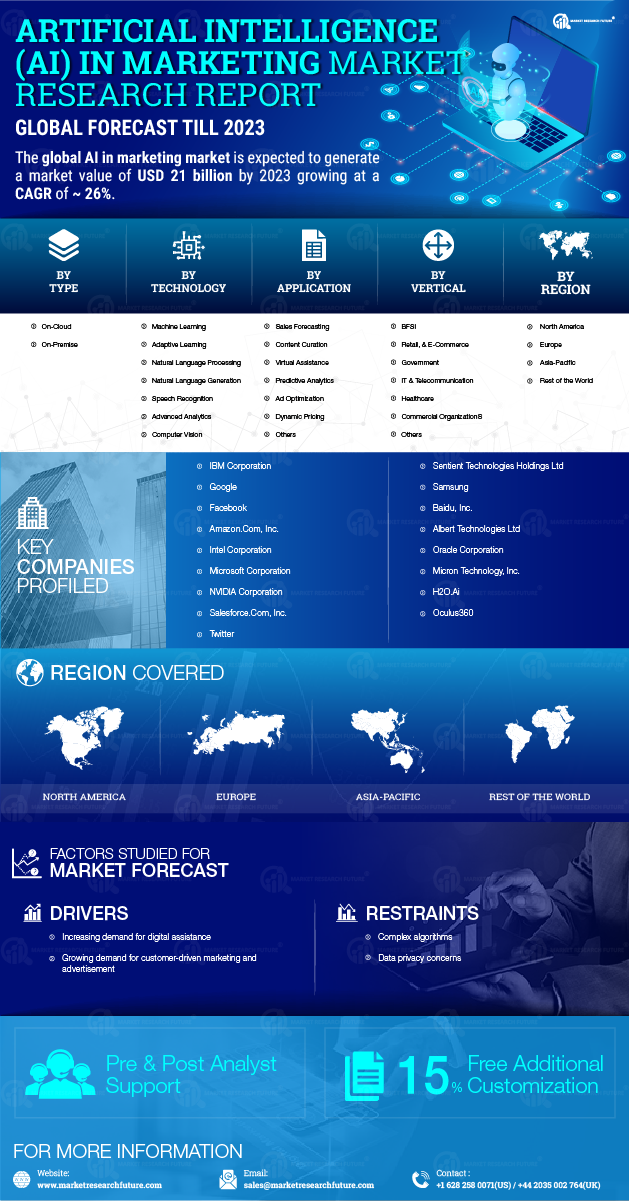 Source: MRFR Analysis
The global AI in marketing market is expected to generate a market value of USD 21 billion by 2023 growing at a CAGR of ~ 26%.
Key players
The prominent players in the market of AI in marketing are IBM Corporation. (US), Google (US), Facebook. (US), Amazon.com, Inc. (US), Intel Corporation (US), Microsoft Corporation (US), NVIDIA Corporation (US), Salesforce.com, Inc. (US), Twitter (US), and Sentient Technologies Holdings Ltd (US).
Other players include Samsung (South Korea), Baidu, Inc. (China), Albert Technologies Ltd (Israel), Oracle Corporation (US), Micron Technology, Inc. (US), H2O.ai (US), and Oculus360 (US) among others.
Intended Audience



Associations, Organizations, Forums, And Alliances




Cloud Service Providers




AI Solution Providers




AI platform Provider




Government Bodies and Departments




Technical Universities




Professional Service Providers




Research and Development Companies




Market Research and Consulting Firms




Technology Standards Organizations




Technology Investors




Technology Providers



Frequently Asked Questions (FAQ) :
---