Automotive Artificial Intelligence Market Scenario

The global automotive artificial intelligence market is expected to register a healthy growth rate of more than 10%.

The booming automotive industry is a constant source of driving demand in the automotive artificial intelligence market. With the emergence of cloud-hosted intelligence, driver assist features and internet of thing the market for automotive artificial intelligence is expected to witness significant growth in the near future. Additionally with major players in the automotive industry heavily investing in development of artificial intelligence for automobiles, the industry wide standard such as the adaptive cruise control, advanced driver assistance systems and blind spot alert would further trigger the growth in the market. Changing consumer preference towards convenience and safety provides an opportunity for original equipment manufacturers in the automotive AI market.
High cost and relative lack of awareness among consumers is expected to act as a major restraint in the automotive AI market.


Regional Analysis


By 2023, North America is expected to be the dominant region in the Automotive Artificial Intelligence market primarily due to the presence of major manufacturers in this region. In addition availability of sophisticated technology to develop artificial intelligence programs are much more easily accessible in this region as compared to others. Growing expectance of autonomous vehicles in the U.S. has significantly contributed towards the growth of the market in this region. Favorable government norms coupled with Ford Motor Company, General Motors, and Fiat-Chrysler Automotive leading the charge in the development of the artificial intelligence in automotive by constantly upgrading their product will have a positive impact on the market.


Key Players


The key players of global Automotive Artificial Intelligence market Qualcomm Inc. (US), Tesla Inc. (US), Volvo Car Corporation (Sweden), BMW AG (Germany), Audi AG (Germany), General Motors Company (US), Ford Motor Company (US), Toyota Motor Corporation (Japan), Hyundai Motor Corporation (South Korea), Uber Technologies Inc. (US) .
Market Segmentation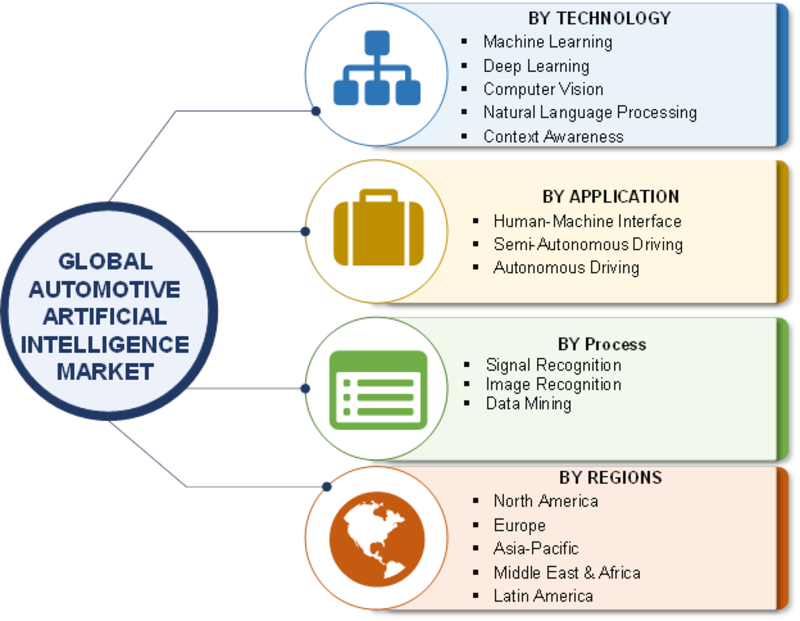 Intended Audience





Distributer & Supplier companies




End Users




Consultants and Investment bankers




Government as well as Independent Regulatory Authorities



Product Analysis
Additional Information



Regulatory Landscape




Pricing Analysis




Macroeconomic Indicators



Geographic Analysis
Company Information



Profiling of 10 key market players




In-depth analysis including SWOT analysis, and strategy information of related to report title




Competitive landscape including emerging trends adopted by major companies



The report for Global Automotive Artificial Intelligence Market of Market Research Future comprises of extensive primary research along with the detailed analysis of qualitative as well as quantitative aspects by various industry experts, key opinion leaders to gain the deeper insight of the market and industry performance. The report gives the clear picture of current market scenario which includes historical and projected market size in terms of value, technological advancement, macro economical and governing factors in the market. The report provides details information and strategies of the top key players in the industry. The report also gives a broad study of the different market segments and regions.
Report Scope:
Report Attribute/Metric
Details
Market Size
2027: Significant Value
CAGR
10% CAGR (2020-2027)
Base Year
2019
Forecast Period
2020-2027
Historical Data
2018
Forecast Units
Value (USD Million)
Report Coverage
Revenue Forecast, Competitive Landscape, Growth Factors, and Trends
Segments Covered
By Technology, By Process, By Application, By Vehicle type
Geographies Covered
North America, Europe, Asia-Pacific, and Rest of the World (RoW)
Key Vendors
Qualcomm Inc. (US), Tesla Inc. (US), Volvo Car Corporation (Sweden), BMW AG (Germany), Audi AG (Germany), General Motors Company (US), Ford Motor Company (US), Toyota Motor Corporation (Japan), Hyundai Motor Corporation (South Korea), Uber Technologies Inc. (US)
Key Market Opportunities
Cloud-hosted intelligenceDriver assist features
Internet of thing
Key Market Drivers
Advanced driver assistance systems
Blind spot alert
Speak to Analyst
Ask for Customization
Frequently Asked Questions (FAQ) :
---