Global Anti-Reflective Coatings Market Information-by Technology (Electron Beam Evaporation and Sputtering), by Application (Eyewear, Automobile, Electronics, and Solar Power System) and by Region - Forecast to 2022
Research Methodology for Anti-Reflective Coatings Market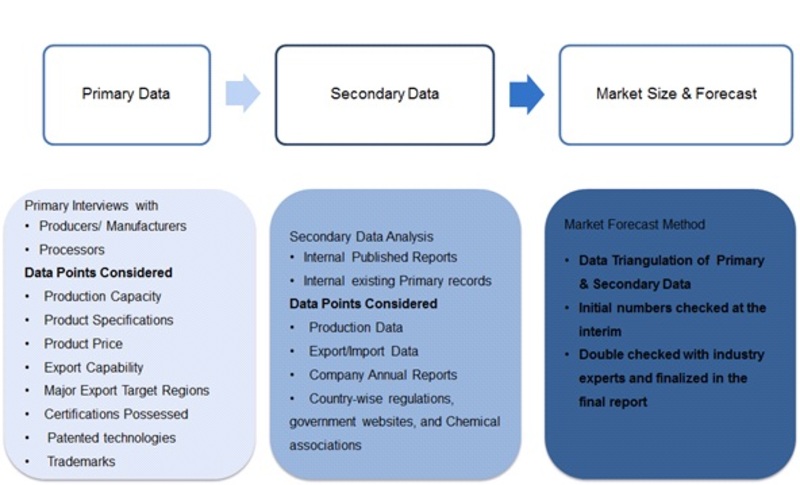 Market Synopsis of Global Anti-Reflective Coatings Market
Global Anti-Reflective Coatings Market is anticipated to grow to USD 5.8 billion by 2022 with the CAGR of 8.7% during forecasted period 2016 to 2022. Global anti-reflective coatings witness rapid growth due to increase in penetration of anti-reflective coatings in automotive and electronics industry. Moreover, changing lifestyle of consumer owing fashion eyewear will also boost the market growth.
Anti-reflective coating is optical coating that is applied to optical part of lens surface. Anti-reflective coating increase light throughout, minimize stray light and helps in reducing sunlight. Thus, coatings increase light transmission of the glass or glass lens thereby reducing surface reflective. Government policies regarding usage of anti-reflective coatings especially in optical glasses owing to rise in eye disorder in children will impact the market growth. Low awareness among consumer regarding usage of anti-reflective coatings and changing policies for supply of raw materials will restrict the market growth in future.
Electron beam evaporation and sputtering technology are two majorly used technology for anti-reflective coatings. Electron beam evaporation technology dominated the market segment owing to low cost coupled with technological advancement that increased the demand for Anti-Reflective Coatings Market. Sputtering technology witnessed a consequent growth and demand for anti-reflective coatings which depends upon production yield, cost and material requirement.
Anti-reflective coatings is extensively used in eyewear glasses owing to use of high transmitting lenses and glasses in end user industries. Eyewear segment in this market accounted for the largest share owing to glasses offering optimum comfort to eye by providing proper vision by reflecting direct sunlight and eliminating unwanted surface reflective. Electronic segment is the second largest application of Anti-Reflective Coatings Market. Due to rise in demand for smartphones, it is predicted that Anti-Reflective Coatings Market will grow by 2022. Developing regions are spending more in electronic devices. With changing lifestyle, consumer is looking for big flat screens which needs anti-reflective coatings with high definition display. Thus, production of television and smartphones coupled with anti-reflective coatings will drive the market growth. Growing concern is about depletion of conventional resources which are fueling the demand for solar systems, hydro-power system and windmills. Thus, use of anti-reflective coatings in solar panel can reduce the light reflection and increase the efficiency of solar panels. Automobile components like GPS display, windshield etc. uses anti-reflective coatings which drives the market growth. Increasing production of automobile sector can boost the demand for Anti-Reflective Coatings Market in future.
Region wise, North America accounts for largest market share owing to increase in demand and production of smartphones, tablets, cameras etc. With technological advancement in electronic devices these have increased the number of sight disorders. Thus, it is expected to grow the anti-reflective market in forecasted period 2022. Europe is witnessing a significant growth in anti-reflective coatings owing to high demand of solar energy and automobile industry. Asia Pacific region is expected to drive the demand for anti-reflective coatings due to increasing population leading to nonconventional resources in countries like China and India.
Study Objectives of Anti-Reflective Coatings Market:



To study market overview of the Anti-Reflective Coatings.




To estimate market size by product type, by application and region.




To provide insights about market drivers, restrains and opportunities of Anti-Reflective Coatings Market.




To provide geographically market analysis and outlook for North America, Europe, Asia, and Rest of the World (ROW) and their countries.




To analyze the Global Anti-Reflective Coatings Market based on various factors- supply chain analysis, porters five force analysis etc.




To provide strategic profiling of the key players in the market, broadly analyzing their core competencies.




To evaluate competitive developments such as joint ventures, strategic alliances, mergers and acquisitions, new product developments, and research and developments in the Global Anti-Reflective Coatings Market.



Market Segmentation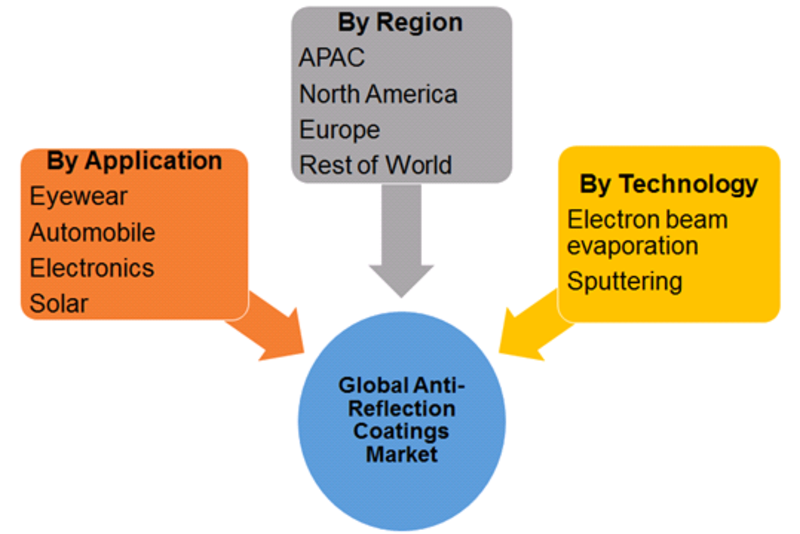 Key Players
The prominent players of global Anti-Reflective Coatings Market are as follows: Royal DSM, Carl Zeiss AG, Honeywell International Inc, Hoya Corporation, Essilor International Co., PPG Industries Inc, Rodenstock GmbH, Cascade Optical Corporation, Janos Technology Inc, iCoat Company LLC and others.
Reasons to buy



This report includes in-depth study analysis of Anti-Reflective Coatings Market




It covers market segmentation by type, by application and by end user.




It helps in identifying region-wise major suppliers and understand consumption patterns.




The report will provide useful and premium insights that will support in investments of anti-reflective coatings and allied companies providing details on the fast-growing segments and regions.




In addition, it will provide key findings that will help companies to improve profitability by using supply chain strategies, cost effectiveness of various products mentioned in the report.




The data used in the report is primarily based on primary interviews with the major producing companies and industry experts supported by authentic industry data from secondary sources.



Target Audience



Anti-reflective coatings manufactures




Traders, distributors and supplier of anti-reflective coatings.




Association and government bodies.




Application industries




Glass and electronic industries




Research institute



Geographic Analysis
The report covers brief analysis of geographical region such as:
North America
Europe



Germany




France




Italy




Netherlands




U.K.




Rest of Europe



APAC



China




India




Japan




Rest of Asia-Pacific



RoW



South America




Middle East




Africa



The report for Global Anti-Reflective Coatings Market by Market Research Future comprises of extensive primary research along with the detail analysis of qualitative as well as quantitative aspects of the market by various industry experts, key opinion leaders to gain the deeper insight of the market and industry performance. The report gives a clear picture of current market scenario which includes past and estimated future market size in terms of value and volume, technological advancement, macro economical and governing factors in the market. The report provides details information and strategies of the top key players in the industry. The report also gives a broad study of different market segments and regions.
1 Executive Summary
2 Scope of The Report
2.1 Market Definition
2.2 Scope of The Study
2.2.1 Research Objectives
2.2.2 Assumptions & Limitations
2.3 Markets Structure
3 Market Research Methodology
3.1 Research Process
3.2 Secondary Research
3.3 Primary Research
3.4 Forecast Model
4 Market Landscape
4.1 Five Forces Analysis
4.1.1 Threat of New Entrants
4.1.2 Bargaining power of buyers
4.1.3 Threat of substitutes
4.1.4 Segment rivalry
4.2 Value Chain/Supply Chain of Global Anti-Reflective Coatings Market
5 Industry Overview of Global Anti-Reflective Coatings Market
5.1 Introduction
5.2 Growth Drivers
5.3 Impact analysis
5.4 Market Challenges
5.5 Impact analysis
6 Market Trends
6.1 Introduction
6.2 Growth Trends
6.3 Impact analysis
7. Global Anti-Reflective Coatings Market by Region
8. Global Anti-Reflective Coatings Market by Technology (Electron beam evaporation and Sputtering)
9. Global Anti-Reflective Coatings Market by Application (Eyewear, Automobile, Electronics, Solar Power system)
10. Company Profiles
10.1 Royal DSM
10.1.1 Overview
10.1.2 Financials
10.1.3 Portfolio
10.1.4 Business Strategies
10.1.5 Recent Development
10.2 Carl Zeiss AG
10.2.1 Overview
10.2.2 Financials
10.2.3 Portfolio
10.2.4 Business Strategies
10.2.5 Recent Development
10.3 Honeywell International Inc
10.3.1 Overview
10.3.2 Financials
10.3.3 Portfolio
10.3.4 Business Strategies
10.3.5 Recent Development
10.4 Hoya Corporation
10.4.1 Overview
10.4.2 Financials
10.4.3 Portfolio
10.4.4 Business Strategies
10.4.5 Recent Development
10.5 Essilor International Co
10.5.1 Overview
10.5.2 Financials
10.5.3 Portfolio
10.5.4 Business Strategies
10.5.5 Recent Development
10.6 PPG Industries Inc
10.6.1 Overview
10.6.2 Financials
10.6.3 Portfolio
10.6.4 Business Strategies
10.6.5 Recent Development
10.7 Rodenstock GmbH
10.7.1 Overview
10.7.2 Financials
10.7.3 Portfolio
10.7.4 Business Strategies
10.7.5 Recent Development
10.8 Cascade Optical Corporation
10.8.1 Overview
10.8.2 Financials
10.8.3 Portfolio
10.8.4 Business Strategies
10.8.5 Recent Development
10.9 Janos Technology Inc
10.9.1 Overview
10.9.2 Financials
10.9.3 Portfolio
10.9.4 Business Strategies
10.9.5 Recent Development
10.10 I-coat Company LLC
10.10.1 Overview
10.10.2 Financials
10.10.3 Portfolio
10.10.4 Recent Development
11 Conclusion
List of Tables
Table 1World Population by Major Regions (2015 To 2030) (Billion)


Table 2Global Anti-Reflective CoatingsMarket: By Region, 2014-2022 (USD Billion)


Table 3North America Anti-Reflective CoatingsMarket: By Country, 2014-2022 (USD Billion)


Table 4Europe Anti-Reflective CoatingsMarket: By Country, 2014-2022 (USD Billion)


Table 5Asia-Pacific Anti-Reflective CoatingsMarket: By Country, 2014-2022 (USD Billion)


Table 6RoW Anti-Reflective CoatingsMarket: By Country, 2014-2022 (USD Billion)


Table 7Global Anti-Reflective Coatings for Technology Market: By Regions, 2014-2022 (USD Billion)


Table 8North America Anti-Reflective Coatings for Technology Market: By Country, 2014-2022 (USD Billion)


Table 9Europe Anti-Reflective Coatings for Technology Market: By Country, 2014-2022 (USD Billion)


Table 10Asia-Pacific Anti-Reflective Coatings for Technology Market: By Country, 2014-2022 (USD Billion)


Table 11RoW Anti-Reflective Coatings for Technology Market: By Country, 2014-2022 (USD Billion)


Table 12North America Anti-Reflective Coatings for Application Market: By Country, 2014-2022 (USD Billion)


Table 13Europe Anti-Reflective Coatings for Application Market: By Country, 2014-2022 (USD Billion)


Table 14Asia-Pacific Anti-Reflective Coatings for Application Market: By Country, 2014-2022 (USD Billion)


Table 15RoW Anti-Reflective Coatings for Application Market: By Country, 2014-2022 (USD Billion)


Table 16Global Anti-Reflective Coatings Application Market: By Region, 2014-2022 (USD Billion)


Table 17North America Anti-Reflective Coatings for Application Market: By Country, 2014-2022 (USD Billion)


Table 18Europe Anti-Reflective Coatings for Application Market: By Country, 2014-2022 (USD Billion)


Table 19Asia-Pacific Anti-Reflective Coatings for Application Market: By Country, 2014-2022 (USD Billion)


Table 20RoW Anti-Reflective Coatings for Application Market: By Country, 2014-2022 (USD Billion)


Table 21Global Technology Market: By Region, 2014-2022 (USD Billion)


Table 22Global Application Market: By Region, 2014-2022 (USD Billion)


Table 23North America Anti-Reflective Coatings Market, By Country (USD Billion)


Table 24North America Anti-Reflective Coatings Market, By Technology (Billion USD)


Table 25North America Anti-Reflective Coatings Market, By Application (Billion USD)


Table 26Europe: Anti-Reflective Coatings Market, By Country (USD Billion)


Table 27Europe: Anti-Reflective Coatings Market, By Technology (USD Billion)


Table 28Europe: Anti-Reflective Coatings Market, By Application (USD Billion)


Table 29Asia-Pacific: Anti-Reflective Coatings Market, By Country (USD Billion)


Table 30Asia-Pacific: Anti-Reflective Coatings Market, By Technology (USD Billion)


Table 31Asia-Pacific: Anti-Reflective Coatings Market, By Application (USD Billion)


Table 32RoW: Anti-Reflective Coatings Market, By Country (USD Billion)


Table 33RoW: Anti-Reflective Coatings Market, By Technology (USD Billion)


Table 34RoW: Anti-Reflective Coatings Market, By Application (USD Billion)
LIST OF FIGURES
FIGURE 1 Global Anti-Reflective Coatings market segmentation
FIGURE 2 Forecast Methodology
FIGURE 3 Five Forces Analysis of Global Anti-Reflective Coatings Market
FIGURE 4 Value Chain of Global Anti-Reflective Coatings Market
FIGURE 5 Share of Global Anti-Reflective Coatings Market in 2014, by country (in %)
FIGURE 6 Global Anti-Reflective Coatings Market, 2015-2022, (USD billion)
FIGURE 7 Sub-segments of Applications
FIGURE 8 Global Anti-Reflective Coatings Market size by Application, 2015
FIGURE 9 Share of Global FIGURE 9 Share of Global Anti-Reflective Coatings Market by Application, 2012 to 2022 Market by Application, 2012 to 2022
FIGURE 10 Global Anti-Reflective Coatings Market size by Technology, 2015
FIGURE 11 Share of Global Anti-Reflective Coatings Market by Technology, 2012 to 2022


, 2012 to 2022