Global XLPE Cable Information By Installation (Overhead, Underground and Submarine Cable), By Voltage (High, Medium, Low), End-Use (Power, Oil & Gas, Chemical, Manufacturing, Metals & Mining, Infrastructure & Transportation and Others) and Region - Forecast to 2023
Market Synopsis
XLPE Cable known as Cross-linked Polyethylene, it is good insulation in terms of electrical properties and very convenient to hold short circuit current capacity. It is generally used in 600V to 155kV transmission lines. XLPE cables can be used for low, medium and high voltage applications. They have better insulation value, lighter in weight and better current capacity with lesser bending radius. Depending on application, it is selected and in areas which is having moisture XLPE cables are preferred. It has lesser chance of mechanical damage and can be used for underground application with armoring and MDPE outer sheathing.
The two options to meet the increasing demand for electricity in urban power grids, are building high level, and high voltage of cables and improving transmission capacity of the original cable. Increasing capital spending toward renewable sector, and better construction will further stimulate the business landscape. Increase usage of XLPE cables by governments, producer and manufacturers to improve efficiency is boosting the demand in the XLPE cable market. XPLE Cables Market is expected to register a high growth of around 6.43% CAGR in the forecasted period.
XLPE provides insulation to cables to make them withstand the electric field and transient operating conditions. The XLPE cable is the largest segment in the underground cable systems market due to investments in renewable sector and increasing power generation. All these factors are estimated to boost the growth of XLPE cables and accessories market. The global market is witnessing significant growth due to the increase in investments in offshore wind, grid interconnections, and increase in power generation. However, complex authorization procedures leading to delays, and volatile prices of raw materials are key restraints for the growth of the market.
Global XLPE Cable Market segmented into three major segments such as Installation, Voltage, End-User and region. Electric power can be transmitted or distributed either by overhead system, underground cable or Submarine cable. Increasing need of effective technology to reduce power outages and efficiency in electricity transmission & distribution result in the growth of the market. By application, it is classified into high, medium and low. Global electricity demand is growing continuously and thereby places high demands on power distribution networks to provide a reliable electricity supply at an affordable price. Increase in renewable energy generation and rapid industrialization and urbanization is expected to drive the market for medium voltage cables market. Moreover, by application, it includes power, oil & gas, Chemical, Manufacturing, Metal and mining, Infrastructure & Transportation. By geography it is segmented as North America, Europe, Asia-Pacific and the Middle East & Africa.
XLPE Cable Market-By Segment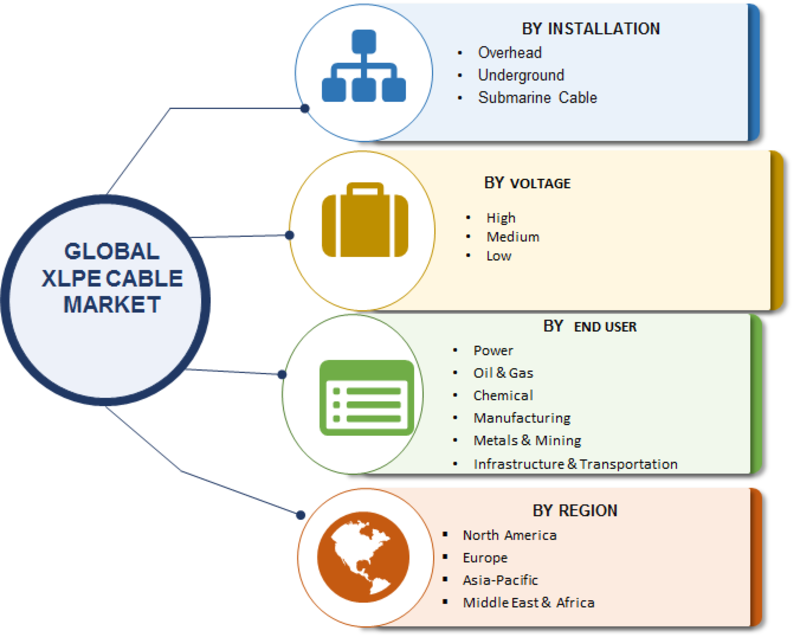 XLPE Cable Market by End-Use:
In the report, the market has been divided into the end-use which includes: Power, Oil & Gas, Chemical, Manufacturing, Metals & Mining, Infrastructure & Transportation and others:
The oil and gas industry demands high performance of wire and cable products in harsh environments. Electrical cables used in Offshore Drilling Systems, Refinery Applications, Land Based Drilling Systems. These power cables are designed to offer a high level of operational reliability and to meet the challenges associated with applications that typically expose cables to ultraviolet light, oil, greases, chemicals, mechanical and thermal stresses, and salt-water submersion.
Chemicals industry requires cables that are not only flexible but are resistant to oils, fats, acids, bases and other harsh materials. These cables combine high radiation resistance and a very high insulation resistance over a broad temperature range such as 240°C (465°F). They also provide properties such as high pressure and moisture loaded environment.
Regional Analysis
The global XLPE Cable market comprises Asia Pacific, North America, Europe, and the Middle East & Africa. The electric power industry is the backbone of America's economic sectors, which generate energy that empower the people and businesses in global commerce. The American power grid network which delivers electricity from generated place to the homes, businesses, and communities, have almost 35 electric transmission interconnections between the Canadian and U.S. power systems for highly integrated grid. The North American transmission system, is a complex network of interconnected power lines and has evolved from last 100 years, delivering needed electricity from more than 950,000 MW of generating stations to well over 100 million customers.
U.S. is the largest market in Americas region for XLPE Cable. The technological and economic potential for renewable energy to provide a growing share of clean, secure energy for North America over the coming decades, is very large. Current drivers are the growing use of less expensive natural gas for power generation, the depletion of coal and fuel oil for carbon reduction, uncertainty in the long-term role for nuclear generation, and rapid deployment of renewable energy technologies. Moreover, more robust, the cost-efficient systems are needed to generate, transmit, and distribute power over long distances to different areas.
Some of the key players in the global XLPE Cable market include Brugg Kabel AG (Switzerland), Sumitomo Electric Industries, Ltd.(Japan), ABB Ltd(Switzerland), The Prysmian Group (Italy), General Cable Corporation (U.S.), and Nexans S.A.( France). Encore Wire Corporation (U.S.), NKT A/S (Denmark), Finolex Cables Ltd (India), Relemac Technologies Pvt. Ltd (India), Laser Power & Infra Pvt. Ltd (India), KEI Industries Limited (India), Universal Cables Ltd.(India), and Eland Cables (U.K.) are among others.
In 2015, Nexans started offering 150 kV single core cross-linked polyethylene (XLPE) underground 3-phase cable system to connect the substations for JFK & Storstrommen Project.
In Dec 2017, Prysmian Group entered into a definitive merger agreement with General Cable Corporation.
The report for Global XLPE Cable Market of Market Research Future comprises of extensive primary research along with the detailed analysis of qualitative as well as quantitative aspects by various industry experts, key opinion leaders to gain the deeper insight of the market and industry performance. The report gives the clear picture of current market scenario which includes historical and projected market size in terms of value and volume, technological advancement, macro economical and governing factors in the market. The report provides details information and strategies of the top key players in the industry. The report also gives a broad study of the different market segments and regions.