Power Distribution Cables Market Information Report by Installation (Overhead, Underground & Submarine), by Voltage (Medium, Low), by Users (

Industrial, Residential, Commercial) and by Region - Global Forecast to 2022


Market Scenario
Power Distribution Cables are typically used to deliver the electric power, it carries the electricity from transmission tower & delivered it to individual consumers. Due increasing need of electricity, power transmission networks are increases rapidly which ultimately boost the distribution cables market. Increase in industrialization & Urbanization, increase in infrastructure & construction, rising demand for renewable energy are the driving factors for the Power distribution cables market. The Power Distribution Cables market is expected to register a significant growth of around 6% CAGR in the next six years.

Market Segmentation


Study Objectives of Power Distribution Cables Market



To provide detailed analysis of the market structure along with forecast for the next 6 years of the various segments and sub-segments of the Global Power Distribution Cables Market




To provide insights about factors affecting the market growth




To Analyze the Global Power Distribution Cables Market based on various factors such as supply chain analysis, and Porter's five force analysis




To provide historical and forecast revenue of the market segments and sub-segments with respect to regions and their respective key countries




To provide country level analysis of the market with respect to the current market size and future prospective




To provide country level analysis of the market for segments by Installation, by Voltage, and by Users




To provide strategic profiling of key players in the market, comprehensively analyzing their core competencies, and drawing a competitive landscape for the market




To track and analyze competitive developments such as joint ventures, strategic alliances, mergers and acquisitions, new product developments, and research and developments in the Global Power Distribution Cables Market.



Regional Analysis of Power Distribution Cables
Asia-Pacific region is a major contributor to the Power Distribution cables market and expected to retain its majority by 2022. Rapid expansions in the industrialization, construction & infrastructure activities as well as growing renewable sector in this region, increase the demand for Power Distribution cables. North America held the second position, followed by Europe, South America, Middle East & Africa.
Global Power Distribution Cable Market, By Region,2016 (USD billion)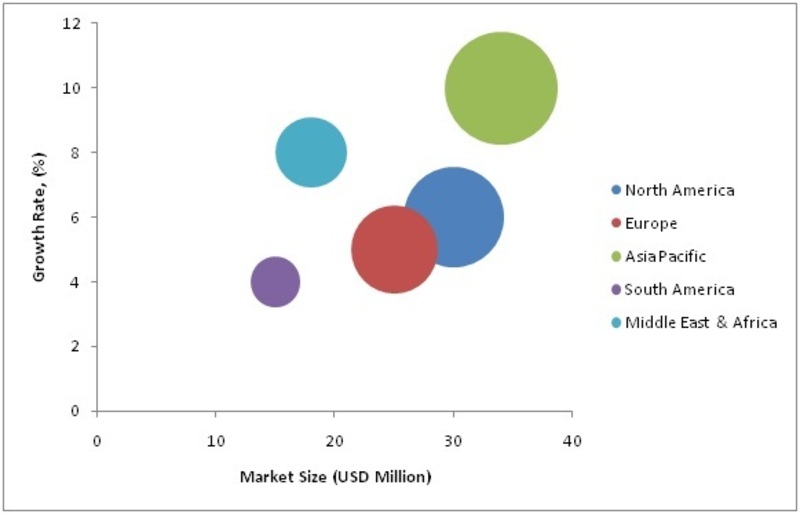 Key Players
The leading players in the Power Distribution Cables Market are Brugg Kabel AG (Switzerland), Spina Group (Italy), Prysmian Group (Italy), General Cable Corporation (U.S.), CAE Groupe (France), Cavotec (Switzerland), SAS Brockskes (Germany), and ConCab Kabel Ltd. (Germany).

Intended Audience



Power Distribution Cables manufacturers




Power cables manufacturing companies




Utility companies




Power sector consultants and Investment bankers




Energy & Power Associations




Government as well as Independent Regulatory Authorities



Geographic Analysis
Company Information



Profiling of key market players




SWOT analysis, and strategy information of top five profile players in the report




Competitive landscape including emerging trends adopted by major companies



The report covers brief analysis of country level market information –
South America



Brazil




Argentina




Rest Of South America



Europe



Germany




France




Italy




U.K.




The Netherlands




Rest Of Europe



Asia–Pacific



China




India




Japan




Australia




Rest of Asia Pacific



Middle East & Africa
The report for Global Power Distribution Cables Market ofMarket Research Future comprises of extensive primary research along with the detailed analysis of qualitative as well as quantitative aspects by various industry experts, key opinion leaders to gain the deeper insight of the market and industry performance. The report gives the clear picture of current market scenario which includes historical and projected market size in terms of value, technological advancement, macro economical and governing factors in the market. The report provides details information and strategies of the top key players in the industry. The report also gives a broad study of the different market segments and regions.
Table of Content
1. REPORT PROLOGUE

2. INTRODUCTION

2.1. DEFINITION

2.2. SCOPE OF THE STUDY

2.2.1. RESEARCH OBJECTIVE

2.2.2. ASSUMPTIONS

2.2.3. LIMITATIONS

2.3. MARKET STRUCTURE

2.4. MARKET SEGMENTATION

3. RESEARCH METHODOLOGY

3.1. RESEARCH PROCESS

3.2. PRIMARY RESEARCH

3.3. SECONDARY RESEARCH

3.4. MARKET SIZE ESTIMATION

3.5. FORECAST MODEL

4. MARKET DYNAMICS

4.1. DRIVERS & OPPURTUNITIES

4.2. CHALLENGES & RESTRAINTS

4.3. VALUE CHAIN ANALYSIS

4.4. PORTER'S FIVE FORCES ANALYSIS

5. POWER DISTRIBUTION CABLES MARKET, BY INSTALLATION

5.1. INTRODUCTION

5.2. OVERHEAD

5.3. UNDERGROUND

5.4. SUBMARINE

6. POWER DISTRIBUTION CABLES MARKET, BY VOLTAGE

6.1. INTRODUCTION

6.2. MEDIUM VOLTAGE

6.3. LOW VOLTAGE

7. POWER DISTRIBUTION CABLES MARKET, BY USERS

7.1. INTRODUCTION

7.2. INDUSTRIAL

7.3. RESIDENTIAL

7.4. COMMERCIAL

8. POWER DISTRIBUTION CABLES MARKET, BY REGIONS

8.1. INTRODUCTION

8.2. NORTH AMERICA

8.2.1. U.S.

8.2.2. CANADA

8.2.3. MEXICO

8.3. EUROPE

8.3.1. U.K.

8.3.2. GERMANY

8.3.3. FRANCE

8.3.4. ITALY

8.3.5. NETHERLANDS

8.3.6. REST OF EUROPE

8.4. ASIA–PACIFIC

8.4.1. CHINA

8.4.2. INDIA

8.4.3. JAPAN

8.4.4. AUSTRALIA

8.4.5. REST OF APAC

8.5. SOUTH AMERICA

8.5.1. BRAZIL

8.5.2. ARGENTINA

8.5.3. REST OF SOUTH AMERICA

8.6. MIDDLE EAST& AFRICA

8.6.1. SAUDI ARABIA

8.6.2. UAE

8.6.3. KUWAIT

8.6.4. QATAR

8.6.5. SOUTH AFRICA

8.6.6. ALGERIA

8.6.7. REST OF MIDDLE EAST& AFRICA

9. COMPANY LANDSCAPE

9.1. INTRODUCTION

9.2. COMPETITIVE STRATEGY ANALYSIS

9.3. PARTNERSHIPS AND COLLABORATIONS

9.4. MERGERS & ACQUISITIONS

9.5. BUSINESS EXPANSION

9.6. LAUNCH/DEVELOPMENT

10. COMPANY PROFILE

10.1. SPINA GROUP

10.1.1. COMPANY OVERVIEW

10.1.2. BUSINESS SEGMENT OVERVIEW

10.1.3. FINANCIAL UPDATES

10.1.4. KEY DEVELOPMENTS

10.2. BRUGG KABEL AG

10.2.1. COMPANY OVERVIEW

10.2.2. BUSINESS SEGMENT OVERVIEW

10.2.3. FINANCIAL UPDATES

10.2.4. KEY DEVELOPMENTS

10.3. CAE GROUPE

10.3.1. COMPANY OVERVIEW

10.3.2. BUSINESS SEGMENT OVERVIEW

10.3.3. FINANCIAL UPDATES

10.3.4. KEY DEVELOPMENTS

10.4. GENERAL CABLE CORPORATION

10.4.1. COMPANY OVERVIEW

10.4.2. BUSINESS SEGMENT OVERVIEW

10.4.3. FINANCIAL UPDATES

10.4.4. KEY DEVELOPMENTS

10.5. SAS BROCKSKES

10.5.1. COMPANY OVERVIEW

10.5.2. BUSINESS SEGMENT OVERVIEW

10.5.3. FINANCIAL UPDATES

10.5.4. KEY DEVELOPMENTS

10.6. CAVOTEC

10.6.1. COMPANY OVERVIEW

10.6.2. BUSINESS SEGMENT OVERVIEW

10.6.3. FINANCIAL UPDATES

10.6.4. KEY DEVELOPMENTS

10.7. PRYSMIAN CABLES & SYSTEM

10.7.1. COMPANY OVERVIEW

10.7.2. BUSINESS SEGMENT OVERVIEW

10.7.3. FINANCIAL UPDATES

10.7.4. KEY DEVELOPMENTS

10.8. CONCAB KABEL LTD.

10.8.1. COMPANY OVERVIEW

10.8.2. BUSINESS SEGMENT OVERVIEW

10.8.3. FINANCIAL UPDATES

10.8.4. KEY DEVELOPMENTS
11. MRFR CONCLUSION

12. APPENDIX