Overview
The Global Tissue Microarray Market is expected to register a CAGR of 10.54% and is anticipated to reach USD 10,914.54 million by 2023. Tissue microarrays are paraffin blocks that are created by separating cylindrical tissue cores from different paraffin donor blocks and re-embedding these into a microarray at defined array coordinates. With the help of tissue microarray, up to at least 1000 tissue samples can be arrayed into a single paraffin piece. It allows simultaneous analysis of molecules present in DNA, mRNA, and protein levels under identical, standardized conditions on a single glass slide. This adaptable strategy, in which data analysis is automated, facilitates retrospective and prospective human tissue studies.
The increasing application in drug discovery, increasing prevalence of cancer, growing advancements in biotechnology and pharmaceutical companies, and rising demand for cost-effective and accurate diagnostic methods are the major drivers propelling market growth. However, tissue microarray may not be fruitful for heterogeneous cancers, which is likely to constrain the growth of the market.
Market Dynamics
The prevalence of cancer is one of the crucial factors that drive the growth of the tissue microarray market. According to the American Cancer Society, in 2017, nearly 13% of all cancers diagnosed in adults aged 20. It further stated that rates of liver cancer, thyroid cancer, and melanoma are increasing from last few years. According to US Breast Cancer Statistics, about 1 in 8 US women (about 12%) will develop invasive breast cancer throughout their lifetime. In 2017, an estimated 252,710 new cases of invasive breast cancer were expected to be diagnosed in women in the US, along with 63,410 new cases of non-invasive (in-situ) breast cancer.
Moreover, increasing advancements in biotechnology and pharmaceutical companies and growing demand for cost-effective and accurate diagnostic methods have fueled the growth of the market. On the other hand, tissue microarray is that it may not be fruitful for heterogeneous cancers anticipated to hamper the market growth.
Global Tissue Microarray Market Size, by End User, 2016 (USD Million)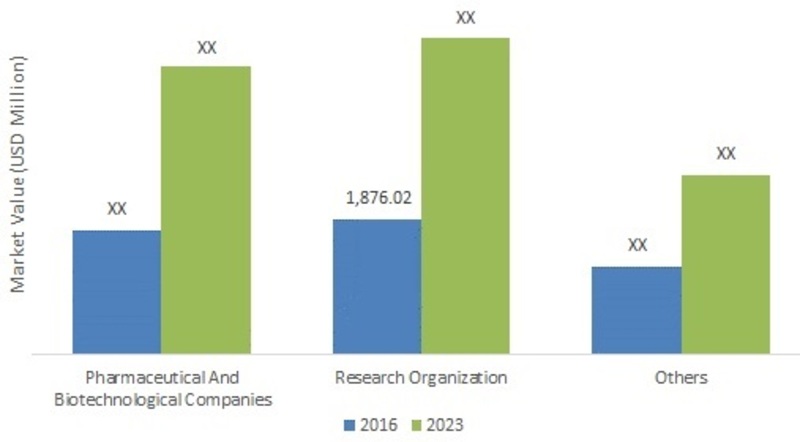 Source: MRFR Analysis
Segmentation
The global tissue microarray market has been divided into the procedure, technology, application, and end user. By procedure, the market has been segregated into immunohistochemistry, fluorescent in-situ hybridization, and frozen tissue array. Based on technology, the market has been segmented into DNA microarray, polymerase chain reaction (PCR), next-generation sequencing, northern blotting, and western blotting. Based on the application, the market has been bifurcated into oncology, gene expression profiling, SNP detection, double-stranded B-DNA microarrays, comparative genomic hybridization, and sequencing bioinformatics. By end-user, the market has been classified as pharmaceutical and biotechnological companies and research organization. The research organization segment accounted for a market value of USD 1876.02 million in 2016.
Key Players
The prominent players in the global tissue microarray market are Agilent Technologies, Illumina, Inc., Protein Biotechnologies Inc., Asterand Bioscience, Pantomics Inc., Applied Microarrays, Arrayit, Phalanx Biotech, QIAGEN, Takara Bio, Perkin Elmer, and Merck Sharp & Dohme Corp.
Some of the key strategies followed by the players operating in the global immunoassay in the R&D market were innovation, product development, acquisition, and expansion.
Asia-Pacific Tissue Microarray Market Share, by Country, 2016 (%)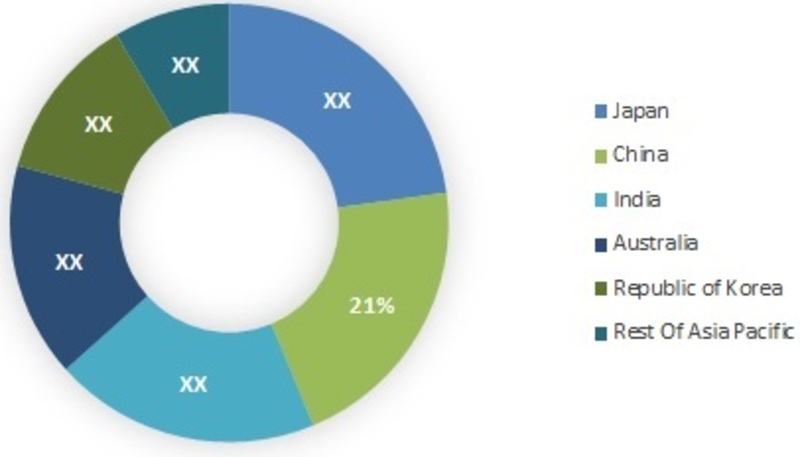 Source: MRFR Analysis
Regional Analysis
The global tissue microarray market, based on region, is divided into the Americas, Europe, Asia-Pacific, and the Middle East & Africa. The Americas is estimated to dominate the global tissue microarray market during the forecast period. This is attributed to the increase in the prevalence of cancer in the Americas, leading to the requirement for tissue microarrays. Besides, increasing application in drug discovery is also responsible for the growth of the market. Europe holds the second position in the market. Increasing emphasis on rapid diagnosis and treatment of cancer and infectious diseases, change in lifestyle, and high prevalence of cancer among geriatric population drives this market in Europe.
Additionally, the companies operating in the market are mainly focusing on mergers and acquisition, which is expected to support market growth. Asia-Pacific is expected to be the fastest-growing market for tissue microarray. Increasing prevalence of cancer, awareness among the people about their health, and changing lifestyle contribute to the growth of this market. In the Asia-Pacific region, China accounted for a market share of 21% in 2016. Furthermore, the market in the Middle East & Africa is expected to witness steady growth due to the lack of advanced medical facilities and less improvement in the healthcare domain.
Key Updates


In January 2017, Agilent technologies announced its collaboration with the Centre for Human Genetics of the University of Leuven and the University Hospital of Leuven in Belgium.




In July 2017, Horizon Discovery Group agreed to acquire GE Healthcare Dharmacon from parent General Electric for $85 million, creating a combined company focused on applying gene-editing and gene-modulation technologies in life science research.




In January 2017, Illumina Inc. announced the launch of Single-Cell Sequencing Solution in collaboration with Bio-Rad. It is the first Next-Generation Sequencing (NGS) workflow for single-cell analysis providing researchers the ability to investigate the coordinated contribution of individual cells in tissue function, disease progression, and therapeutic response.


Market Segmentation
Global Immunoassay in R&D Market, by Procedure
Global Immunoassay in R&D Market, by Technology



DNA Microarray




Polymerase Chain Reaction (PCR)




Next-Generation Sequencing




Northern Blotting




Western Blotting



Global Immunoassay in R&D Market, by Application



Oncology




Gene Expression Profiling




SNP Detection




Double-Stranded B-DNA Microarrays




Comparative Genomic Hybridization




Sequencing Bioinformatics



Global Immunoassay in R&D Market, by End user
Global Immunoassay in R&D Market, by Region



Americas







North America







Latin America











Europe







Western Europe







Germany




UK




France




Italy




Spain




Rest of Western Europe









Eastern Europe











Asia-Pacific







China




Japan




India




Australia




South Korea




Rest of Asia-Pacific








Available Additional Customizations


Pricing Analysis


Investment Opportunity Analysis


Merger & Acquisition Landscape


Intended Audience



Medical device manufacturers and distributors




Government research organizations




Hospitals and clinics




Regulatory agencies




Pharmaceutical companies



Frequently Asked Questions (FAQ) :
---