Global Tissue Engineering Market Information: By Material (
Biomimetic Materials, Nano-Fibrous Materials, Composite Materials, Nano-Composite Material
), and By Applications (O
rthopedics, Musculoskeletal and Spine, Skin/Integumentary, Cancer, Dental, Cardiology, Urology, Neurology, Cord Blood & Cell Banking, GI & Gynecology and others
) - Forecast Till 2022
FIGURE 1 Global Tissue Engineering Market by Material, 2016 (%)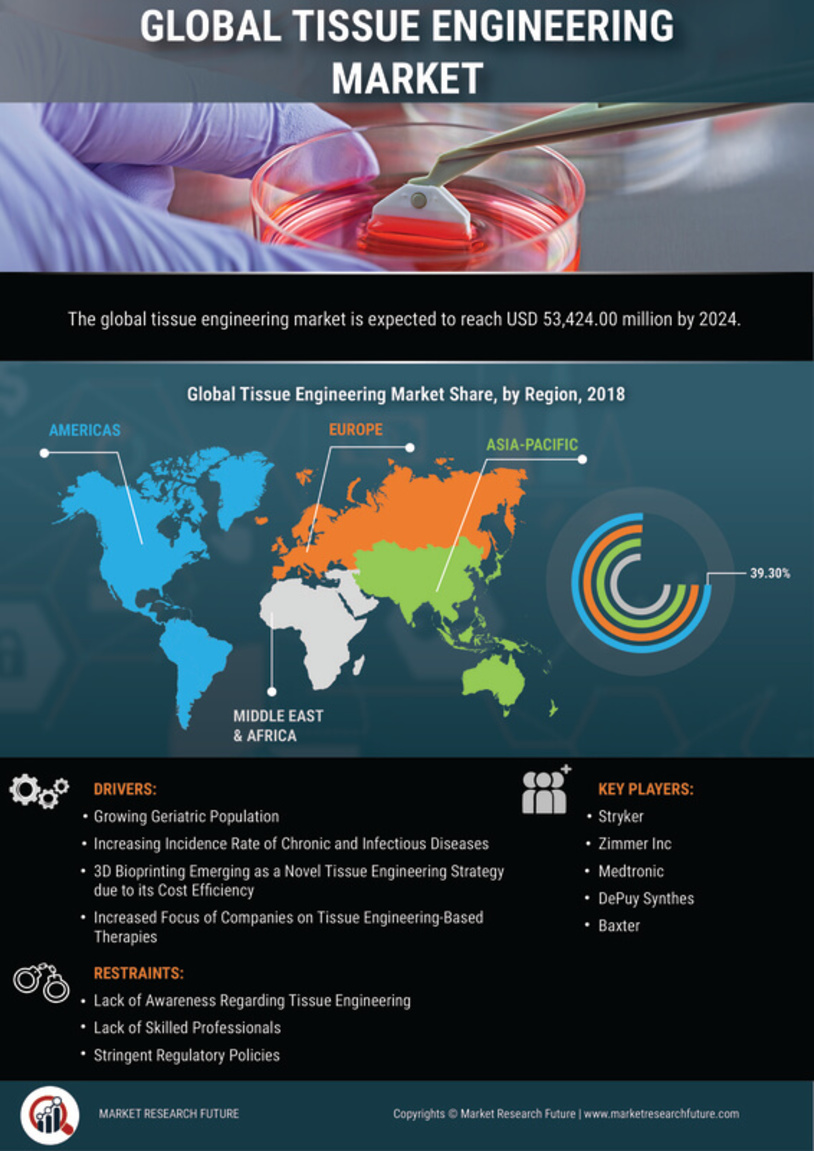 Source: National Institute of Biomedical Imaging and Bioengineering, National Center for Biotechnology Information, Wiley Online Library, Department of Biotechnology, Directorate of Industries, Expert Interview Market Research Future Analysis, Annual report, White paper, Company Presentation
Intended Audience



Tissue engineering manufacturers & suppliers




Biotechnology companies




Hospitals




Clinics




Academic research institutes




Government institutes




Market research and consulting service providers



Research Methodology


Source: OIE American Dental Association (ADA), National Academy of Medicine, American Student Dental Association (ASDA), FDI World Dental Federation, Utah Dental Association (UDA), World Health Organization, Directorate of Industries, Expert Interview Market Research Future Analysis, Annual report, White paper, Company Presentation
Market Synopsis of the Global Tissue Engineering Market
Market Scenario
Tissue engineering is an interdisciplinary field, which combines the principles of engineering and life sciences toward the development of biological substitutes. These biological substitutes are used to replace or restore tissue or organ function. Tissue engineering and regenerative medicine deploys small molecules, biologics, cell-based therapies, and organ transplantation, etc. It involves the use of a scaffold for the formation of new tissue for a medical purpose
The global tissue engineering market is growing at a steady pace and is expected to grow at a CAGR of 17.22 % during review period 2017-2022. Due to increasing advancement in the healthcare technology, consistent supply of functional tissues, and advantage of tissue engineering methods such as it has replaced animal used for drug testing in pharmaceuticals, drive the growth of the market. Since the technique is cost-effective, it will boost the market growth.
On the other hand, shortage of organ donor in organ transplantation may hamper market growth over the assessment period.

Segments
Tissue engineering market has been segmented on the basis of materials, which comprises of biomimetic materials, nano-fibrous materials, composite materials, and nano-composite material.
On the basis of applications, the market is segmented into orthopedics, musculoskeletal and spine, skin/integumentary, cancer, dental, cardiology, urology, neurology, cord blood & cell banking, GI & gynecology, and others.

Regional Analysis of the Global Tissue Engineering Market
The Americas region accounted for a largest share of USD 7,100.1 million in 2016, owing to the well-developed infrastructure in the healthcare sector, high healthcare expenditure, and the presence of the leading players.
Europe is the second largest tissue engineering market, which holds a noticeable share of the global market. The European market is expected to grow significantly during the forecast period owing to well-developed healthcare and increasing investment in research and development in healthcare. Moreover government encouragement to life sciences industries will boost the market growth over the review period. Mainly Germany, the UK, and France contribute significantly to the growth of the European market.
In Asia Pacific, rising number of research & development institutes, increasing demand for better diagnostic and treatment methods, and cost-effective services in the drives the market growth.
The Middle East & Africa is expected to show steady growth in this market due to low technology penetration and less availability of innovative healthcare facilities.

Key Findings



The global tissue engineering

market is expected to reach USD

48,017.5

million by 2022 at CAGR of 17.22%.




Nano-fibrous material segment on the basis of material holds the largest share to reach USD 13,279.2 million by 2022 from USD 4,155.8 million in 2016.




The Americas holds the largest share of tissue engineering market and is projected to reach USD 17,889.6 million by the end of the forecast period.




Asia Pacific is the fastest growing region across the globe and expected to grow at a CAGR of 15.24% during the forecast period.



Key Players in the Global Tissue Engineering Market
Some of the key players in this market: Cook, Acelity, Baxter, DePuy Synthes Companies, Medtronic, Zimmer Inc., and Stryker
The report on the global tissue engineering market of Market Research Future comprises of extensive primary research along with the detailed analysis of qualitative as well as quantitative aspects by various industry experts, key opinion leaders to gain deeper insight to the market and industry performance. The report gives a clear picture of the current market scenario which includes historical and projected market size in terms of value and volume, technological advancement, macro economical and governing factors in the market. The report provides details information and strategies of the top key players in the industry. The report also gives a broad study of the different market segments and regions