Telehandler Market Synopsis
The Telehandler market is poised to grow approximately at 2.6% CAGR and is estimated to touch market volume of 6,684 units by the end of 2020.

Telehandler are lifting machines which are usually mounted on a vehicle and equipped with a telescopic boom that can facilitate lifting to heights of 50 feet or more. Telehandler are usually fitted with pallet forks to enable lifting of materials but there are some models that are designed to handle buckets and other attachments.
The growth of the telehandler market is expected to be driven by its widespread use in construction and agriculture purposes. Telehandler have evolved from a typical landscaping and farming equipment into a more sophisticated construction equipment owing to factors such as high load bearing capacity and 360° movement capability. The ability of the equipment to perform a wide variety of tasks such as in farming and construction, further contributes to the growth of the telehandler market.
Study objectives of Telehandler Market



To provide detailed analysis of the market structure along with forecast for the next ten years of various segments and sub-segments of the telehandler market




To provide insights about factors affecting the market growth




To analyze telehandler market based on various tools such as Price Analysis, Supply Chain Analysis and Porters Five Force Analysis.




To provide historical and forecast revenue of the market segments and sub-segments with respect to countries - China, Germany, France, U.K. and Eastern European Countries.




To provide country level analysis of the market with respect to the current market size and future prospective




To provide country level analysis of the market for segment by capacity, by application and by countries




To provide strategic profiling of the key players in the market, comprehensively analyzing their core competencies, and drawing a competitive landscape for the market




To track and analyze competitive developments such as joint ventures, strategic alliances, mergers and acquisitions, new product developments, and research and developments in the telehandler market.



Key Players
Manitou (U.K.), J C Bamford Excavators Ltd. (U.K), Merlo S.p.A (Italy), Bobcat Corporate (U.S.) is some of the leading players operating in this market.


Segmentation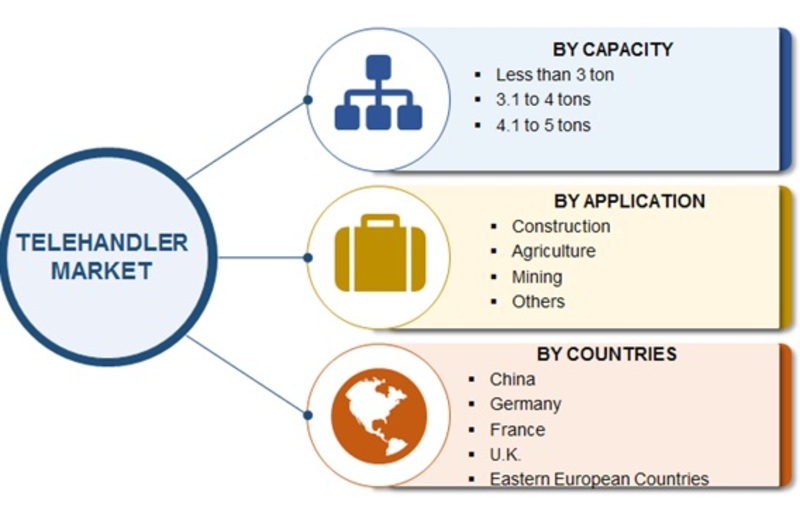 Regional Analysis of Telehandler Market
Germany is expected to dominate the market during the forecast period and it is expected to grow due to the presence of industries such as construction, plant breeding and agrochemicals. China is expected to grow at 2.5% CAGR during the forecast period, owing to factors such as rapid industrialization and increased manufacturing activities in the region.
Target Audience



Manufactures




Raw Materials Suppliers




Aftermarket suppliers




Research Institute / Education Institute




Potential Investors




Key executive (CEO and COO) and strategy growth manager



Product Analysis



Product matrix which gives a detailed comparison of the market for different recycled product types



Additional Information



Regulatory Landscape




Pricing Analysis




Macroeconomic Indicators



Geographic Analysis



Geographical analysis across 15 countries



Company Information



Profiling of 10 key market players




In-depth analysis including SWOT analysis, and strategy information of related to report title




Competitive landscape including emerging trends adopted by major companies



The report for Telehandler Market of Market Research Future comprises of extensive primary research along with the detailed analysis of qualitative as well as quantitative aspects by various industry experts, key opinion leaders to gain the deeper insight of the market and industry performance. The report gives the clear picture of current market scenario which includes historical and projected market size in terms of value and volume, technological advancement, macro economical and governing factors in the market. The report provides details information and strategies of the top key players in the industry. The report also gives a broad study of the different market segments and regions.
Report Scope:
Report Attribute/Metric
Details
Market Size
2027: Significant Value
CAGR
2.6% CAGR (2020-2027)
Base Year
2019
Forecast Period
2020-2027
Historical Data
2018
Forecast Units
Value (USD Million)
Report Coverage
Revenue Forecast, Competitive Landscape, Growth Factors, and Trends
Segments Covered
by Technology, by Application, by Material
Geographies Covered
North America, Europe, Asia-Pacific, and Rest of the World (RoW)
Key Vendors
Manitou (U.K.), J C Bamford Excavators Ltd. (U.K), Merlo S.p.A (Italy), Bobcat Corporate (U.S.)
Key Market Opportunities
Fastest growth in construction industry
Increased popularity of such systems
Key Market Drivers
Use in farming equipment
Sophisticated construction equipment
Frequently Asked Questions (FAQ) :
---
Telehandler market is predicted to grow at 2.6% through forecast period of 2020-2027.
The forecast period for Telehandler market research report is 2020-2027.
Global Telehandler market is dominated by EU region.
1 Executive Summary

2 Research Methodology

2.1 Scope of the Study

2.1.1 Definition

2.1.2 Research Objective

2.1.3 Assumptions

2.1.4 Limitations

2.2 Research Process

2.2.1 Primary Research

2.2.2 Secondary Research

2.3 Market size Estimation

2.4 Forecast Model

3 Market Dynamics

3.1 Market Drivers

3.2 Market Inhibitors

3.3 Supply/Value Chain Analysis

3.4 Porter's Five Forces Analysis

4 Telehandler Market, By Capacity

4.1 Introduction

4.2 Less than 3 ton

4.3 3.1 to 4 tons

4.4 4.1 to 5 tons

5 Telehandler Market, By Application

5.1 Introduction

5.2 Construction

5.3 Agriculture

5.4 Mining

5.5 Others

6 Regional Market Analysis

6.1 Introduction

6.2 China

6.3 Germany

6.4 France

6.5 U.K.

6.6 Eastern European Countries

7 Competitive Analysis

7.1 Introduction

7.2 Competitive Scenario

7.2.1 Market Share Analysis

7.2.2 Market Development Analysis

7.2.3 CAPACITY/Service Benchmarking

7.3 Manitou (U.K.)

7.3.1 Overview

7.3.2 CAPACITY/Service Offering

7.3.3 Strategy

7.4 J C Bamford Excavators Ltd. (U.K)

7.4.1 Overview

7.4.2 CAPACITY/Service Offering

7.4.3 Strategy

7.5 Merlo S.p.A (Italy)

7.5.1 Overview

7.5.2 CAPACITY/Service Offering

7.5.3 Strategy

7.6 Bobcat Corporate (U.S.)

7.6.1 Overview

7.6.2 CAPACITY/Service Offering

7.6.3 Strategy