Substation Monitoring Market Scenario
Solar Encapsulation Market is projected to be worth USD 8.17 billion by 2028, registering a CAGR of 8.75% during the forecast period (2021 - 2028)., The market was valued at USD 4.62 billion in 2021.
Global Substation Monitoring Market
Global Substation Monitoring Market is expected to witness high growth during the forecast period due to increasing use of digital protection and control devices in the substation network. Moreover, in order to meet the existing and future demand for efficient utilization and operation of substation equipment, it is expected that the trend for increased automation will continue with the support of latest technology.
Key Players
The key players of global Substation Monitoring Market are Siemens AG, ABB Ltd., Schneider Electric, General Electric, Cisco, Emerson Electric, Honeywell, Eaton, Emerson Electric, Crompton Greaves, Schweitzer Engineering Laboratories, Novatech, Igrid T&D, Sentient Energy, Cadillac Automation and Controls, Tekvel, and I-TOR, among others.
Substation monitoring system that provides the information about the electrical transmission and distribution network. The substation monitoring involves the monitoring of different parameters such as voltage, frequency, power input and output of a substation. This data is collected to transmitted through communication technologies to the main station. These data related to these parameters are captured from various devices installed in a substation including transformers, switchgears, conductors & isolators, and circuit breakers, among others. Substation monitoring provides numerous advantages while monitoring, controlling, and managing a substation. These advantages include remote monitoring to avoid further power loss and time, low maintenance required, high accuracy and efficiency, and entire system can be shut down for quick repairs and re-installations.
Growing demand for reduction in transmission and distribution losses, improving IoT based communication network, increasing investments from government, ageing infrastructure, and development of IEC 61850 standards to enable interoperability between IEDs are some of the factors driving the substation monitoring market. In Asia-Pacific region, the major economies including China and India, have extensively contributed towards increasing demand for electricity, owing to increasing population. The changing electricity consumption pattern in the region has led to T&D losses. So, to minimize the T&D losses has triggered the need for a proper system to mitigate the losses occurring due to complex electricity T&D network. However, the government of various Asian economies are actively participating in the energy efficiency in the T&D network. The region is also witnessing a lot of investment being made in the renewable energy sector which will witness increasing number of substations being installed at different locations. Sometimes these substations would be installed in the remote locations requiring proper monitoring and controlling the substation component. All these factors are likely to drive the market for substation monitoring which is an integral part of a substation.
Market Segmentation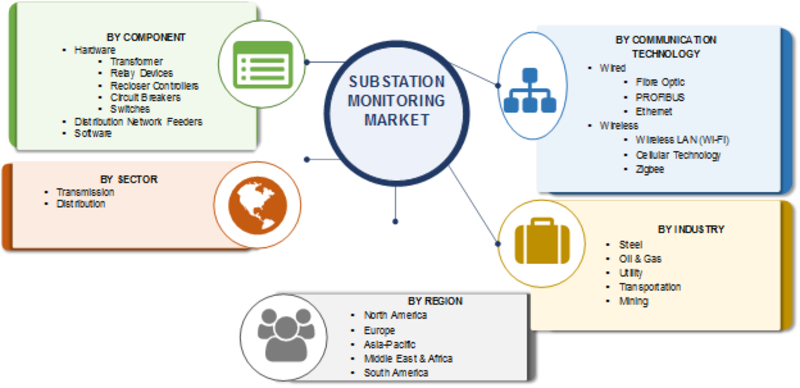 Global substation monitoring market has been segmented based on component, communication technology, sector, industry, and region. Based on industries, the market has been classified into oil & gas, utility, steel, transportation, and mining, among others. Utility segment is leading the market owing to the increasing implementation of substation monitoring system for reduction in transmission and distribution losses as well as ageing infrastructure of electric substations.
Report Scope:
Report Attribute/Metric
Details
Market Size
2028: USD 8.17 billion
CAGR
8.75% CAGR (2020-2027)
Base Year
2020
Forecast Period
2021-2028
Historical Data
2019
Forecast Units
Value (USD Million)
Report Coverage
Revenue Forecast, Competitive Landscape, Growth Factors, and Trends
Segments Covered
Component, Communication Technology, Sector, Industry
Geographies Covered
North America, Europe, Asia-Pacific, and Rest of the World (RoW)
Key Vendors
Siemens AG, ABB Ltd., Schneider Electric, General Electric, Cisco, Emerson Electric, Honeywell, Eaton, Emerson Electric, Crompton Greaves, Schweitzer Engineering Laboratories, Novatech, Igrid T&D, Sentient Energy, Cadillac Automation and Controls, Tekvel, and I-TOR
Key Market Opportunities
Future demand for efficient utilization and operation of substation equipment
Key Market Drivers
Growing demand for reduction in transmission
Distribution losses, improving IoT based communication network
Increasing investments from government
Ageing infrastructure
Frequently Asked Questions (FAQ) :
---