Global Solar Water Pumps Market Information Report by Product (DC Surface Suction, AC Submersible, DC Submersible, AC Floating), by Application (Agriculture, Drinking Water) and by Region - Global Forecast to 2023
Market Scenario:
A Solar Water Pump is a device, which runs on the electricity generated by photovoltaic panels. Solar water pumps are not connected with the grid and result in very less emission compared to conventional pumps. Solar water pumps are increasingly used in regions where grid electricity is unavailable and alternative sources such as wind do not provide enough power for operations. Solar pump components consists of solar panels, a controller and a pump while the size of the PV system determines the operating capacity of the pump.
Solar pumps are increasingly being used in domestic and agriculture applications, especially for delivering drinking water for livestock and irrigation. Also, solar water pumps are used in oil and gas fracking activities to reduce the environmental impact of the oil recovery process.
The Solar Water Pumps Market is expected to grow at a CAGR of 5.6% during the forecast period.
Study Objectives of Global Solar Water Pumps Market:



To provide detailed analysis of the market structure along with forecast for the next five years of the various segments and sub-segments of the global solar water pumps market




To provide insights about factors affecting the market growth




To analyze the global solar water pumps market based on various tools such as Supply Chain Analysis, and Porter's Five Forces Analysis




To provide historical and forecast revenue of the market segments and sub-segments with respect to regions and their respective key countries




To provide country level analysis of the market with respect to the current market size and future prospective




To provide country level analysis of the market for segments by material type, product, application and region




To provide strategic profiling of key players in the market, comprehensively analyzing their core competencies, and drawing a competitive landscape for the market




To track and analyze competitive developments such as joint ventures, strategic alliances, mergers and acquisitions, new product developments, and research and developments in the solar water pumps market



Market Segmentation: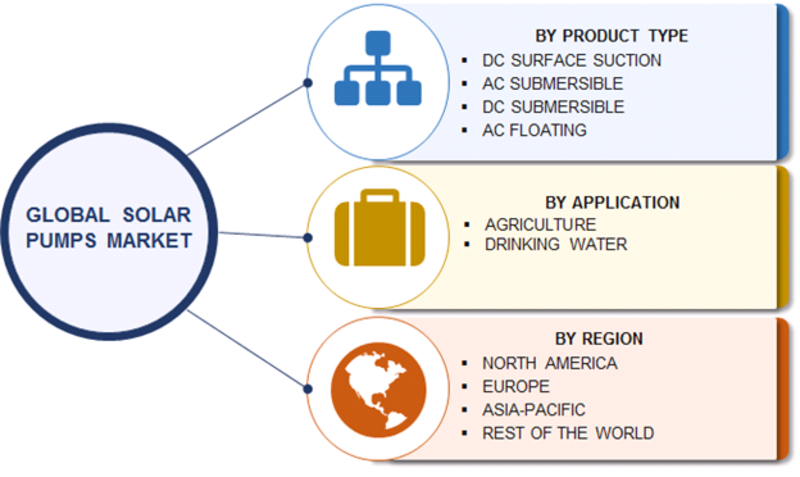 Global Solar Water Pumps Market:
The global solar water pumps market is driven by the increased agriculture activities along with the increase in use of water for water based agricultural practises. The Asia-Pacific region is the leading market for solar water pumps. Rapid agriculture activities in countries such as China, India, Bangladesh and Pakistan and reduced grid connectivity for agricultural activities, drive the market for solar water pumps in these countries. Furthermore, increased need for clean water for drinking and irrigation in countries such as Morocco, Nigeria, Namibia and Kenya, in the African region, is also driving the need for the solar pumps in the region. The UN development programs to promote the use of solar energy in the region, is also driving the market.
Key Players:
The key players of the global solar water pumps market are Lorentz (Germany), SunEdison, Inc. (U.S.), CRI Pumps Pvt. Ltd (India), Solar Power & Pump Co LLC (U.S.), Tata Power Solar Systems Ltd. (India), Shakti Solar Pumping System (India), WENLING JINTAI PUMP FACTORY (China), Bright Solar Pvt. Ltd. (India), Grundfos (Denmark) and American West Windmill and Solar Company (U.S.).
Intended Audience:



Distributer & Supplier companies




End Users




Consultants and Investment bankers




Government as well as Independent Regulatory Authorities



Product Analysis:
Additional Information:



Regulatory Landscape




Pricing Analysis




Macroeconomic Indicators



Geographic Analysis:
Company Information:



Profiling of 10 key market players




In-depth analysis including SWOT analysis, and strategy information of related to report title




Competitive landscape including emerging trends adopted by major companies



The report for Global Solar Water Pumps Market of Market Research Future comprises of extensive primary research along with the detailed analysis of qualitative as well as quantitative aspects by various industry experts, key opinion leaders to gain the deeper insight of the market and industry performance. The report gives the clear picture of current market scenario which includes historical and projected market size in terms of value, technological advancement, macro economical and governing factors in the market. The report provides details information and strategies of the top key players in the industry. The report also gives a broad study of the different market segments and regions.
Table of Contents
1 Executive Summary


2 Research Methodology


2.1 Scope of the Study


2.1.1 Definition


2.1.2 Research Objective


2.1.3 Assumptions


2.1.4 Limitations


2.2 Research Process


2.2.1 Primary Research


2.2.2 Secondary Research


2.3 Market size Estimation


2.4 Forecast Model


3 Market Dynamics


3.1 Market Drivers


3.2 Market Inhibitors


3.3 Supply/Value Chain Analysis


3.4 Porter's Five Forces Analysis


4 Global Solar Water Pump Market, By Product


4.1 Introduction


4.2 DC Surface Suction


4.3 AC Submersible


4.4 DC Submersible


4.5 AC Floating


5 Global Solar Water Pump Market, By Application


5.1 Introduction


5.2 Agriculture


5.3 Drinking Water


6 Regional Market Analysis


6.1 Introduction


6.2 North America


6.2.1 U.S.


6.2.2 Canada


6.3 Europe


6.3.1 U.K.


6.3.2 France


6.3.3 Germany


6.3.4 Rest of Europe


6.4 Asia-Pacific


6.4.1 China


6.4.2 Japan


6.4.3 India


6.4.4 Rest of Asia-Pacific


6.5 Rest of the World


7 Competitive Analysis


7.1 Introduction


7.2 Competitive Scenario


7.2.1 Market Share Analysis


7.2.2 Market Development Analysis


7.2.3 Product/Service Benchmarking


7.3 Lorentz (Germany)


7.3.1 Overview


7.3.2 Product/Service Offering


7.3.3 Strategy


7.4 SunEdison, Inc. (U.S.)


7.4.1 Overview


7.4.2 Product/Service Offering


7.4.3 Strategy


7.5 CRI Pumps (India)


7.5.1 Overview


7.5.2 Product/Service Offering


7.5.3 Strategy


7.6 Solar Power & Pump Co LLC (U.S.)


7.6.1 Overview


7.6.2 Product/Service Offering


7.6.3 Strategy


7.7 Tata Power Solar Systems Ltd. (India)


7.7.1 Overview


7.7.2 Product/Service Offering


7.7.3 Strategy


7.8 Shakti Solar Pumping System (India)


7.8.1 Overview


7.8.2 Product/Service Offering


7.8.3 Strategy


7.9 Wenling Jintai Pump Factory (China)


7.9.1 Overview


7.9.2 Product/Service Offering


7.9.3 Strategy


7.10 Bright Solar Pvt. Ltd. (India)


7.10.1 Overview


7.10.2 Product/Service Offering


7.10.3 Strategy


7.11 Grundfos (Denmark)


7.11.1 Overview


7.11.2 Product/Service Offering


7.11.3 Strategy


7.12 Grundfos (Denmark)


7.12.1 Overview


7.12.2 Product/Service Offering


7.12.3 Strategy
LIST OF TABLES
TABLE 1 GLOBAL SOLAR WATER PUMP MARKET, BY PRODUCT


TABLE 2 GLOBAL SOLAR WATER PUMP MARKET, BY APPLICATION


TABLE 3 GLOBAL SOLAR WATER PUMP MARKET, BY REGION


TABLE 4 NORTH AMERICA SOLAR WATER PUMP MARKET, BY PRODUCT


TABLE 5 NORTH AMERICA SOLAR WATER PUMP MARKET, BY APPLICATION


TABLE 6 U.S. SOLAR WATER PUMP MARKET, BY PRODUCT


TABLE 7 U.S. SOLAR WATER PUMP MARKET, BY APPLICATION


TABLE 8 CANADA SOLAR WATER PUMP MARKET, BY PRODUCT


TABLE 9 CANADA SOLAR WATER PUMP MARKET, BY APPLICATION


TABLE 10 EUROPE SOLAR WATER PUMP MARKET, BY PRODUCT


TABLE 11 EUROPE SOLAR WATER PUMP MARKET, BY APPLICATION


TABLE 12 GERMANY SOLAR WATER PUMP MARKET, BY PRODUCT


TABLE 13 GERMANY SOLAR WATER PUMP MARKET, BY APPLICATION


TABLE 14 FRANCE SOLAR WATER PUMP MARKET, BY PRODUCT


TABLE 15 FRANCE SOLAR WATER PUMP MARKET, BY APPLICATION


TABLE 16 U.K. SOLAR WATER PUMP MARKET, BY PRODUCT


TABLE 17 U.K. SOLAR WATER PUMP MARKET, BY APPLICATION


TABLE 18 REST OF EUROPE SOLAR WATER PUMP MARKET, BY PRODUCT


TABLE 19 REST OF EUROPE SOLAR WATER PUMP MARKET, BY APPLICATION


TABLE 20 ASIA-PACIFIC SOLAR WATER PUMP MARKET, BY PRODUCT


TABLE 21 ASIA-PACIFIC SOLAR WATER PUMP MARKET, BY APPLICATION


TABLE 22 ROW SOLAR WATER PUMP MARKET, BY PRODUCT


TABLE 23 ROW SOLAR WATER PUMP MARKET, BY APPLICATION  
LIST OF FIGURES
FIGURE 1 RESEARCH APPLICATION


FIGURE 2 GLOBAL SOLAR WATER PUMP MARKET: BY PRODUCT (%)


FIGURE 3 GLOBAL SOLAR WATER PUMP MARKET: BY APPLICATION (%)


FIGURE 4 GLOBAL SOLAR WATER PUMP MARKET: BY REGION


FIGURE 5 NORTH AMERICA SOLAR WATER PUMP MARKET, BY PRODUCT (%)


FIGURE 6 NORTH AMERICA SOLAR WATER PUMP MARKET, BY APPLICATION (%)


FIGURE 7 EUROPE SOLAR WATER PUMP MARKET, BY PRODUCT (%)


FIGURE 8 EUROPE SOLAR WATER PUMP MARKET, BY APPLICATION (%)


FIGURE 9 ASIA-PACIFIC SOLAR WATER PUMP MARKET, BY PRODUCT (%)


FIGURE 10 ASIA-PACIFIC SOLAR WATER PUMP MARKET, BY APPLICATION (%)


FIGURE 11 ROW SOLAR WATER PUMP MARKET, BY PRODUCT (%)


FIGURE 12 ROW SOLAR WATER PUMP MARKET, BY APPLICATION (%)