Global Smart Contracts Market, By Blockchain Platform (Bitcoin, Sidechains, NXT, Ethereum), By Technology (Ethereum, Rootstock (RSK), Namecoin, Ripple) By End – User (Banking, Government, Management, Supply Chain, Automobile, Real Estate, Insurance, and Healthcare).
Market Synopsis of Global Smart Contracts Market:
The global file sharing software market holds players like Monax Industries Limited (U.K.), Monetas (Switzerland), Blockstream Corporation (U.S.), Coinbase, Inc (U.S.), Bitfinex (Hong Kong), BlockCypher, Inc (U.S.), Chain, Inc.(U.S.), Coinify ApS (Denmark), BitPay, Inc (U.S.), GoCoin Pte. Ltd (Singapore) among others.
The smart contracts is one of the application of the Blockchain technology that lets the organizations, government, legal bodies and even individuals to exchange the monetary values, properties, shares, bonds involving a value and a contract in a clear way avoiding any conflict without the need of a middlemen. The factor that hold the growth of the smart contract is the tendency of it to define the rules and regulations of an agreement but also automatically enforce any of the obligations. The smart contract can be used for any of the situations like from financial, insurance premiums, contract breaches, property law and much more. The smart contract has shown a descent growth and is expected to grow significantly in the forecasted period catering the end users like banking, government, insurance, real estate, supply chain among others. For government smart contracts can prove a next advanced step towards voting and other legal formalities and tenders issued by the government. These may include any agreement made between the government and the private or public enterprises.
The working of smart contract is all digitized and removes the need of the broker or a lawyer as a middleman. The two contract parties match to the terms of the contract set. The contract is registered in a database and all the legal clearing is made automated. The asset in the contract is digitized and payment is done through the digital or crypto-currencies. The smart contract gives the parties of the agreement a freedom of autonomy, backup, safety, speed and accuracy.
The market for smart contracts is segmented on the basis of Blockchain platform, technology, end user and by region. On the basis of Blockchain platform, the segmentation is further divided into Bitcoin, Sidechains, NXT and Ethereum. Ethereum is the most advanced for coding and processing of the smart contracts and accounts for the large share followed by Bitcoin and NXT. On the basis of technology, the segmentation is done on the basis of Ethereum, Rootstock (RSK), Namecoin, Ripple among others. The market holds many of the end users such as banking, government, management, supply chain, automobile, real estate, insurance and healthcare.
Global Smart Contracts Market, USD Million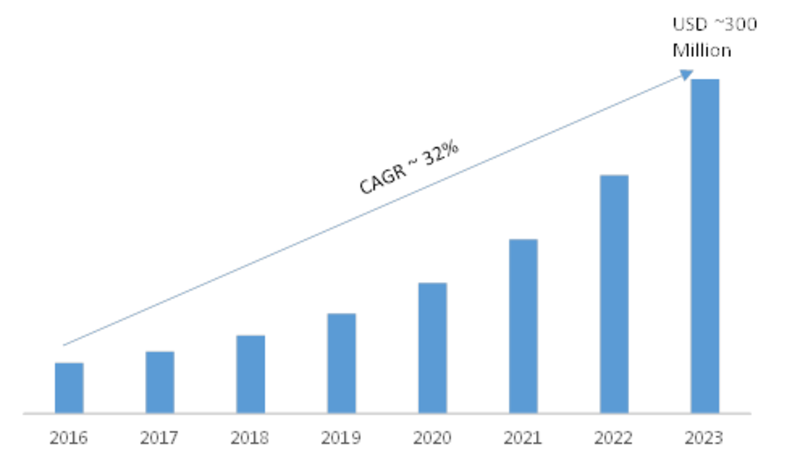 On the basis of region, the market is segmented under North America, Europe, Asia pacific and rest of the world. The market for smart contracts is led by Europe. However North America show a significant growth in the forecasted period. This is majorly increased adoption towards digitization in countries like U.S, China, U.K and Japan. Various dynamic and diversified international organizations, domestic organizations and as well as new entrants form a competitive landscape. The leaders are innovating continuously and increasingly seeking market expansion through various strategic mergers and acquisitions, innovation, increasing investments in research and development and cost-effective product portfolio.
The global smart contracts market is expected to reach approximately 300 USD Million by the end of 2023 with 32% CAGR during the forecasted period from 2017 – 2023.
Segments
For the purpose of this study, Market Research Future has segmented the market of smart contracts into Blockchain platform, technology, end - users, and region.
Blockchain Platform



Bitcoin




Sidechains




NXT




Ethereum



Technology



Ethereum




Rootstock (RSK)




Namecoin




Ripple




Others



End – User



Banking




Government




Management




Supply chain




Automobile




Insurance




Real estate




Healthcare



Region



North America




Europe




Asia pacific




Rest of the world.



Intended Audience



Storage providers




Network providers




Banking Institutions




Insurance providers




Higher management




Research firms




Software investors




Software Developers




IT enablers




Database solutions




Cloud providers




Insurance companies




Banks




Automotive and transportation




Telecommunication companies



TABLE OF CONTENTS
1 MARKET INTRODUCTION


1.1 INTRODUCTION


1.2 SCOPE OF STUDY


1.2.1 RESEARCH OBJECTIVE


1.2.2 ASSUMPTIONS


1.2.3 LIMITATIONS


1.3 MARKET STRUCTURE
2 RESEARCH METHODOLOGY


2.1 RESEARCH SMART CONTRACTS


2.2 PRIMARY RESEARCH


2.3 SECONDARY RESEARCH


2.4 FORECAST MODEL


2.4.1 MARKET DATA COLLECTION, ANALYSIS & FORECAST


2.4.2 MARKET SIZE ESTIMATION
3 MARKET DYNAMICS


3.1 INTRODUCTION


3.2 MARKET DRIVERS


3.3 MARKET CHALLENGES


3.4 MARKET OPPORTUNITIES


3.5 MARKET RESTRAINTS
4 EXECUTIVE SUMMARY
5. MARKET FACTOR ANALYSIS


5.1 PORTER'S FIVE FORCES ANALYSIS


5.2 SUPPLY CHAIN ANALYSIS


6 SMART CONTRACTS MARKET, BY SEGMENTS


6.1 INTRODUCTION


6.2 MARKET STATISTICS


6.2.1 BY BLOCKCHAIN PLATFORM


6.2.1.1 BITCOIN


6.2.1.2 SIDECHAINS


6.2.1.3 NXT


6.2.1.4 ETHEREUM


6.2.2 BY TECHNOLOGY


6.2.2.1 ETHEREUM


6.2.2.2 ROOTSTOCK (RSK)


6.2.2.3 NAMECOIN


6.2.2.4 RIPPLE


6.2.2.5 OTHERS


6.2.3 BY END USERS


6.2.3.1 BANKING


6.2.3.2 GOVERNMENT


6.2.3.3 MANAGEMENT


6.2.3.4 SUPPLY CHAIN


6.2.3.5 AUTOMOBILE


6.2.3.6 REAL ESTATE


6.2.3.7 INSURANCE


6.2.3.8 HEALTHCARE


6.2.4 BY REGION


6.2.4.1 NORTH AMERICA


6.2.4.1.1 U.S.


6.2.4.1.2 CANADA


6.2.4.1.3 MEXICO


6.2.4.2 EUROPE


6.2.4.2.1 U.K.


6.2.4.2.2 GERMANY


6.2.4.2.3 FRANCE


6.2.4.2.4 ITALY


6.2.4.2.5 REST OF THE EUROPE


6.2.4.3 ASIA PACIFIC


6.2.4.3.1 CHINA


6.2.4.3.2 JAPAN


6.2.4.3.3 SOUTH KOREA


6.2.4.3.4 INDIA


6.2.4.3.5 REST OF THE ASIA PACIFIC


6.2.4.4 REST OF THE WORLD


7 COMPETITIVE ANALYSIS


7.1 MARKET SHARE ANALYSIS
7.2 COMPANY PROFILES


7.2.1 MONAX INDUSTRIES LIMITED (U.K.)


7.2.2 MONETAS (SWITZERLAND)


7.2.3 BLOCKSTREAM CORPORATION (U.S.)


7.2.4 COINBASE, INC (U.S.)


7.2.5 BITFINEX (HONG KONG)


7.2.6 BLOCKCYPHER, INC (U.S.)


7.2.7 CHAIN, INC.(U.S.)


7.2.8 COINIFY APS (DENMARK)


7.2.9 BITPAY, INC (U.S.)


7.2.10 GOCOIN PTE. LTD (SINGAPORE)


7.2.11 OTHERS
LIST OF TABLES
TABLE 1 SMART CONTRACTS MARKET, BY BLOCKCHAIN PLATFORM


TABLE 2 SMART CONTRACTS MARKET, BY TECHNOLOGY


TABLE 3 SMART CONTRACTS MARKET, BY END USERS


TABLE 4 SMART CONTRACTS MARKET, BY REGION


TABLE 5 NORTH AMERICA SMART CONTRACTS MARKET, BY BLOCKCHAIN PLATFORM


TABLE 6 NORTH AMERICA SMART CONTRACTS MARKET, BY TECHNOLOGY


TABLE 7 NORTH AMERICA SMART CONTRACTS MARKET, BY END USERS


TABLE 8 U.S. SMART CONTRACTS MARKET, BY BLOCKCHAIN PLATFORM


TABLE 9 U.S. SMART CONTRACTS MARKET, BY TECHNOLOGY


TABLE 10 U.S. SMART CONTRACTS MARKET, BY END USERS


TABLE 11 CANADA SMART CONTRACTS MARKET, BY BLOCKCHAIN PLATFORM


TABLE 12 CANADA SMART CONTRACTS MARKET, BY TECHNOLOGY


TABLE 13 CANADA SMART CONTRACTS MARKET, BY END USERS


TABLE 14 MEXICO SMART CONTRACTS MARKET, BY BLOCKCHAIN PLATFORM


TABLE 15 MEXICO SMART CONTRACTS MARKET, BY TECHNOLOGY


TABLE 16 MEXICO SMART CONTRACTS MARKET, BY END USERS


TABLE 17 EUROPE SMART CONTRACTS MARKET, BY BLOCKCHAIN PLATFORM


TABLE 18 EUROPE SMART CONTRACTS MARKET, BY TECHNOLOGY


TABLE 19 EUROPE SMART CONTRACTS MARKET, BY END USERS


TABLE 20 U.K. SMART CONTRACTS MARKET, BY BLOCKCHAIN PLATFORM


TABLE 21 U.K. SMART CONTRACTS MARKET, BY TECHNOLOGY


TABLE 22 U.K. SMART CONTRACTS MARKET, BY END USERS


TABLE 23 GERMANY SMART CONTRACTS MARKET, BY BLOCKCHAIN PLATFORM


TABLE 24 GERMANY SMART CONTRACTS MARKET, BY TECHNOLOGY


TABLE 25 GERMANY SMART CONTRACTS MARKET, BY END USERS


TABLE 26 FRANCE SMART CONTRACTS MARKET, BY BLOCKCHAIN PLATFORM


TABLE 27 FRANCE SMART CONTRACTS MARKET, BY TECHNOLOGY


TABLE 28 FRANCE SMART CONTRACTS MARKET, BY END USERS


TABLE 29 ITALY SMART CONTRACTS MARKET, BY BLOCKCHAIN PLATFORM


TABLE 30 ITALY SMART CONTRACTS MARKET, BY TECHNOLOGY


TABLE 31 ITALY SMART CONTRACTS MARKET, BY END USERS


TABLE 32 REST OF EUROPE SMART CONTRACTS MARKET, BY BLOCKCHAIN PLATFORM


TABLE 33 REST OF EUROPE SMART CONTRACTS MARKET, BY TECHNOLOGY


TABLE 34 REST OF EUROPE SMART CONTRACTS MARKET, BY END USERS


TABLE 35 ASIA PACIFIC SMART CONTRACTS MARKET, BY BLOCKCHAIN PLATFORM


TABLE 36 ASIA PACIFIC SMART CONTRACTS MARKET, BY TECHNOLOGY


TABLE 37 ASIA PACIFIC SMART CONTRACTS MARKET, BY END USERS


TABLE 38 CHINA SMART CONTRACTS MARKET, BY BLOCKCHAIN PLATFORM


TABLE 39 CHINA SMART CONTRACTS MARKET, BY TECHNOLOGY


TABLE 40 CHINA SMART CONTRACTS MARKET, BY END USERS


TABLE 41 JAPAN SMART CONTRACTS MARKET, BY BLOCKCHAIN PLATFORM


TABLE 42 JAPAN SMART CONTRACTS MARKET, BY TECHNOLOGY


TABLE 43 JAPAN SMART CONTRACTS MARKET, BY END USERS


TABLE 44 SOUTH KOREA SMART CONTRACTS MARKET, BY BLOCKCHAIN PLATFORM


TABLE 45 SOUTH KOREA SMART CONTRACTS MARKET, BY TECHNOLOGY


TABLE 46 SOUTH KOREA SMART CONTRACTS MARKET, BY END USERS


TABLE 47 INDIA SMART CONTRACTS MARKET, BY BLOCKCHAIN PLATFORM


TABLE 48 INDIA SMART CONTRACTS MARKET, BY TECHNOLOGY


TABLE 49 INDIA SMART CONTRACTS MARKET, BY END USERS


TABLE 50 REST OF ASIA PACIFIC SMART CONTRACTS MARKET, BY BLOCKCHAIN PLATFORM


TABLE 51 REST OF ASIA PACIFIC SMART CONTRACTS MARKET, BY TECHNOLOGY


TABLE 52 REST OF ASIA PACIFIC SMART CONTRACTS MARKET, BY END USERS


TABLE 53 REST OF WORLD SMART CONTRACTS MARKET, BY BLOCKCHAIN PLATFORM


TABLE 54 REST OF WORLD SMART CONTRACTS MARKET, BY TECHNOLOGY


TABLE 55 REST OF WORLD SMART CONTRACTS MARKET, BY END USERS
LIST OF FIGURES
FIGURE 1 RESEARCH BLOCKCHAIN PLATFORM


FIGURE 2 SMART CONTRACTS MARKET, BY BLOCKCHAIN PLATFORM (%)


FIGURE 3 SMART CONTRACTS MARKET, BY TECHNOLOGY (%)


FIGURE 4 SMART CONTRACTS MARKET, BY END USERS (%)


FIGURE 5 SMART CONTRACTS MARKET, BY REGION (%)


FIGURE 6 NORTH AMERICA SMART CONTRACTS MARKET, BY BLOCKCHAIN PLATFORM (%)


FIGURE 7 NORTH AMERICA SMART CONTRACTS MARKET, BY TECHNOLOGY (%)


FIGURE 8 NORTH AMERICA SMART CONTRACTS MARKET, BY END USERS (%)


FIGURE 9 U.S. SMART CONTRACTS MARKET, BY BLOCKCHAIN PLATFORM (%)


FIGURE 10 U.S. SMART CONTRACTS MARKET, BY TECHNOLOGY (%)


FIGURE 11 U.S. SMART CONTRACTS MARKET, BY END USERS (%)


FIGURE 12 CANADA SMART CONTRACTS MARKET, BY BLOCKCHAIN PLATFORM (%)


FIGURE 13 CANADA SMART CONTRACTS MARKET, BY TECHNOLOGY (%)


FIGURE 14 CANADA SMART CONTRACTS MARKET, BY END USERS (%)


FIGURE 15 MEXICO SMART CONTRACTS MARKET, BY BLOCKCHAIN PLATFORM (%)


FIGURE 16 MEXICO SMART CONTRACTS MARKET, BY TECHNOLOGY (%)


FIGURE 17 EUROPE SMART CONTRACTS MARKET, BY BLOCKCHAIN PLATFORM (%)


FIGURE 18 EUROPE SMART CONTRACTS MARKET, BY TECHNOLOGY (%)


FIGURE 19 EUROPE SMART CONTRACTS MARKET, BY END USERS (%)


FIGURE 20 U.K. SMART CONTRACTS MARKET, BY BLOCKCHAIN PLATFORM (%)


FIGURE 21 U.K. SMART CONTRACTS MARKET, BY TECHNOLOGY (%)


FIGURE 22 U.K. SMART CONTRACTS MARKET, BY END USERS (%)


FIGURE 23 GERMANY SMART CONTRACTS MARKET, BY BLOCKCHAIN PLATFORM (%)


FIGURE 24 GERMANY SMART CONTRACTS MARKET, BY TECHNOLOGY (%)


FIGURE 25 GERMANY SMART CONTRACTS MARKET, BY END USERS (%)


FIGURE 26 FRANCE SMART CONTRACTS MARKET, BY BLOCKCHAIN PLATFORM (%)


FIGURE 27 FRANCE SMART CONTRACTS MARKET, BY TECHNOLOGY (%)


FIGURE 28 FRANCE SMART CONTRACTS MARKET, BY END USERS (%)


FIGURE 29 ITALY SMART CONTRACTS MARKET, BY BLOCKCHAIN PLATFORM (%)


FIGURE 30 ITALY SMART CONTRACTS MARKET, BY TECHNOLOGY (%)


FIGURE 31 ITALY SMART CONTRACTS MARKET, BY END USERS (%)


FIGURE 32 REST OF EUROPE SMART CONTRACTS MARKET, BY BLOCKCHAIN PLATFORM (%)


FIGURE 33 REST OF EUROPE SMART CONTRACTS MARKET, BY TECHNOLOGY (%)


FIGURE 34 REST OF EUROPE SMART CONTRACTS MARKET, BY END USERS (%)


FIGURE 35 ASIA PACIFIC SMART CONTRACTS MARKET, BY BLOCKCHAIN PLATFORM (%)


FIGURE 36 ASIA PACIFIC SMART CONTRACTS MARKET, BY TECHNOLOGY (%)


FIGURE 37 ASIA PACIFIC SMART CONTRACTS MARKET, BY END USERS (%)


FIGURE 38 CHINA SMART CONTRACTS MARKET, BY BLOCKCHAIN PLATFORM (%)


FIGURE 39 CHINA SMART CONTRACTS MARKET, BY TECHNOLOGY (%)


FIGURE 40 CHINA SMART CONTRACTS MARKET, BY END USERS (%)


FIGURE 41 JAPAN SMART CONTRACTS MARKET, BY BLOCKCHAIN PLATFORM (%)


FIGURE 42 JAPAN SMART CONTRACTS MARKET, BY TECHNOLOGY (%)


FIGURE 43 JAPAN SMART CONTRACTS MARKET, BY END USERS (%)


FIGURE 44 SOUTH KOREA SMART CONTRACTS MARKET, BY BLOCKCHAIN PLATFORM (%)


FIGURE 45 SOUTH KOREA SMART CONTRACTS MARKET, BY TECHNOLOGY (%)


FIGURE 46 SOUTH KOREA SMART CONTRACTS MARKET, BY END USERS (%)


FIGURE 47 INDIA SMART CONTRACTS MARKET, BY BLOCKCHAIN PLATFORM (%)


FIGURE 48 INDIA SMART CONTRACTS MARKET, BY TECHNOLOGY (%)


FIGURE 49 INDIA SMART CONTRACTS MARKET, BY END USERS (%)


FIGURE 50 REST OF ASIA PACIFIC SMART CONTRACTS MARKET, BY BLOCKCHAIN PLATFORM (%)


FIGURE 51 REST OF ASIA PACIFIC SMART CONTRACTS MARKET, BY TECHNOLOGY (%)


FIGURE 52 REST OF ASIA PACIFIC SMART CONTRACTS MARKET, BY END USERS (%)


FIGURE 53 REST OF WORLD SMART CONTRACTS MARKET, BY BLOCKCHAIN PLATFORM (%)


FIGURE 54 REST OF WORLD SMART CONTRACTS MARKET, BY TECHNOLOGY (%)


FIGURE 55 REST OF WORLD SMART CONTRACTS MARKET, BY END USERS (%)