Global silicones market research report- information by type (resins, fluids, gels, and elastomer), application (building & construction, personal care & consumer products, automotive & transportation, medical & healthcare, industrial process, and others) region – Forecast till 2023
Synopsis of Silicones Market
Silicones belong to the family of polymers, which comprises of siloxanes and silanes that are derived from pure silicon. They are produced by the reduction of silicon dioxide (silica) in the form of sand with carbon at high temperatures. Silicones are produced in three steps: synthesis of chlorosilanes, hydrolysis of chlorosilanes, and condensation polymerization. They exhibit excellent properties such as superior weathering and aging resistance, thermo stability, high water repellency, chemical resistance, strong electrical insulation, and super anti-foaming properties, which make them suitable for utilization in numerous end-use applications such as personal care & consumer products, automotive & transportation, building & construction, medical & healthcare, industrial process, and others.
As per our analysis, some of the important market factors and trends identified in the global silicones market include rapid urbanization, technological advancement, and continuous growth of medical & healthcare sector. Moreover, increasing use of silicones in the manufacturing of high-performance OEM along with rising automotive production and sales in emerging economies is predicted to fuel the growth of the market during the assessment period. Implementation of new emission regulation by many developed countries along with shifting automotive manufacturers on the utilization of lightweight material is estimated to drive the growth of the market. Growing commercial, as well as institutional construction activities in the developing countries coupled with the continuous expansion of building & construction industry, is predicted to propel the demand for these polymers. Furthermore, increasing disposable income along with rising use of personal care products such as lotions, cleansers, and conditioners are estimated to drive the market growth over the estimated period. However, fluctuating raw material price along with high energy price is expected to hamper the growth of the market.
The global silicones market share by end use industry (2016), (%)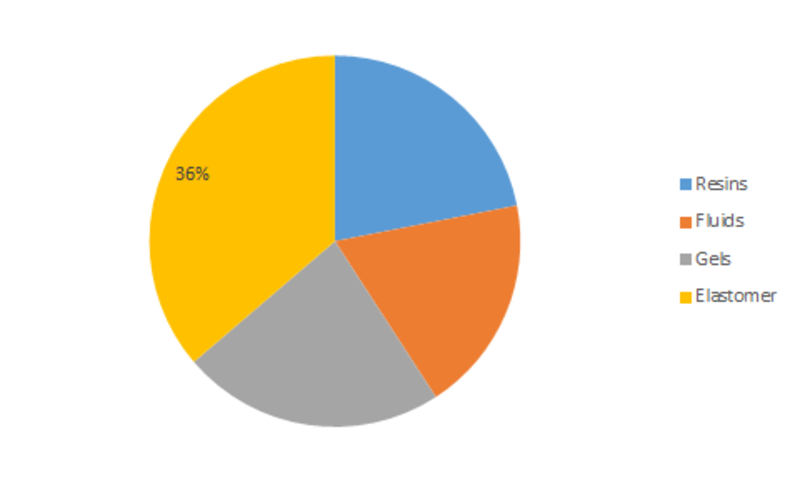 Source: MRFR Analysis
Regional Analysis
The global silicones market is categorized into five regions, Asia Pacific, Europe, Latin America, North America, and the Middle East & Africa. Among them, Asia Pacific region is estimated to grow with the highest CAGR during the forecast period, (2017 to 2023) on account of the expansion of various end-use industries such as automotive & transportation, personal care, and building & construction among others. The demand for silicones is predicted to surge in the numerous countries of the Asia Pacific such as China, India, Bangladesh, Singapore, Japan, Thailand, South Korea, and Malaysia due to the approval of large-scale industrial, residential, as well as commercial building & construction projects. Furthermore, growing number of working professionals coupled with increasing disposable income in emerging nations has presented an opportunity to spend on personal care products, which, in turn, is estimated to propel the growth of the market. Additionally, high economic growth, inexpensive raw material, labor & land cost, and shifting manufacturer base in this region are important factors for the regional market growth.
The Asia Pacific emerged as the largest silicones market in 2016, which is further followed by Europe and North America. North America is estimated to witness an above-average growth in silicones market on account of increasing demand from healthcare sector along with the continuous growth of the medical sector in this region. The U.S. accounted for the largest regional market share in 2016 followed by Canada due to rising demand for personal care and consumer goods. In Europe, countries such as Germany, the U.K, Italy, France, Russia, and Spain are among the leading market contributors and is estimated to retain their dominance due to the robust automobile manufacturing base along with high adoption rate among various end-use industries. In Latin American countries such as Mexico and Brazil are predicted to hold the major regional market share due to rising automotive production along with the involvement of new business models. The Middle East & Africa is predicted to register a moderate growth during the review period on account of rising building & construction activities specifically in Qatar, Turkey, Saudi Arabia, the United Arab Emirates, and Kuwait.
Segmentation
The global silicones market is categorized on the basis of type, application, and regions. On the basis of the type, the market is segmented into resins, fluids, gels, and elastomer. On the basis of the application, the market is classified as building & construction, personal care & consumer products, automotive & transportation, medical & healthcare, industrial process, and others. Other application include, electrical & electronics, paper, textile, and energy. On the basis of the regions, the market is categorized into Asia Pacific, Europe, Latin America, North America, and the Middle East & Africa.
Key Players
Some of the prominent players operating in the silicones market are Dow Corning Corporation (U.S.), Wacker Chemie AG (Germany), Shin-Etsu Chemical Co., Ltd. (Japan), Momentive (U.S.), Elkem Silicones (Norway), Evonik Industries (Germany), KCC Corporation (South Korea), GELEST, INC. (U.S.), NuSil Technology LLC (U.S.), Specialty Silicone Products, Inc. (U.S.), Saint-Gobain Performance Plastics (France), and BASF SE (Germany) among others.
Geographical Analysis
The report covers brief analysis of geographical regions such as North America, Latin America, Europe, Asia Pacific, and the Middle East & Africa.
Intended Audience



Silicones manufacturers




Traders and Distributors of Silicones




Production Process Industries




Potential Investors




Raw Material Suppliers




Nationalized Laboratory



Table of Contents


1 Executive Summary

2 Scope of the Report

2.1 Market Definition

2.2 Scope of the Study

2.2.1 Research Objectives

2.2.2 Assumptions & Limitations

2.3 Markets Structure

3 Market Research Methodology

3.1 Research Process

3.2 Secondary Research

3.3 Primary Research

3.4 Forecast Model

4 Market Landscape

4.1 Five Forces Analysis

4.1.1 Threat of New Entrants

4.1.2 Bargaining Power of Buyers

4.1.3 Threat of Substitutes

4.1.4 Segment Rivalry

4.2 Value Chain/Supply Chain of Global Silicones Market

5 Industry Overview of Global Silicones Market

5.1 Introduction

5.2 Growth Drivers

5.3 Impact Analysis

5.4 Market Challenges

6 Market Trends

6.1 Introduction

6.2 Growth Trends

6.3 Impact Analysis

7. Global Silicones Market by Type

7.1 Introduction

7.2 Resins

7.2.1 Market Estimates & Forecast, 2016-2023

7.2.2 Market Estimates & Forecast by Region, 2016-2023

7.3 Fluids

7.3.1 Market Estimates & Forecast, 2016-2023

7.3.2 Market Estimates & Forecast by Region, 2016-2023

7.4 Gels

7.4.1 Market Estimates & Forecast, 2016-2023

7.4.2 Market Estimates & Forecast by Region, 2016-2023

7.5 Elastomer

7.4.1 Market Estimates & Forecast, 2016-2023

7.4.2 Market Estimates & Forecast by Region, 2016-2023

8. Global Silicones Market by Application

8.1 Introduction

8.2 Building & Construction

8.2.1 Market Estimates & Forecast, 2016-2023

8.2.2 Market Estimates & Forecast by Region, 2016-2023

8.3 Personal Care & Consumer Products

8.3.1 Market Estimates & Forecast, 2016-2023

8.3.2 Market Estimates & Forecast by Region, 2016-2023

8.4 Automotive & Transportation

8.4.1 Market Estimates & Forecast, 2016-2023

8.4.2 Market Estimates & Forecast by Region, 2016-2023

8.5 Medical & Healthcare

8.5.1 Market Estimates & Forecast, 2016-2023

8.5.2 Market Estimates & Forecast by Region, 2016-2023

8.6 Industrial Process

8.6.1 Market Estimates & Forecast, 2016-2023

8.6.2 Market Estimates & Forecast by Region, 2016-2023

8.7 Others

8.7.1 Market Estimates & Forecast, 2016-2023

8.7.2 Market Estimates & Forecast by Region, 2016-2023

9. Global Silicones Market by Region

9.1 Introduction

9.2 North America

9.2.1 Market Estimates & Forecast, 2016-2023

9.2.2 Market Estimates & Forecast by Type, 2016-2023

9.2.3 Market Estimates & Forecast by Application, 2016-2023

9.2.4 US

9.2.4.1 Market Estimates & Forecast, 2016-2023

9.2.4.2 Market Estimates & Forecast by Type, 2016-2023

9.2.4.3 Market Estimates & Forecast by Application, 2016-2023

9.2.5 Mexico

9.2.5.1 Market Estimates & Forecast, 2016-2023

9.2.5.2 Market Estimates & Forecast by Type, 2016-2023

9.2.5.3 Market Estimates & Forecast by Application, 2016-2023

9.2.6 Canada

9.2.6.1 Market Estimates & Forecast, 2016-2023

9.2.6.2 Market Estimates & Forecast by Type, 2016-2023

9.2.6.3 Market Estimates & Forecast by Application, 2016-2023

9.3 Europe

9.3.1 Market Estimates & Forecast, 2016-2023

9.3.2 Market Estimates & Forecast by Type, 2016-2023

9.3.3 Market Estimates & Forecast by Application, 2016-2023

9.3.4 Germany

9.3.4.1 Market Estimates & Forecast, 2016-2023

9.3.4.2 Market Estimates & Forecast by Type, 2016-2023

9.3.4.3 Market Estimates & Forecast by Application, 2016-2023

9.3.5. France

9.3.5.1 Market Estimates & Forecast, 2016-2023

9.3.5.2 Market Estimates & Forecast by Type, 2016-2023

9.3.5.3 Market Estimates & Forecast by Application, 2016-2023

9.3.6 Italy

9.3.6.1 Market Estimates & Forecast, 2016-2023

9.3.6.2 Market Estimates & Forecast by Type, 2016-2023

9.3.6.3 Market Estimates & Forecast by Application, 2016-2023

9.3.7 Spain

9.3.7.1 Market Estimates & Forecast, 2016-2023

9.3.7.2 Market Estimates & Forecast by Type, 2016-2023

9.3.7.3 Market Estimates & Forecast by Application, 2016-2023

9.3.8 U.K

9.3.8.1 Market Estimates & Forecast, 2016-2023

9.3.8.2 Market Estimates & Forecast by Type, 2016-2023

9.3.8.3 Market Estimates & Forecast by Application, 2016-2023

9.4 Asia Pacific

9.4.1 Market Estimates & Forecast, 2016-2023

9.4.2 Market Estimates & Forecast by Type, 2016-2023

9.4.3 Market Estimates & Forecast by Application, 2016-2023

9.4.4 China

9.4.4.1 Market Estimates & Forecast, 2016-2023

9.4.4.2 Market Estimates & Forecast by Type, 2016-2023

9.4.4.3 Market Estimates & Forecast by Application, 2016-2023

9.4.5 India

9.4.5.1 Market Estimates & Forecast, 2016-2023

9.4.5.2 Market Estimates & Forecast by Type, 2016-2023

9.4.5.3 Market Estimates & Forecast by Application, 2016-2023

9.4.6 Japan

9.4.6.1 Market Estimates & Forecast, 2016-2023

9.4.6.2 Market Estimates & Forecast by Type, 2016-2023

9.4.6.3 Market Estimates & Forecast by Application, 2016-2023

9.4.7 Australia

9.4.7.1 Market Estimates & Forecast, 2016-2023

9.4.7.2 Market Estimates & Forecast by Type, 2016-2023

9.4.7.3 Market Estimates & Forecast by Application, 2016-2023

9.4.8 New Zealand

9.4.8.1 Market Estimates & Forecast, 2016-2023

9.4.8.2 Market Estimates & Forecast by Type, 2016-2023

9.4.8.3 Market Estimates & Forecast by Application, 2016-2023

9.4.9 Rest of Asia Pacific

9.4.9.1 Market Estimates & Forecast, 2016-2023

9.4.9.2 Market Estimates & Forecast by Type, 2016-2023

9.4.9.3 Market Estimates & Forecast by Application, 2016-2023

9.5 Middle East & Africa

9.5.1 Market Estimates & Forecast, 2016-2023

9.5.2 Market Estimates & Forecast by Type, 2016-2023

9.5.3 Market Estimates & Forecast by Application, 2016-2023

9.5.4 Turkey

9.5.4.1 Market Estimates & Forecast, 2016-2023

9.5.4.2 Market Estimates & Forecast by Type, 2016-2023

9.5.4.3 Market Estimates & Forecast by Application, 2016-2023

9.5.5 Israel

9.5.5.1 Market Estimates & Forecast, 2016-2023

9.5.5.2 Market Estimates & Forecast by Type, 2016-2023

9.5.5.3 Market Estimates & Forecast by Application, 2016-2023

9.5.6 North Africa

9.5.6.1 Market Estimates & Forecast, 2016-2023

9.5.6.2 Market Estimates & Forecast by Type, 2016-2023

9.5.6.3 Market Estimates & Forecast by Application, 2016-2023

9.5.7 GCC

9.5.7.1 Market Estimates & Forecast, 2016-2023

9.5.7.2 Market Estimates & Forecast by Type, 2016-2023

9.5.7.3 Market Estimates & Forecast by Application, 2016-2023

9.5.8 Rest of Middle East & Africa

9.5.8.1 Market Estimates & Forecast, 2016-2023

9.5.8.2 Market Estimates & Forecast by Type, 2016-2023

9.5.8.3 Market Estimates & Forecast by Application, 2016-2023

9.6 Latin America

9.6.1 Market Estimates & Forecast, 2016-2023

9.6.2 Market Estimates & Forecast by Type, 2016-2023

9.6.3 Market Estimates & Forecast by Application, 2016-2023

9.6.4 Brazil

9.6.4.1 Market Estimates & Forecast, 2016-2023

9.6.4.2 Market Estimates & Forecast by Type, 2016-2023

9.6.4.3 Market Estimates & Forecast by Application, 2016-2023

9.6.5 Argentina

9.6.5.1 Market Estimates & Forecast, 2016-2023

9.6.5.2 Market Estimates & Forecast by Type, 2016-2023

9.6.5.3 Market Estimates & Forecast by Application, 2016-2023

9.6.6 Rest of Latin America

9.6.6.1 Market Estimates & Forecast, 2016-2023

9.6.6.2 Market Estimates & Forecast by Type, 2016-2023

9.6.6.3 Market Estimates & Forecast by Application, 2016-2023

10. Company Landscape

11. Company Profiles

11.1 Dow Corning Corporation

11.1.1 Company Overview

11.1.2 Product/Business Segment Overview

11.1.3 Financial Updates

11.1.4 Key Developments



11.2 Wacker Chemie AG

11.2.1 Company Overview

11.2.2 Product/Business Segment Overview

11.2.3 Financial Updates

11.2.4 Key Developments
11.3 Shin-Etsu Chemical Co., Ltd.

11.3.1 Company Overview

11.3.2 Product/Business Segment Overview

11.3.3 Financial Updates

11.3.4 Key Developments

11.4 Momentive

11.4.1 Company Overview

11.4.2 Product/Business Segment Overview

11.4.3 Financial Updates

11.4.4 Key Developments

11.5 Elkem Silicones

11.5.1 Company Overview

11.5.2 Product/Business Segment Overview

11.5.3 Financial Updates

11.5.4 Key Developments

11.6 Evonik Industries

11.6.1 Company Overview

11.6.2 Product/Business Segment Overview

11.6.3 Financial Updates

11.6.4 Key Developments

11.7 KCC Corporation

11.7.1 Company Overview

11.7.2 Product/Business Segment Overview

11.7.3 Financial Updates

11.7.4 Key Developments

11.8 GELEST, INC.

11.8.1 Company Overview

11.8.2 Product/Business Segment Overview

11.8.3 Financial Updates

11.8.4 Key Developments

11.9 NuSil Technology LLc

11.9.1 Company Overview

11.9.2 Product/Business Segment Overview

11.9.3 Financial Updates

11.9.4 Key Developments

11.10 Specialty Silicone Products, Inc.

11.10.1 Company Overview

11.10.2 Product/Business Segment Overview

11.10.3 Financial Updates

11.10.4 Key Developments

11.11 Saint-Gobain Performance Plastics

11.11.1 Company Overview

11.11.2 Product/Business Segment Overview

11.11.3 Financial Updates

11.11.4 Key Developments

11.12 BASF SE

11.12.1 Company Overview

11.12.2 Product/Business Segment Overview

11.12.3 Financial Updates

11.12.4 Key Developments
12. Conclusion
LIST OF TABLES


Table 1 World Population by Major Regions (2016 To 2023)

Table 2 Global Silicones Market: By Region, 2016-2023

Table 3 North America Silicones Market: By Country, 2016-2023

Table 4 Europe Silicones Market: By Country, 2016-2023

Table 5 Asia-Pacific Silicones Market: By Country, 2016-2023

Table 6 Middle East & Africa Silicones Market: By Country, 2016-2023

Table 7 Latin America Silicones Market: By Country, 2016-2023

Table 8 Global Silicones by Type Market: By Regions, 2016-2023

Table 9 North America Silicones by Type Market: By Country, 2016-2023

Table 10 Europe Silicones by Type Market: By Country, 2016-2023

Table11 Asia-Pacific Silicones by Type Market: By Country, 2016-2023

Table12 Middle East & Africa Silicones by Type Market: By Country, 2016-2023

Table13 Latin America Silicones by Type Market: By Country, 2016-2023

Table14 North America Silicones for Application Market: By Country, 2016-2023

Table15 Europe Silicones for Application Market: By Country, 2016-2023

Table16 Asia-Pacific Silicones for Application Market: By Country, 2016-2023

Table17 Middle East & Africa Silicones for Application Market: By Country, 2016-2023

Table18 Latin America Silicones for Application Market: By Country, 2016-2023

Table 19 Global Type Market: By Region, 2016-2023

Table 20 Global Application Market: By Region, 2016-2023

Table 21 North America Silicones Market, By Country

Table 22 North America Silicones Market, By Type

Table 23 North America Silicones Market, By Application

Table24 Europe: Silicones Market, By Country

Table25 Europe: Silicones Market, By Type

Table 26 Europe: Silicones Market, By Application

Table 27 Asia-Pacific: Silicones Market, By Country

Table 28 Asia-Pacific: Silicones Market, By Type

Table 29 Asia-Pacific: Silicones Market, By Application

Table 30 Middle East & Africa: Silicones Market, By Country

Table 31 Middle East & Africa Silicones Market, By Type

Table 32 Middle East & Africa: Silicones Market, By Application

Table 33 Latin America: Silicones Market, By Country

Table 34 Latin America Silicones Market, By Type

Table 35 Latin America: Silicones Market, By Application
LIST OF FIGURES


FIGURE 1 Global Silicones Market segmentation

FIGURE 2 Forecast Methodology

FIGURE 3 Five Forces Analysis of Global Silicones Market

FIGURE 4 Value Chain of Global Silicones Market

FIGURE 5 Share of Global Silicones Market in 2016, by country (in %)

FIGURE 6 Global Silicones Market, 2016-2023,

FIGURE 7 Sub segments of Type

FIGURE 8 Global Silicones Market size by Type, 2016

FIGURE 9 Share of Global Silicones Market by Type, 2016 to 2023

FIGURE 10 Sub segments of Application

FIGURE 11 Global Silicones Market size by Application, 2016

FIGURE 12 Share of Global Silicones Market by Application, 2016 to 2023