Market Synopsis
Global Security Inks Market was valued at USD 0.7 billion in 2019 and is expected to register a CAGR of over 4.1% during the review period. Security ink, also called anti-counterfeit printing ink, is one of the most important parts of anti-counterfeit technology. Security inks are used in the security printing industry, mainly for preventing counterfeiting, forgery, or tampering of confidential and private documents such as checks, passports, stock certificates, and security labels.
The primary growth driver for the global security inks market is the increasing occurrence of forgery and counterfeiting activities in the banking and financial sector, where there is a continuous flow of private and confidential information. The rising currency flow due to the improving economic conditions and high disposable income coupled with rising concerns among the customers about the legitimacy of legal documents has increased the demand for security inks. Smart labeling is an emerging process of product identification that has been adopted by retailers and government agencies to track the movement of products throughout the supply chain, which is expected to drive the demand for security inks during the review period. The global market growth is also driven by the growth of the consumer goods industry, which is attributed to the changing lifestyles and affordability of consumers across the globe. Increasing tourism activities is expected to increase the demand for passports and visas, which is further projected to fuel the demand for security inks. Increasing counterfeiting such as petty criminals invading supply chains with altered packaging and good, illegal copy of tax stamps and producing fake documents and bank notes is affecting the society. Several techniques such as barcode, photo integration, biometric identifier, embossing stamp, reversed out text, fluorescent serial number, iFADO (intranet False and Authentic Documents Online), and ink stamp are expected to play a pivotal role in addressing forgery, which is expected to drive the demand for security inks worldwide. Some other applications of security inks include coupons, warranties, event tickets, lottery tickets, and receipts.
However, the growing adoption of digitalization such as the use of cashless transactions is likely to hamper the global market growth.
Manufacturers in this market are focused on strengthening their positions through strategic growth initiatives such as the introduction of new products and making partnerships. For instance, in August 2018, Sun Chemical Security, a newly formed division of Sun Chemical, launched its latest portfolio of infrared inks for banknote printing in Victoria Falls, Zimbabwe. In 2019, the company entered into a partnership with Document Security Systems, Inc to enter the US market and sell each other's anti-counterfeiting products.
Key Players



SICPA HOLDING SA (Switzerland)




Sun Chemical (US)




Microtrace




Kao Collins Corporation (US)




Chromatic Technologies Inc. (US)




Gleitsmann Security Ink GmbH (Germany)




Chroma Inks (US)




The Cronite Company (US)




Naigai Ink Mfg. Co. Ltd (Japan)




Guangzhou Mingbo Anti-Forgery Technology Co. Ltd (China).



Global Security Inks Market Share, by Application, 2019 (%)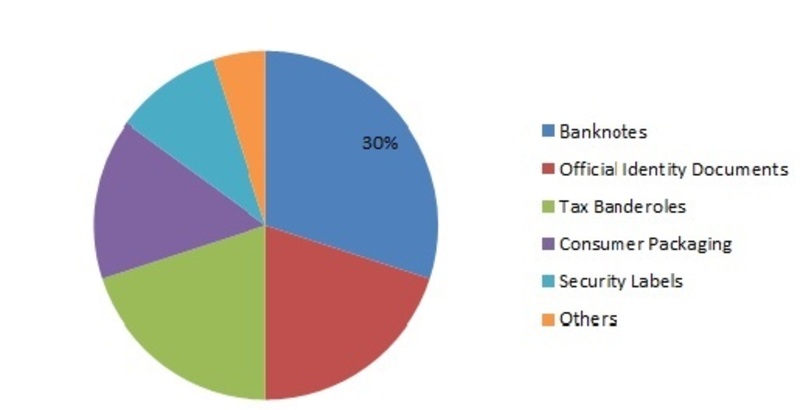 Source: MRFR Analysis
Regional Analysis
The global market, by region, has been segmented into North America, Europe, Asia-Pacific, Latin America, and the Middle East & Africa.
Asia-Pacific emerged as the fastest growing regional market for security inks in 2018 owing to the high demand in currency printing. The unexpected changes by governments, for instance, demonetization by the Indian government in 2016 increased printing of new notes, which fueled the demand for security inks in the region.
North America and Europe are expected to witness significant growth during the forecast period on account of the growing awareness pertaining to document security and high instances of forgery and counterfeiting.
The markets in Latin America and the Middle East & Africa are projected to grow at a moderate pace due to less adoption of the product.
Segmentation
The global security inks market has been segmented by type, printing method, and application.
Based on type, the global market has been categorized into invisible, biometric, fluorescent, thermochromic, optically variable, magnetic, reactive, erasable, infrared, and others.
By printing method, the global market has been divided into letterpress, offset, intaglio, flexographic, silk screen, and others.
On the basis of application, the global market has been segregated into banknotes, official identity documents, tax banderoles, security labels, consumer packaging, and others.
Intended Audience