Market Snapshot
The Global Robotic Process Automation for Smartphone Manufacturing Market is expected to grow from USD 807.9 million in 2017 to USD 3992.6 million by 2023, at a CAGR of ~30.5% during the forecast period of 2018 to 2023. North America accounted for the most considerable market value of USD 294.19 million in 2017; the market is expected to register a CAGR of 31.29% during the forecast period.
Robotic process automation is the emerging trend in the manufacturing and industrial sector as it assists them in improving their operational efficiency. By installing robotic process automation, it becomes easy for the companies to produce products in huge quantity at a lower cost with fast speed. With the increasing demand of smartphones by consumers has attracted high growth in smartphone manufacturing companies. Innovation in the mobile interface, which is connected with digital technology, including social media usage, and growing app market is creating high demand for smartphones worldwide. This growing demand for smartphones penetrating the mobile platform manufacturers to integrate more and more features into smartphones to make customers life easy and secure than earlier.
Global Robotic Process Automation for Smartphone Manufacturing Market Size, by Robot Type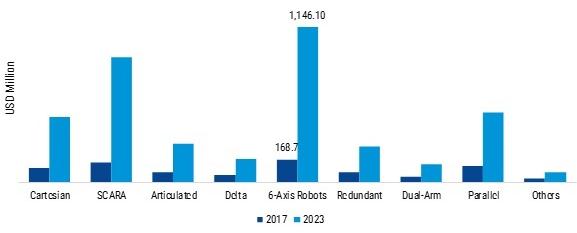 Source: MRFR Analysis
Based on the robot type, the market has been classified as cartesian, SCARA, articulated, delta, 6-axis robot, redundant, dual-arm, and parallel. The 6-axis robots segment accounted for the largest market share in 2017, with a market value of USD 168.7 million; it is expected to register the highest CAGR during the forecast period. The SCARA segment was the second-highest valued segment during the forecast period. A cartesian robot or cartesian coordinate robot is a 3-axis robot which performs the linear motion along any of the axis which is marked perpendicular to each other. The SCARA, also termed as selective compliance assembly robot arm is based on a 4-axis design whose z-axis is kept fixed and can move in the XY axis allowing the benefit to perform the curved motion. An articulated robot is a rotational joint robot able to perform the circular motion. It has a one fixed leg and many joints which are individually powered by the electric motors. A delta robot is a type of parallel robot which has one base connected with the 3-axis with universal joints. The 6-axis robots have six axes such as a base, allowing the robot to move from left to right, allowing forward and backward motion, enabling the vertical motion, wrist roll (rotating the upper arm in a circular motion), pitch and yaw motion, twisting motion.
The changing consumer market has built a high need for deployment of technically advanced automation process in the manufacturing and production process of an industry. Flexible production system with high-end IT-enabled process provides fast and safe production process which is efficient, flexible, reliable, and cost-effective solution. The economic pressure which affects performance and growth of an industry is one of the factors behind utilizing industrial automation process. The various factors attributing to the growth of global robotic process automation for smartphone manufacturing market are the high focus of industry on achieving energy efficiency in the manufacturing process, growing deployment of IoT in the industrial process, and growing smartphone integration platform. Furthermore, scarcity of investment by small & medium size industry and less availability of trained professionals in developing economies for implementing and processing automation system are affecting the market growth during the forecast period.
Regional Analysis
The global market for robotic process automation for smartphone manufacturing is estimated to grow at a significant rate during the forecast period from 2017 to 2023. The geographic analysis of the Robotic process automation for smartphone manufacturing market has been conducted for North America, Europe, Asia-Pacific, and the rest of the world. North America is expected to dominate the robotic process automation for smartphone manufacturing market during the forecast period due to growing development in the IT industry. Asia-Pacific has successfully counted the second position in the robotic process automation for smartphone manufacturing market; it is expected to grow at a faster rate during the forecast period.
Companies Covered
Vendors in the robotic process automation for smartphone manufacturing market are focusing on improving their services and expanding into the underdeveloped and developing economies. ABB Ltd, Seiko Epson Corporation, Yaskawa Electric Corporation, Denso Wave Inc., KUKA Robotics, Fanuc Corporation, Nachi Robotic System Inc., Nice Ltd, Pegasystems Inc., and Redwood Software are the major players in the market, competing in terms of solutions offered, efficiency, reliability, affordability, and advanced technology.
Key Developments



In June 2018

, ABB launched a commercial modular enabled process automation solution. This was the first solution with the combination of orchestration layer and module layer integrated with the technology of module type packages (MTPs). This new automation solution provides module automation with less downtime and seamless integration with existing systems and is ideal for pharmaceutical plants, biotech manufacturers, chemical factories, and the food & beverage industry.




In June 2018

, ABB, along with Kawasaki Heavy Industries, a Japanese motorcycle manufacturer, introduced the world's first common collaborative robot operating interface. This interface includes a simplified human-robot interface with navigation and icons. The goal of the collaborative robot operating interface is to develop safety standards for worker safety.




In April 2018

,

Fanuc collaborated with Preferred Networks, Inc., to develop new artificial intelligence (AI) functions which apply machine learning or deep learning to its FA, robot, and Robomachine products. Fanuc has integrated AI and developed AI servo tuning functions for FA, AI Bin Picking Robot, and AI thermal displacement compensation for Robomachine. Each product was equipped with AI utilizing machine learning and deep learning.



Market Segmentation



By Robot Type: Cartesian, SCARA, articulated, delta, 6-axis robot, redundant, dual-arm, and parallel




By Component: Motor, generators, motor controls, automation equipment, and power transmission equipment




By Organization Size: Small & medium enterprise and large enterprise




By Region: North America, Europe, Asia-Pacific, and the rest of the world



Frequently Asked Questions (FAQ) :
---