Phenolic Resins Market Overview:
The phenolic resins market has witnessed remarkable growth over the last five years and the market is anticipated to grow at same pace in the fourth coming years.
Phenolic resins (CAS No. 9003-35-4) are a family of polymers and oligomers derived from the reaction between formaldehyde and phenol. These resins are the first commercial resins used in the manufacturing of molded products such as laboratory countertops and billiard balls. They are lightweight and serve vast range of application in the automotive, construction, and electronics industries. They exhibits outstanding properties such as high flame retardancy, chemical & temperature resistance, which made them usable in various end user application.
Phenolic resins exhibits good physical as well as chemicals properties such as mechanical strength, low toxicity, low smoke formation, and high thermal stability. Thus, these resins are highly preferred in respected end use industries, specifically, in automotive, construction, and electronics & electrical industries. Furthermore, growing demand from construction industry is the major driver of the phenolic resins market. The automotive industry is likely to boost the growth of this market due its uses in vehicle production, which is increasing at an annual growth rate of 8.2%. Moreover, need for fuel-efficient and lightweight vehicles expected to fuel the growth of this market. Factors such as growing focus towards R&D activities to innovate new products and technological advancements are anticipated to drive the demand for phenolic resins over the reforecast period. On the other side, consistent price fluctuation of raw material may affect the growth of the market, negatively.
Key Players
Some of the key players in the global phenolic resins are Hexion Inc. (U.S.), Hitachi Chemical Co., Ltd. (Japan), Sumitomo Bakelite Co., Ltd. (Japan), SI Group, Inc. (U.S.), DIC Corporation (Japan), BASF SE (Germany), Kolon Industries, Inc. (South Korea), Momentive Specialty Chemicals (US), Dujodwala Paper Chemicals Ltd. (India), and Georgia-Pacific Chemicals LLC (US), among others
Global Phenolic Resins Market share, by Product (%) (2018)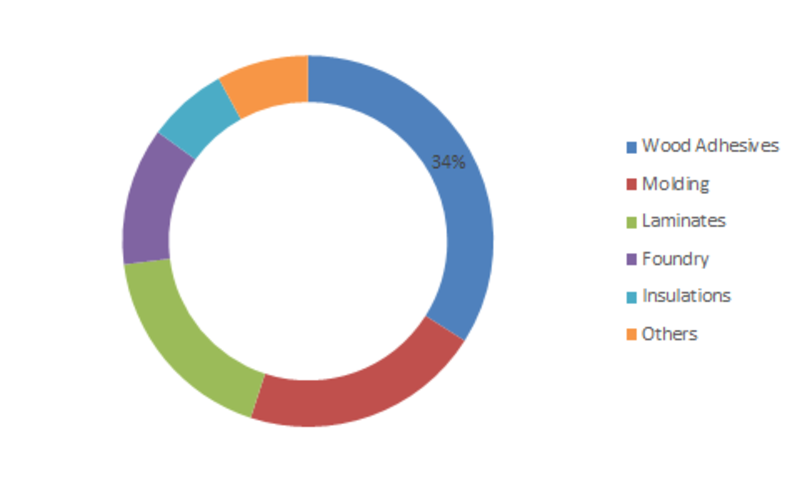 Source: MRFR Analysis
Regional Analysis
The global phenolic resins market is spanned across five key regions: Asia Pacific, Europe, Latin America, North America, and the Middle East & Africa. Asia Pacific dominated the global phenolic resin market in terms of value and volume as of 2016. The region accounted for over one third of global market share and is anticipated to retrain its dominance over the forecast years due to expansion of end user, specifically, automotive and construction industry. Additionally, Favorable government policies has supported the growth of lightweight composites and ultimately generating demand for phenolic resins. Apart from this, growth in this region is credible to demand from electronics market. Following Asia Pacific, Europe is the second largest market for phenolic resins, which consist of established markets including Germany, Italy, Spain, France, and the UK. Europe and North America collectively witnessing healthy growth. These regions have undergone market expansion, specifically, by key economies who have shifted their automotive base to south East Asian countries to tap low cost labor and vast resources pool. Nevertheless, the Middle East & Africa is anticipated to emerge as a healthy consumer of phenolic resins in the coming years. Innovative construction projects in this region expected to surge the demand throughout the review period. Latin America, on the other hand, is smaller region in terms of regional growth and is expected to show a sluggish demand. However, increasing urbanization in this region expected to play key role in the growth of the market over the review period.
Segmentation
The global phenolic resins market is majorly segmented on the basis of type, application, and end user, and by region. Market segmentation on the basis of type includes resol resin, novolac resin, and others. On the basis of application market has been segmented into wood adhesives, molding, laminates, foundry, insulation, and others. Based on end user industries market is segmented into automotive, building & construction, furniture, electrical & electronics, and others. Automotive and building & construction industry dominated the global market by increasing application of phenolic resins in these industries.
Based on the regions, the market is segmented into North America, APAC, Europe, Latin America, and the Middle East and Africa.
Intended Audience



Phenolic Resins manufacturers




Traders and Distributors of Phenolic Resins




Production Process Industries




Potential Investors




Raw Material Suppliers




Nationalized Laboratory



Report Scope:
Report Attribute/Metric
Details
Market Size
2027: Significant Value
CAGR
2020-2027: Substantial CAGR
Base Year
2019
Forecast Period
2020-2027
Historical Data
2018
Forecast Units
Value (USD Million)
Report Coverage
Revenue Forecast, Competitive Landscape, Growth Factors, and Trends
Segments Covered
Type, Application, End-User
Geographies Covered
North America, Europe, Asia-Pacific, and Rest of the World (RoW)
Key Vendors
Hexion Inc. (U.S.), Hitachi Chemical Co., Ltd. (Japan), Sumitomo Bakelite Co., Ltd. (Japan), SI Group, Inc. (U.S.), DIC Corporation (Japan), BASF SE (Germany), Kolon Industries, Inc. (South Korea), Momentive Specialty Chemicals (US), Dujodwala Paper Chemicals Ltd. (India), and Georgia-Pacific Chemicals LLC (US)
Key Market Opportunities
Need for fuel-efficient and lightweight vehicles
Consistent price fluctuation of raw material may
Key Market Drivers
Growing demand from construction industry
Growing focus towards R&D activities to innovate new products and technological advancements
Frequently Asked Questions (FAQ) :
---