Permanent Magnet Motor Market Scenario
Permanent magnet motor market is expected to grow at 8.70% CAGR during the forecast period.
Industrial segment is estimated to dominate the permanent magnet motor market during the forecast period. Moreover, it is also estimated that the growth in Asia-Pacific will be driven by increasing focus on the electronic sector, of which permanent magnet motor is a major part. The countries within Asia-Pacific region such as China, India, and Japan are likely to drive the market for permanent magnet motor due to growing demand for energy-efficient motors in these countries.
Permanent magnet AC motors (PMAC) segment dominates the market due to the features such as high torque capacity, high-quality magnetic performance, and high accelerations without the risk of demagnetization of the magnets. Asia-Pacific is expected to hold the largest share for permanent magnet AC motors (PMAC) due to major demand coming from industrial sector. Moreover, Countries such as China and Japan have implemented energy efficiency mandates to save electricity consumption which would further drive the market for permanent magnet motors. Global permanent magnet motor market has been segmented based on type, power rating, end-user, and region. Based on power rating, the market is classified into up to 25 kW, 25-100 kW, 100-300 kW, and 300 kW & above. Permanent magnet motor with power range 100-300 kW is likely to hold the largest share as these motors find maximum application in the industrial as well as electronic devices.
Based on end-user, the market is segmented as industrial, and commerical & residential. The Industrial segment is estimated to account for the largest share during the forecast period. Industrial segment is also projected to grow at a faster rate during the same period as permanent magnet motors are an integral part of industries such as automotive, textile, oil & gas, food & beverage, robotics, aerospace, inluding other. These motors also find application in industrial machinery, textile machines, variable frequency drives (VFDs), compressors, and hoists. Automotive sector is considered as the most important sector within industrial segment which involes the installation of the largest number of permanent magnet motors.
Key Players
The key players of global permanent magnet market are ABB (Switzerland), General Electric (US), Siemens (Germany), Yaskawa (Japan), Rockwell (US), Nidec (Japan), Ametek (US), Toshiba Corporation (Japan), WEG (Brazil), Emerson (US), Johnson Electric (Hongkong), Allied Motion (US).
Market Segmentation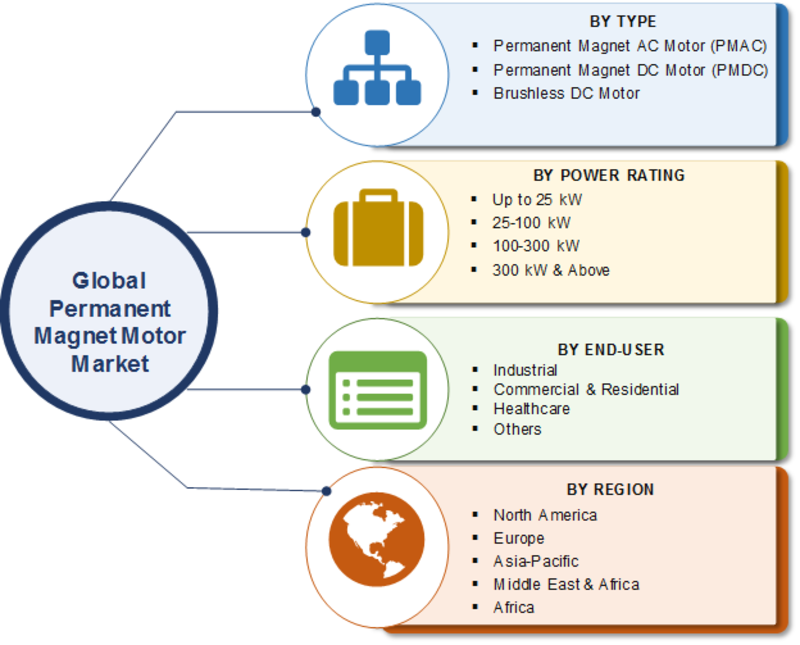 Permanent magnet motor Global Market
Permanent magnet motor is a synchronous motor with permanent magnets attached to the surface of the motor. These motors are of three types, namely, permanent magnet AC motors, permanent magnet DC motors, and brushless DC motor. Permanent magnet motors have various advantages such as high efficiency, high power density, and ease of control. Moreover, there is low mechanical friction losses due to the absence of mechanical commutators and brushes. The major advantages of permanent magnet motor is its compact size, efficiency, and no requirement of cooling fan.
Global permanent magnet motor market is expected to witness a high growth during the forecast period due to increasing demand for energy efficient and low-cost maintenance motors. For instance, according to India Brand Equity foundation (IBEF), consumer electrical industry in India is expected to reach USD 46.54 billion by 2020. This would positively impact the growth of market.
Report Scope:
| Report Attribute/Metric | Details |
| --- | --- |
| Market Size | 2027: Significant Value |
| CAGR | 8.70% CAGR (2020-2027) |
| Base Year | 2019 |
| Forecast Period | 2020-2027 |
| Historical Data | 2018 |
| Forecast Units | Value (USD Million) |
| Report Coverage | Revenue Forecast, Competitive Landscape, Growth Factors, and Trends |
| Segments Covered | Type, Power Rating, End-User |
| Geographies Covered | North America, Europe, Asia-Pacific, and Rest of the World (RoW) |
| Key Vendors | ABB (Switzerland), General Electric (US), Siemens (Germany), Yaskawa (Japan), Rockwell (US), Nidec (Japan), Ametek (US), Toshiba Corporation (Japan), WEG (Brazil), Emerson (US), Johnson Electric (Hongkong), Allied Motion (US). |
| Key Market Opportunities | Major demand coming from industrial sector |
| Key Market Drivers | High torque capacity, high-quality magnetic performance, and high accelerations without the risk of demagnetization of the magnets |
Frequently Asked Questions (FAQ) :
---