Brushless DC Motors Market Scenario
Brushless DC motors market size to expand at a notable CAGR of 9.50% during 2020 - 2027.
The increased use of brushless DC motors across major industries including automotive, the increasing demand from HVAC application segments, the transition towards energy-efficient motors, and the high maintenance costs of brushed DC motors are some of the major factors driving the brushless DC motors market. Energy efficient motors are mostly preferred by end users as they minimize their overall cost. Industrial systems all over the globe are dependent on energy-efficient electric motors for smooth operations. Many key players have started developing motors, which are technologically advanced and provide high energy-efficiency. For instance, in 2017, ABB set a record in energy efficiency by developing a 44 MW six-pole synchronous motor with an efficiency level greater than 98.9%.
The global brushless DC motor market is projected to grow at a high rate during the forecast period, mainly due to the increasing use of energy-efficient motors in various industries. Policy makers also have taken the initiative for identifying opportunities for high energy efficient motor potentials. In line with this, some of the policies, such as minimum standards and motor labeling schemes, have already been introduced in many countries. Apart from this, many energy audit schemes and capacity development programs have also been implemented to improve system efficiencies.
Key Players
The key players of global brushless DC motors market are Allied Motion Inc. (US), Johnson Electric Holdings Limited (Hong Kong), WEG (Brazil), Nidec Corporation (Japan), Arc Systems (US), Anaheim Automation, Inc. (US), Bühler Motor GmbH (Germany), Electrocraft Inc. (US), Toshiba Corporation (Japan), Ametek, Inc. (US), Rockwell Automation, Inc. (US), Siemens (Germany), and GE (US).
Market Segmentation
The global brushless DC motors market has been segmented based on type, speed, end-use. On the basis of type, the inner rotor sub-segment is expected to be the largest sub-segment within the market. The large market size of this sub-segment can be attributed to its wide application in areas where faster acceleration and deceleration of speed and position, high starting torque, and reversible action is required.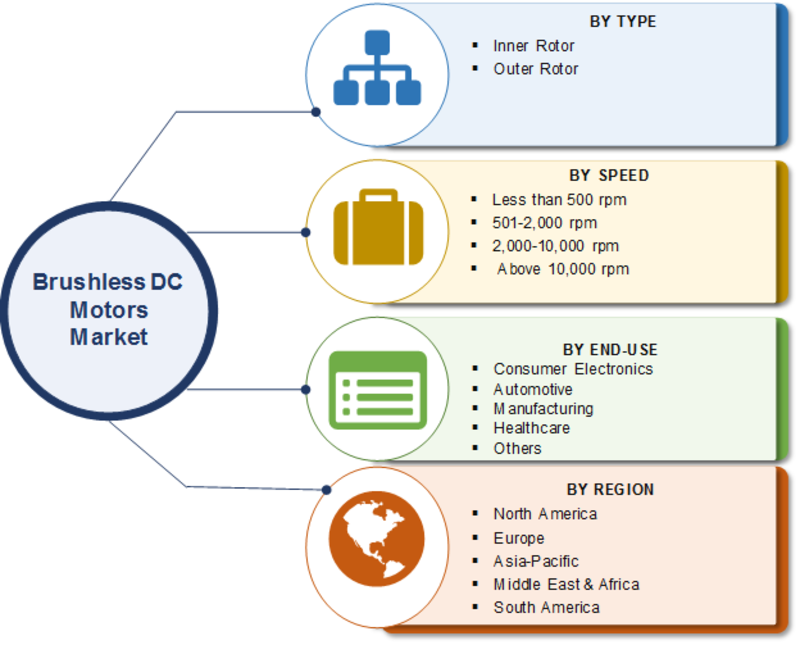 Brushless DC motors are a type of permanent magnet motors, which produces an electric current to drive each phase of the motor via a closed loop controller. These motors feature high efficiency and excellent controllability and are widely used in various applications, such as consumer electronics, transportation, heating and ventilation, industrial engineering, and model engineering. The major advantage of brushless DC motors is their high level of efficiency as these motors can be controlled continuously at a maximum rotational force. Moreover, brushless DC motors provide various advantages over other types of motors as these motors require less maintenance, unlike brushed DC motors. Additionally, brushless DC motors operate effectively at all speeds with rated loads and provide a higher speed range, lower electric noise generation, and reduced size with far superior thermal characteristics.
The global brushless DC motors market is expected to witness a high growth rate during the forecast period, owing to the growing automotive sector, across the globe. Additionally, the advancement in production and management systems has revolutionized the automotive sector. The automotive industry is becoming increasingly electrical, due to the introduction of electric motors. Brushless DC motors are used in powertrain and chassis applications in vehicles. This is expected to drive the market.
Report Scope:
Report Attribute/Metric
Details
Market Size
2027: Significant Value
CAGR
9.50% CAGR (2020-2027)
Base Year
2019
Forecast Period
2020-2027
Historical Data
2018
Forecast Units
Value (USD Million)
Report Coverage
Revenue Forecast, Competitive Landscape, Growth Factors, and Trends
Segments Covered
Type, Speed and End-Use
Geographies Covered
North America, Europe, Asia-Pacific, and Rest of the World (RoW)
Key Vendors
Allied Motion Inc. (US), Johnson Electric Holdings Limited (Hong Kong), WEG (Brazil), Nidec Corporation (Japan), Arc Systems (US), Anaheim Automation, Inc. (US), Bühler Motor GmbH (Germany), Electrocraft Inc. (US), Toshiba Corporation (Japan), Ametek, Inc. (US), Rockwell Automation, Inc. (US), Siemens (Germany), and GE (US)
Key Market Opportunities
Huge market potential for electric vehicles in emerging countries
Growing robotics technology
Key Market Drivers
Growing automotive sector
Increasing demand from HVAC application segment
Transition towards energy-efficient motors
Regulatory compliance
Frequently Asked Questions (FAQ) :
---