Microgrid Market Scenario
Microgrid market is expected to grow at ~12.10% CAGR during the forecast period.
The global microgrid is projected to grow at a high rate during the forecast period, mainly due to increasing power generation through renewable energy resources for which proper grid is required which could help the supply of electricity in the smallest of area. According to T&D World, microgrid deployment continue to increase globally with 1,568 projects till 2016, representing more than 15 GW of capacity. All these factors are likely to drive the microgrid market.
Global market of microgrid has been segmented based on type, component, power source, and end-user. On the basis of component, hardware sub-segment is expected to be the largest sub-segment within the market. Whereas, software sub-segment is expected to witness high growth rate. This growth can be attributed to the increasing adoption of software across various end-user segments including industrial & commercial sites, university campuses, municipalities, and utilities. Software as a part of microgrid component, allows operators microgrid operators to manage and control distributed energy resources with integrated weather and load forecasting.

Key Players
The key players of global Microgrid market are ABB (Switzerland), GE (US), Eaton (Ireland), Schneider Electric (France), Honeywell (US), Exelon Corporation (US), S&C Electric (US), Power Analytics Corporation (US), Siemens (Germany), and Microgrid Energy LLC (US), among others.
Market Segmentation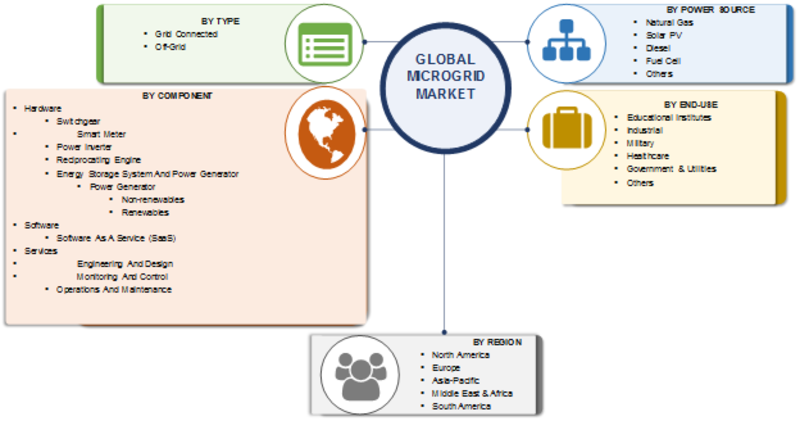 A microgrid is a local energy grid with some sort of control ability, through which it can disconnect from the traditional grid and operate autonomously, without any support of a centralized grid. A microgrid also consists of interconnected loads and distributed energy resources within clearly defined electrical boundaries that act as a single controllable entity with respect to the main grid. Moreover, the microgrid can function when connected to the main grid as well as when it is not connected to the main grid and act as an electrical island. The major advantages of microgrid are a reduction in harmful emissions resulting from optimal use of renewable resources and energy efficiency programs, field-proven reliability improvement over grid-only interconnections, improved efficiency, and long-term predictable energy cost.
Increasing demand for reliable and secured power supply globally, government initiatives to reduce carbon footprint, widespread industrialization and population growth fueling demand for energy storage systems, the convergence of IoT in enhancing microgrid connectivity, and benefits of clean and reasonable energy. Utilities, across the globe, consider microgrids as a building block for a smart grid and focus on microgrid R&D as a key focus area. For instance, according to SmartGrid Consortium (NYS), the New York government has been taking initiatives towards microgrid growth, as a result of which, 20 microgrid projects were selected from an extensive candidate list of New York located microgrid projects. In-depth analysis of these projects is based on various parameters including energy delivery, regulations, business model, technology, and development.
Global microgrid market is expected to witness a high growth rate during the forecast period owing to increasing deployment of a microgrid in the emerging economies which prove to be the potential market for microgrids. For instance, the Southeast Asian countries are witnessing more and more installation of microgrids through various on-going as well as upcoming projects. In recently announced consortium called 'CleanGrid Partners', the companies participating in CleanGrid Partners include Singapore-based developer WEnergy Global and consulting firm ICMG Partners. The total investment to be made by all the companies is expected to be USD 100 million within 3-4 upcoming years. All these factors are likely to drive the market in the emerging market.
Report Scope:
Report Attribute/Metric
Details
Market Size
2027: Significant Value
CAGR
12.10% CAGR (2020-2027)
Base Year
2019
Forecast Period
2020-2027
Historical Data
2018
Forecast Units
Value (USD Million)
Report Coverage
Revenue Forecast, Competitive Landscape, Growth Factors, and Trends
Segments Covered
Type, Component, Power Source and End-Use
Geographies Covered
North America, Europe, Asia-Pacific, and Rest of the World (RoW)
Key Vendors
ABB (Switzerland), GE (US), Eaton (Ireland), Schneider Electric (France), Honeywell (US), Exelon Corporation (US), S&C Electric (US), Power Analytics Corporation (US), Siemens (Germany), and Microgrid Energy LLC (US)
Key Market Opportunities
Growing demand for microgrids in Healthcare, Military, and Government sectors
Increasing government investment in microgrid projects
Key Market Drivers
Increasing demand for secure and reliable power supply
Advantages of clean energy storage
Government initiatives to reduce carbon footprint
Widespread industrialization and population growth fueling demand for energy efficiency
Frequently Asked Questions (FAQ) :
---