Marine Power Plant Market Synopsis
Marine power plant market has projected CAGR of 3.5% during the forecast period, 2019–2025.
Marine Power Plant is also known as a special purpose of power ship with installed power plant as an energy source. The marine power plants are also categorized into floating power plant and barge mounted power plant. The power plant is of electric where propulsion is done via electric motor, or conventional type in that the marine propulsion is done by mechanical power used from prime movers. In marine power plant, except electric motors there are main three prime movers responsible for the propulsion power generations including internal combustion engines (ICEs) such as marine power plant diesel, gas engine, and steam turbine include marine power plant steam.
The increasing deployment of electronically control engine and common rail fuel system in marine power plants to enhance fuel efficiency and to reduce the emissions of SOx, NOx, and CO2 emissions from engine drives the growth of this market. Moreover, the growth of commercial shipping, adoption of LNG over conventional marine fuel for power generation, the growing marine vessel power plant and marine diesel power plants globally, along with the rising cross-country commodity trade and transportation are also expected to drive the demand for marine power plants in the global market.
Prominent Players
The Prominent Players in the global marine power plant market include Caterpillar Inc. (US), Cummins (US), Hyundai Heavy Industries Co., Ltd. (South Korea), MAN Energy Solution (Germany), Mitsubishi Heavy Industries, Ltd. (Japan), Rolls-Royce plc (UK), Wärtsilä Oyj Abp (Finland), DAIHATSU DIESEL MFG. CO., LTD. (Japan), Doosan Infracore (South Korea), Fairbanks Morse (US), Hydraulic Marine Systems Inc. (US), Masson Marine (France), Samsung Heavy Industries (US), Siemens AG (Germany), and Mercury Marine (US).
The significant increase in the demand for LNG globally, developing economies of China, Mexico, Brazil, and Saudi Arabia, and deployment of hydro power plants in ships that use energy of oceans (waves or tides) to generate electricity are expected to create opportunities for players operating in the global market during the forecast period. Caterpillar, Cummins, MAN Diesel & Turbo, and Wärtsilä are the major marine power plant companies operating in the global market. The players mentioned above have rich product portfolio and vast industry experience. They are primarily focusing on marine power generation and marine technology and forming strategic partnerships through collaboration, joint venture, and partnership with the players across various manufacturing industries and commodity traders. These strategic partnerships between the manufacturers and the end users are expected to create growth opportunities in the market during the forecast period. The high prices of marine power plant and volatile crude oil prices are the major factors restraining the growth of global market during the forecast period.
Segmentation: Global Marine Power Plant Market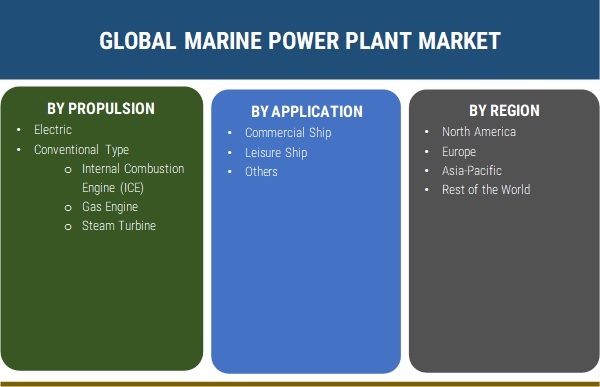 The global marine power plant market is segmented based on propulsion, application, and region. By propulsion, the global market is segmented as electric and conventional type. Whereas, the conventional type segment is further segmented into internal combustion engine (ICE), gas engine, and steam turbine. By application, the global market has been segmented into commercial ship and leisure ship, and others.
Geographically, the global marine power plant market has been categorized as Asia-Pacific, North America, Europe, and the rest of the world (RoW). Whereas, RoW is further segmented into two regions such as the Middle East & Africa and South America. Asia-Pacific is anticipated to hold the largest share and is expected to witness the highest growth rate than Europe and North America during the forecast period with the presence of several marine power plant industry, large consumer base, developing transportation and logistics sector, growing consumption of natural gas and availability of inexpensive labor in China and India. Furthermore, growing governments initiative to promote India as the world's most preferred hub for manufacturing by 2025 is also contributing to the growth of this market in Asia-Pacific during the forecast period. However, the market in Europe is growing at significant rate during the forecast period. This growth is due to growing ocean energy development, hybrid marine power plants and rising investment for the development of commercial scale power plants across the country. According to the new report from Renewable UK, marine energy industry is projected to be worth Euro 6.1 billion (around USD 6.69 billion) in the UK economy by 2035 and displacing up to half of a million tons of CO2 every year by 2020.
The report for global marine power plant market of Market Research Future covers extensive primary research. This is accompanied by a detailed analysis of qualitative and quantitative aspects by various industry experts and key opinion leaders to gain deeper insights into the market and industry performance. The report gives a clear picture of the current market scenario, which includes the historic and forecasted market size, in terms of value and volume, technological advancement, macroeconomic, and governing factors of the market. The report provides comprehensive information about the strategies of the top companies in the industry, along with a broad study of the different market segments and regions.
Intended Audience



Marine Power Plant manufacturers




Component manufacturers,

distributors, and suppliers



State and national regulatory authorities




Government and industry associations




State or government-owned corporations




Research organizations



Report Scope:
Report Attribute/Metric
Details
Market Size
2027: Significant Value
CAGR
3.5% CAGR (2020-2027)
Base Year
2019
Forecast Period
2020-2027
Historical Data
2018
Forecast Units
Value (USD Million)
Report Coverage
Revenue Forecast, Competitive Landscape, Growth Factors, and Trends
Segments Covered
Propulsion, Application
Geographies Covered
North America, Europe, Asia-Pacific, and Rest of the World (RoW)
Key Vendors
Caterpillar Inc. (US), Cummins (US), Hyundai Heavy Industries Co., Ltd. (South Korea), MAN Energy Solution (Germany), Mitsubishi Heavy Industries, Ltd. (Japan), Rolls-Royce plc (UK), Wärtsilä Oyj Abp (Finland), DAIHATSU DIESEL MFG. CO., LTD. (Japan), Doosan Infracore (South Korea), Fairbanks Morse (US), Hydraulic Marine Systems Inc. (US), Masson Marine (France), Samsung Heavy Industries (US), Siemens AG (Germany), and Mercury Marine (US)
Key Market Opportunities
Historic and forecasted market size
In terms of value and volume
Technological advancement & macroeconomic
Key Market Drivers
Increasing deployment of electronically control engine
Common rail fuel system in marine power plants to enhance fuel efficiency
Reduce the emissions of SOx, NOx, and CO2 emissions from engine
Speak to Analyst
Ask for Customization
Frequently Asked Questions (FAQ) :
---