Market Snapshot
The Horticulture Lighting Market is expected to grow at 19.17% CAGR, witnessing substantial growth during the forecast period. The market was valued at USD 2476.5 Million in 2018; it is expected to reach USD 7040.0 Million by 2024.
Horticulture is a branch of plant agriculture dealing with garden crops such as fruits, vegetables, and ornamental plants. Horticulture lighting is an artificial light source that is used to facilitate photosynthesis. This process is very useful in areas where there is a lack of proper sunlight. Lack of sunlight or any other source of light required for photosynthesis renders the plants weak and unable to grow.
Europe accounted for the largest market value of USD 797.8 Million in 2018; the market is expected to register a CAGR of 18.58% during the forecast period.
Global Horticulture Lighting Market, By Product (2018 Vs 2024)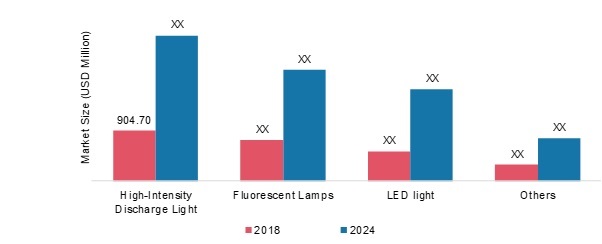 Source: MRFR Analysis
Based on technology, the market has been classified as fluorescent lighting, high-intensity discharge, LED, others. The high-intensity discharge segment accounted for the larger market share in 2018, with a market value of USD 904.7 Million during the forecast period. The fluorescent lamps constitute the second-largest segment. Fluorescent lighting is a technology that depends on a chemical reaction inside a glass tube for creating light. High-intensity discharge (HID) is a type of gas-discharge lighting method that uses electrical current sent across two electrodes within plasma or ionized gas. LED is a highly energy-efficient lighting technology and has the potential to fundamentally change the future of lighting.
Rapid population growth and availability of limited arable land, government investments, and initiatives and increased year-round high-quality yield are factors that are expected to drive the horticulture lighting market during the forecast period. However, high capital cost associated with LED grow light technologies is expected to limit the market growth during the forecast period. Further, the adoption of vertical and indoor farming can offer a number of opportunities for the global horticulture lighting market during the forecast period.
Regional Analysis
The Global Horticulture Lighting Market, by region, has been segmented into Asia-Pacific, North America, Europe, Middle East & Africa, and South America. Europe is expected to dominate the horticulture lighting market during the forecast period due to growth in city farming along with the advancement in technology.
Companies Covered
The Key Players of Global Horticulture Lighting Market are Signify (Philips Lighting) (Netherlands), Gavita (Netherlands), GE Lighting (US), Osram (Germany), Agrolux (Netherlands), Heliospectra (Sweden), Hortilux Schreder (Netherlands), Lumileds (Netherlands), PARsource (US), and Illumitex (US) among others.
Key Developments


In July 2019, OSRAM Licht AG expanded its horticulture LED line with broader white and purple spectra. This purple LED delivers red and blue spectral energy which are conductive to photosynthesis and white LED, which is used to deliver enhanced far-red energy.




In June 2019, Signify introduced Philips GreenPower LED toplighting compact which provides a 1-to-1 replacement for HPS lighting that fits seamlessly in existing HPS set-ups and trellis constructions.




In May 2019, Heliospectra AB expanded its LED lighting solutions and included ELIXIA 600W high-voltage adjustable spectrum light. This new product is mainly used for greenhouses and indoor horticulture applications.




In April 2019, Argolux partnered with NatureFresh Farms to supply flexible mounting systems for supplemental lighting. NatureFresh Farms will have an average light level of 220umol/m2/s1 to produce the best quality tomatoes year-round.




In November 2018, LumiGrow Inc. launched a new LED lighting system for commercial greenhouse and indoor crop production. The LumiGrow TopLight is an LED fixture comprising two light bars which help in optimizing crop yields and cost.


Segmentation


By Technology: Fluorescent Lighting, High-Intensity Discharge, LED, Others




By Lighting Type: Toplighting, Interlighting




By Cultivation: Fruits & Vegetables, Floriculture




By Application: Greenhouse, Vertical Farming, Indoor Farming, Others




By Region: North America, Asia-Pacific, Europe, Middle East & Africa, and South America


Key questions addressed by the report



What was the historic market size (2017)?




Which segmentation (technology/Lighting Type/Cultivation/Application) is driving the market?




What will be the growth rate by 2024?




Who are the key players in this market?




What are the strategies adopted by key players?



Frequently Asked Questions (FAQ) :
---